Premier League clubs have once again dominated the transfer window, with all teams heavily outspending their European rivals by a huge distance. As the new season has already started, soccer clubs have had a busy transfer window in order to strengthen their squad. It is here that the Premier League has shown again why it is on a different level to the rest of the European top leagues.
While other European clubs, such as in La Liga have struggled to bring in players, the English clubs have comfortably spent money on transfers. This shows how much the Premier League fares in comparison to its European counterparts.
Premier League teams spent a record £2.36bn on new players this summer
Yesterday saw the end of the transfer window which saw the Premier League spend a record amount of money. All 20 teams spent heavily this summer, with a combined £2.36 billion being spent, according to Deloitte. This broke the previous record of £1.92 billion in the last summer, almost £440 million less.
Premier League clubs spent a record-breaking £2.36bn on new players in this summer's transfer window ✍️🤑

It smashes the previous spending record of £1.92bn spent last summer by £440m 🤯

Deadline Day alone saw clubs spend £255m – over double the £120m spent in last summer's… pic.twitter.com/SPPFwvSy5F

— SPORTbible (@sportbible) September 2, 2023
The English clubs had a busy deadline day, with £255 million being spent yesterday alone. This was more than double last summer's deadline day spend of £120m. The £2.36 billion also makes the Premier League close to another record. The 2023-24 season now already is the second most transfer money spent by a league in a year. This is despite the January transfer window still to come. Last season saw the highest spend, with £2.73 billion spent in both transfer windows.
The record money spent means the Premier League continues to build a financial and competitive gap between themselves and rival leagues. The English league accounted for 48% of all transfer money spent among the top five leagues of Europe. Only Ligue 1 along with the Premier League spent more than they received in transfer fees.
13 players were priced at more than £50 million, including Mason Mount and Rasmus Hojlund to Manchester United, Matheus Nunes and Josko Gvardiol to Manchester City, Sandro Tonali to Newcastle United, Dominik Szoboszlai to Liverpool, and Kai Havertz to Arsenal, among other transfers.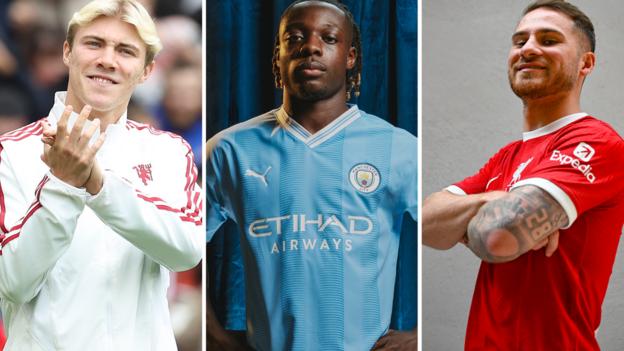 The most expensive transfers were the transfers of Moises Caicedo and Declan Rice. Rice moved from West Ham to Arsenal for a fee of £100 million along with £5 million in add-ons. But Caicedo's transfer to Chelsea from Brighton could break the British record fee, with a fee of £100 million along with £15 million in add-ons.
Chelsea spent the most money, with £380 million spent on 10 new players. It was the most by a club in a single transfer window since Real Madrid's £292 million in 2019.
Soccer fans went bananas over Premier League teams spending £2.36bn on new players
The heavy spending of the Premier League hasn't gone unnoticed, with soccer fans in a frenzy after the final transfer amount of the Premier League was revealed.
Last year's league runners-up Arsenal spent over £200 million, which is one of their most expensive in recent years. This is to heavily strengthen the team, in order to challenge for the title again.
ARSEAL ARE ACTUALLY TRYING TO BUY THE LEAGUE 😭😭😭 pic.twitter.com/1iBHVeQ53Z

— FA (@Frankie_Mufc) September 2, 2023
One fan showed his opinion on the recent trend of spending big by tweeting, "Just proves how much the market is ridiculous."
Just proves how much the market is ridiculous

— Sammie (@SanchoEra25) September 2, 2023
Another saw the hilarious side of two teams spending big in some of the last transfer windows, mainly Chelsea and Nottingham Forest. He wrote, "All thanks go to Chelsea and Forest for helping us break this amazing record."
All thanks go to Chelsea and Forest for helping us break this amazing record

— Graham Thompson 🏴󠁧󠁢󠁥󠁮󠁧󠁿 🍻 (@Graham69Thomo) September 2, 2023
Another compared the situation to the Saudi League, who are also spending big on players, earning some heavy criticism, ironically from English media.
And the Saudi's are the problem 🤷🏿‍♂️

— Luzuko Mpohla (@AdvocateMpohla) September 2, 2023
What do you think about the Premier League clubs spending so much money? Give us your valuable opinion in the comments below!