Bam Adebayo Net Worth 2021: Salary, Endorsements, Investments, Mansion, Car, Charity and More
Edice Femi "Bam" Adebayo, better known as Bam Adebayo is an American professional basketball player in the NBA league. He is currently one of the members of the Miami Heat playing as the center and power forward for the team.  Nicknamed Bam Bam, he is also well known for being an NBA All-star and got the highest vote to the NBA All-defensive second team in the 2019-2020 season.
During this time Bam Bam recorded a triple-double with a career-high of 30 points, recording 11 rebounds and 11 assists in a win against the Atlanta Hawks. His quick success has landed him lucrative brand deals alongside a massive salary. Let us uncover all the details surrounding Bam Adebayo's net worth as of 2021.
A Glance At Bam Adebayo's Asset Accumulation
| | |
| --- | --- |
| Name | Edrice Femi Bam Adebayo |
| Age | 23 years old (Born July 18, 1997) |
| Residence | Mansion in Miami, Florida |
| Net Worth 2021 | $5 million |
| Salary | $32 million |
| Endorsement Earnings | $ 2 million |
| Source of wealth | NBA, Endorsements, Media Ventures, Investments |
| Endorsements | Nike, Jordan Brand |
| Expenditure | Mansion, car, Jewelry, Charity |
| Philanthropy | The Bam Foundation |
What Is Bam Adebayo's Net Worth In 2021?
The huge six feet 9 inches tall player has been one of the most unstoppable forces in recent years. Due to his massive plays and dominance of the court, the Miami heat pays him a massive salary. Additionally, Bam Bam also has several brand deals that help him fetch his wealth.
As of 2021, Bam Adebayo has an estimated net worth of a staggering $5 million. Considering his ever so growing progress as a basketball player, he will worth way more than that in the years to come.
Bam Adebayo's Source Of Wealth
At just the young age of 23, Bam Adebayo is already earning a massive salary from the NBA team, Miami Heat. In addition that that, his massive brand engagements, sponsorships, media ventures, and a certain investment opportunity help the athlete fetch millions of dollars every year. Let us take a deeper look at how the NBA rising star earns his wealth.
Adebayo was selected as the 14th overall pick in the 2017 NBA draft by the powerhouse that is the Miami Heat. Bam Bam signed a rookie contract worth $8.9 million for a term of 3 years. In his first season, he earned $2.4 million annually, and in 2020 that rose to $5.1 million.
In November of 2020, the young NBA star signed a maximum rookie extension contract with the Heat for five years, worth a lucrative $163 million, which will earn him more than $32 million annually from this year onwards.
Based on Bam Bam's performance, the contract value can increase to $195.6 million. As of this year, Bam Bam has earned almost $14 million from his NBA salary alone.
Bam Adebayo's Endorsement Deals
The 23-year-old athlete has always been a Nike fan ever since his formative years. Even when he played in high school and college, he always put his faith in Nike sneakers. Adebayo signed a deal with the brand in 2017 after he got drafted by the Miami heat. While he did not have signature shoes with Nike, he was seen rocking the signature shoes of Kobe Bryant and Giannis Antetokounmpo.
However, Bam recently left the parent company to sign a massive deal with the Jordan Brand in 2021. Landing such a big deal after playing just three seasons in the NBA is a great deal of honor. Bam Bam is on his way to launch his signature shoes as well.
Details surrounding his contract with the brand are not well known, however, sources claim that Adebayo earns more than $2 million from this deal annually.
Bam Adebayo's Earnings Through Media Venture
While it is just the start of Bam Bam's career, he has already started appearing in various sponsored videos. Last year December, the young NBA player appeared in a video on Whistle's youtube channel which was sponsored by Pandora Jewelry.
Idk how to bake but it's alotta fun 😂 This year I'm adding sparkle to my mom's holiday with a gift from @PANDORA_NA ! ❤️ #LinkInBio #SomethingAboutYou #ad pic.twitter.com/t2oasUC4Iw

— 13am Adebayo💥 (@Bam1of1) December 4, 2020
The rising star player also posted on his Twitter about this one-time partnership with Pandora Jewelry, where he tries to bake for his mother during the holiday seasons.
View this post on Instagram
Furthermore, Adebayo collaborated with International Watch Company, Tissot on 2018 mother's day. In the heartfelt video that he posted on his Instagram, Bam Bam talks about his mother for promoting the brand.
Bam Adebayo's Earnings Through Investments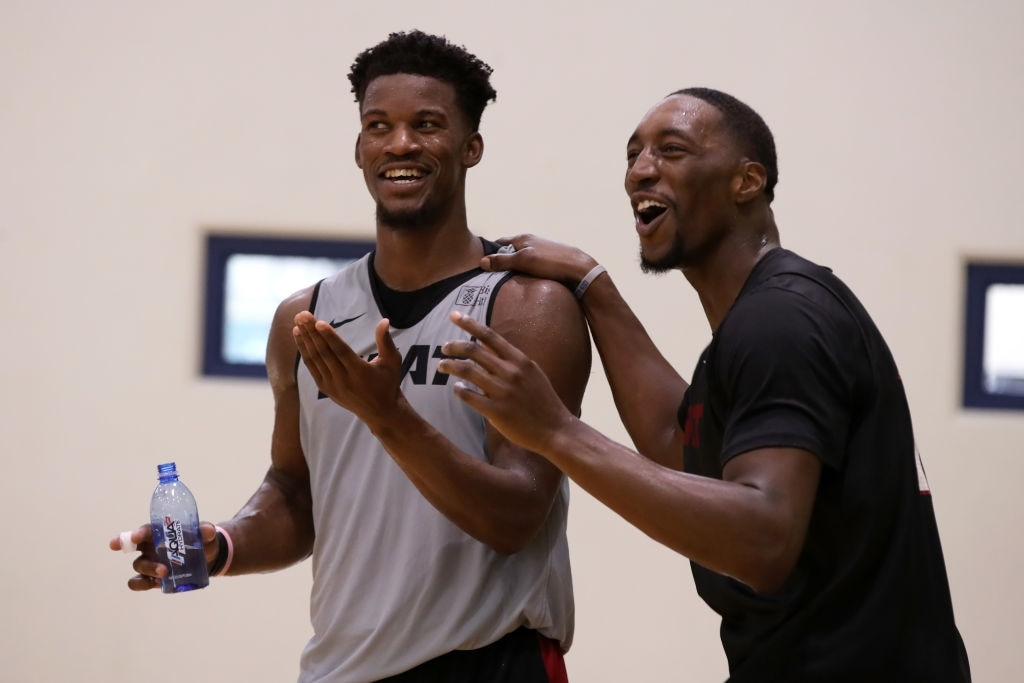 Adebayo's fellow teammate, Jimmy Butler is a veteran NBA athlete. Jimmy runs his own coffee business called the Big Face Coffee which he started by charging his teammates $20 for a cup of coffee he made. Reportedly, Jimmy offered Bam Bam a $2.5 million stake in his coffee business. As the offer was too steep for Bam at the time, he respectfully declined.
However, the word is in the air that after a massive contract extension, Bam might have taken the offer and is a part-owner of said business, which will earn him millions more in the years to come.
How Bam Adebayo Spends His Million?
Hailing from a very poor background, Adebayo knows the importance of money and saving it. However, he does everything to give his mother a good life after all the struggles. Bam has spent a fortune on his new home, cars, and a custom piece of chain. Further, Bam Bam also gives back to society via his foundation. Here's how the young basketball player spends his hard-earned money.
Bam Adebayo's Lavish Mansion
View this post on Instagram
Last year on his mother's birthday, Bam Adebayo gifted her a massive mansion located in Miami, Florida. In an interview, the young star player said that his mother never had something she could call her own. That is why it was a special moment for both of them.
While information regarding the house's features is not yet disclosed to the public, nor is its price, Bam Bam would never buy anything cheap for his biggest supporter. This is where he currently lives, with his mother.
Bam Adebayo's Range Rover
View this post on Instagram
After being drafted by the Miami Heat in 2017, the first thing Bam bought was a 2017 Range Rover worth a whopping $150,000. The SUV is one of the best on the market and does the job perfectly in housing the 6 feet 9-inch athlete. Since Adebayo understands the worth of money, he has not spent on another car as of 2021.
Bam Adebayo's Custom Necklace
The 23-year-old NBA rising star has been spotted wearing a custom necklace depicting his jersey number, 13. This exclusive piece must be worth at least 50 grand given the multiple studded gems and diamonds and the sheer size of that thing.
Bam Adebayo's Non-Profitable Investments: The Charity Work
Life is about doing the small things. Whether you pay for the guy behind you or donate a bike to a struggling family, random acts of kindness are important. Thanks @PlayersTribune and @NationalGuard. Spread the love. 💥 #NationalGuardPartner https://t.co/ZEjxz7ZaWF pic.twitter.com/6caLE8vUnC

— 13am Adebayo💥 (@Bam1of1) April 9, 2021
Due to his background and how well he was raised by his mother, the young athlete started the Bam Foundation in 2017 to aid single mothers and their children. In collaboration with Players Tribune and the National Guard, Adebayo has cleared off many debts of single mothers helping them get back on their feet.
View this post on Instagram
During last year's holiday season, Bam Bam donated toys, bicycles, and other items on the street of Miami adding more to the list of his philanthropic deeds.
Bam Adebayo's Financial Struggles
Acre Station…76 Church Lane… My Imperfect/Perfect Home! The Green Trailer That Made Me Who I Am. The Sleepless Nights, The Nights I Slept Great, Through The Pain And Struggle. As Well As Through All The Great Times We Had. THANK YOU 💙#BounceBack #WeNotDoneYet pic.twitter.com/f8qLi4yAls

— 13am Adebayo💥 (@Bam1of1) November 25, 2020
Before being drafted in the NBA, the Miami Heat's star resided in a single-wide trailer in a rural area of North Carolina. Bam Bam was raised by his mother all alone and he always credits her for his success in a basketball career. Throughout his childhood until the time he got into the NBA, he lived in sheer poverty. Adebayo even said that conditions were so dire at one point, they had to choose between paying the electricity bill and water bill.
Bam Adebayo's past and the foundation he was raised on, made him the man he is today, earning millions each year and providing a good life for himself and his mother.