Giannis Sina Ugo Antetokounmpo, better known as Giannis Antetokounmpo is a Greek professional basketball player in the NBA. Entering the league with the Milwaukee Bucks as the 15th overall pick in the 2011 draft, the power forward has asserted his dominance in the last few seasons.
Nicknamed the Greek Freak, Antetokounmpo has cemented his place in the league being awarded as the NBA's Most Valuable Player for two consecutive seasons in 2019 and 2020. It comes as no surprise that the young athlete is paid a very high salary and is backed by a lot of big-name brands. Let us uncover all that there is behind his wealth accumulation.
A Glance at Giannis Antetokounmpo's Asset Accumulation
| | |
| --- | --- |
| Name | Giannis Antetokounmpo |
| Age | 26 years old (Born December 6, 1994) |
| Residence | Mansion in Wisconsin |
| Net Worth 2021 | $70 million |
| Salary | $27.5 million |
| Endorsement Earnings | $10 million |
| Source of wealth | NBA salary, endorsements, media ventures, business, youtube channel |
| Endorsements | Nike, BMO Harris Bank, Tissot, Kronos Foods, Red Bull, Hulu, and 2k Sports |
| Expenditure | Mansion, cars, expensive lifestyle, charity |
| Philanthropy | AntetokounBros Academy |
What is Giannis Antetokounmpo's Net Worth in 2021?
According to Essentially sports, Giannis has an estimated net worth of $70 million as of 2021. The young 24-year-old athlete shows no sign of slowing down and can easily;y play 10 more seasons. It can be speculated that in the years to come, Giannis will be one of the highest-paid athletes playing the game and in the process, amassing a monstrous net worth.
Giannis Antetokounmpo's Source of Wealth:
In the last few seasons, the Geek freak has dominated the game with his powerful and MVP-level plays. No wonder the Bucks pay big bucks to the reigning MVP to keep him from leaving. Giannis has proved time and time again why he deserves a high salary, big brand endorsement, and other opportunities that add to his bank balance. Here's how the NBA star accumulates his wealth.
Giannis Antetokounmpo's NBA salary
Keep moving forward💪🏾 pic.twitter.com/BlS0pL3BrW

— Giannis Ugo Antetokounmpo (@Giannis_An34) March 3, 2021
Last year, the Bucks star extended his contract for another five years. According to Republic World, the contract is worth a staggering $228.2 million which will earn him a sum of $27.5 million annually for the next five years. Throughout the course of his career, Antetokounmpo has earned a total of $106 million in salary alone.
Giannis Antetokounmpo's Endorsement Deals
— Giannis Ugo Antetokounmpo (@Giannis_An34) April 18, 2021
While the Greek basketball player's primary source of income is his salary, Giannis earns quite well from his endorsements. The biggest brand deal that he has signed was with Nike in 2017. The reigning MVP has designed his signature shoe with the brand and even announced that they will be available in baby sizes after his son was born last year.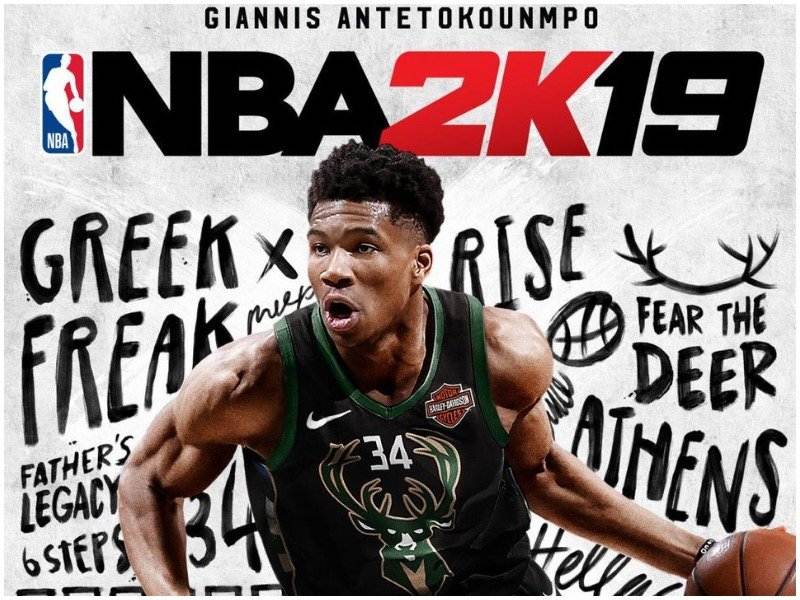 Alongside Nike, his association with BMO Harris Bank, Tissot, Kronos foods, Red Bull, Hulu, and 2k Sports earns him almost $10 million annually. Giannis is the first international player in the league to get a Nike shoe deal and also the first international player to get featured on the cover of NBA 2k19.
Giannis Antetokounmpo's Earnings Through Media Ventures
With a personality like Giannis's, brands and companies all around want to pay him good money to feature him in their commercials. The Greek freak has acted and featured in quite a few commercials over the years. To promote their new TV, TLC USA featured the MVP in what seemed like a fun and creative advertisement.
Antetokounmpo has also taken initiatives with companies like BMW, Hulu, Metro, and several others. The Greek freak seems to enjoy acting in these commercials while increasing his bank balance.
Giannis Antetokounmpo's Earnings Through His Business
View this post on Instagram
The young NBA star partnered with American Football veteran, Aaron Donald to create a sports Drink Company called "Ready". The corporation sells nutrition bars, sports drinks, protein drinks, and even snacks. With a fairly affordable price of around $30 for each product, the company seems to be doing good while releasing new products quite frequently.
Giannis Antetokounmpo's Earnings Through His YouTube Channel
The reigning MVP has a YouTube channel by his name with 72 thousand followers. Although Giannis last posted five years ago, his videos are still monetized and he earns a small amount from Google AdSense.
How Giannis Antetokounmpo Spends His Millions?
Rising from rags to riches, Giannis wants to spend the rest of his life with his family as lavishly as he can. The young athlete resides in a massive mansion, drives jaw-dropping cars, and frequently gives back o society. Here's how the Greek Freak spends his millions.
Giannis Antetokounmpo's Lavish Mansion
The most expensive thing Giannis has spent his money on is his $1.8 million mansion in Wisconsin which he bought from the former Bucks Star, Mirza Teleovic. The five-bedroom and six-bathroom mansion offer up to 10,000 square feet of living space. The two-story abode features a guesthouse, a pool, home theatre, a dedicated games room, and even a wine cellar.
Giannis Antetokounmpo's Car Collection
Kevin Durant Net Worth 2021: Salary, Endorsements, Mansion, Cars, Charity Works And More
Antetokounmpo has a very modest set of cars to his name. After appearing in a commercial for BMW, Giannis bought himself a $150,000 black BMW i8. Later, He even bought a silver one for his brother. Recently, the Greek freak post on his Instagram sitting on the hood of his new Land Rover defender X. The stylish SUV costs anywhere from $80-90,000.
View this post on Instagram
An interesting fact to note is that the young NBA star drove to practice in a $50,000 GMC Yukon during his rookie year.
Giannis Antetokounmpo's Luxurious Lifestyle: Private Jet
View this post on Instagram
While the Greek freak does not own one, he certainly loves traveling in a private jet. Giannis has posted quite a few times on his social media while traveling in a private jet with his family and partner.
Giannis Antetokounmpo's Non-Profitable Investments: The Charity Work
Hailing from a below poverty line background, Giannis understands better than anyone what it feels like to be underprivileged and in need of help. The Buck's star actively participates in philanthropic deeds and gives back to society.
View this post on Instagram
The Greek freak along with his brothers started the AntetokounBros Academy in 2019. The foundation aims to aid underprivileged boys and girls to kick-start their basketball careers. Moreover, the academy is backed by Giannis's endorsers, Nike.
Finally, during the coronavirus outbreak last year, Giannis and his family donated $100,000 to Fiserv Forum's staff who could not work due to the suspension of the 2019-20 NBA season.
Giannis Antetokounmpo's Financial Struggles
Born to poor immigrant parents in Athens Greece, Giannis grew up below the poverty line. Failing to get Greek citizenship, the Antetokounmpo family faced a lot of adversities and even faced homelessness. In 2013 when he was first drafted into the NBA, he was living in a small rented apartment in the US and had no personal means of transport.
During his rookie year, Giannis would sleep in the gymnasium claiming he had no reason to go back home. The NBA star's only goal was to bring his family to the US and live a proper life which he succeeded in, after multiple attempts due to visa rejections for the first few tries. Currently, Giannis resides with his family in his Wisconsin mansion.
Giannis Antetokounmpo's Girlfriend, Mariah Riddlesprigger Net Worth 2021
Giannis is currently in a live-in relationship with an American volleyball player, Mariah Riddlesprigger. The pair even gave birth to their first son, Liam, last year. According to Married Biography, Mariah has an estimated net worth of $1.5 million as of 2021.