Michael Jeffrey Jordan, better known as Michael Jordan is arguably the greatest basketball player the world has ever seen.  Winning six championships with the Chicago Bulls and playing with two teams in his long career, Michael has shown the world what a basketball legend should look like.
Nicknamed Air Jordan, Michael has also played professional baseball in the MLB and is an avid golfer. From massive endorsement deals to own basketball teams, he has money coming into his bank account from all directions. The NBA legend spends to live the most luxurious life one can imagine but also actively gives back to society. Let us uncover everything that there is, to Jordan's massive net worth.
A Glance at Michael Jordan's Asset Accumulation
| | |
| --- | --- |
| Name | Michael Jeffrey Jordan |
| Age | 58 years (Born February 17, 1963) |
| Residence | Jupiter, Florida |
| Net Worth 2021 | $1.6 Billion |
| Salary | Estimated over $200 |
| Endorsement Earnings | $200 annually |
| Source of wealth | NBA, MLB, Endorsements, Investments, media ventures |
| Endorsements | Nike, Gatorade, Hanes, Upper Deck, McDonald's |
| Expenditure | Mansions, cars, private jet, yacht, watches, golf, gambling, charity |
| Philanthropy | Black Lives Matter, Hurricane Relief Fund, Mentorship Programs |
What Is Michael Jordan's Net Worth In 2021?
Forbes estimated that Michael Jordan's net worth as of 2021 is a massive $1.6 billion making him the richest ex-athlete in the world. The American businessman is actively adding more to his name by the minute, however, his net worth has taken a massive dip from $2.1 billion in 2020 for the covid-19 pandemic. Fortunately, that does not seem to slow MJ down.
Michael Jordan's Source Of Wealth
The ex-NBA legend turned full-time businessman, has multiple sources that keep adding to the massive empire that he has built over the years. His salary from being an athlete, endorsing various brands, investments, and even starring in various movies, has turned the man into a billionaire. Here's how Michael Jordan adds to his wealth.
Michael Jordan's NBA Salary
Being the greatest basketball player to ever play the game, it comes as a big surprise that his salary from the NBA is very fickle compared to his other sources of income. Throughout the 16 seasons that he has played in the NBA, Michael has earned just a little over $93 million from his salary. The Bull's legend had a career-high annual salary of $33 million during the 1997-98 season.
Michael Jordan's MLB Salary
In 1994, MJ took a short detour from basketball to try his hand in a baseball career. Michael joined a Chicago-based baseball team called the Chicago White Sox and played for 13 months before returning to NBA. During his time in MLB, it is estimated that he earned a little less than a million dollars.
Michael Jordan's Endorsement Deals
View this post on Instagram
Every brand wants someone named the greatest basketball player of all time as their face. Jordan has been endorsed by various brands over the years. His most lucrative deal is the one he signed with Nike in 1994. Starting with a $500,000 five-year contract, the NBA legend went on to sign a lifetime deal with Nike.
Nike also offered a deal to Micahel for a signature shoe line, the Air Jordan, which has made over $3 billion as of 2021. Additionally, the brand also pays five percent royalties to Jordan for all of Nike's gross sales. Earning over $180 million in the past 12 months, since he signed the contract, Michael has earned over $1.3 billion from Nike.
MJ's other endorsement deals are with sports Drink Company Gatorade, Hanes, upper deck, McDonald's, and many more. The ex-athlete earns a little less than $200 million annually from his endorsement deals.
Michael Jordan's Earnings Through His Investments
Nicknamed Black Cat, Jordan's primary source of fortune comes from his investments. His extraordinary business sense is what earned him his billions. In 2006, Jordan bought a minority stake in the Charlotte Hornets becoming the second-largest shareholder of the same. He took control over the basketball side of thing, before finally buying the majority ownership for a staggering $175 million in 2010.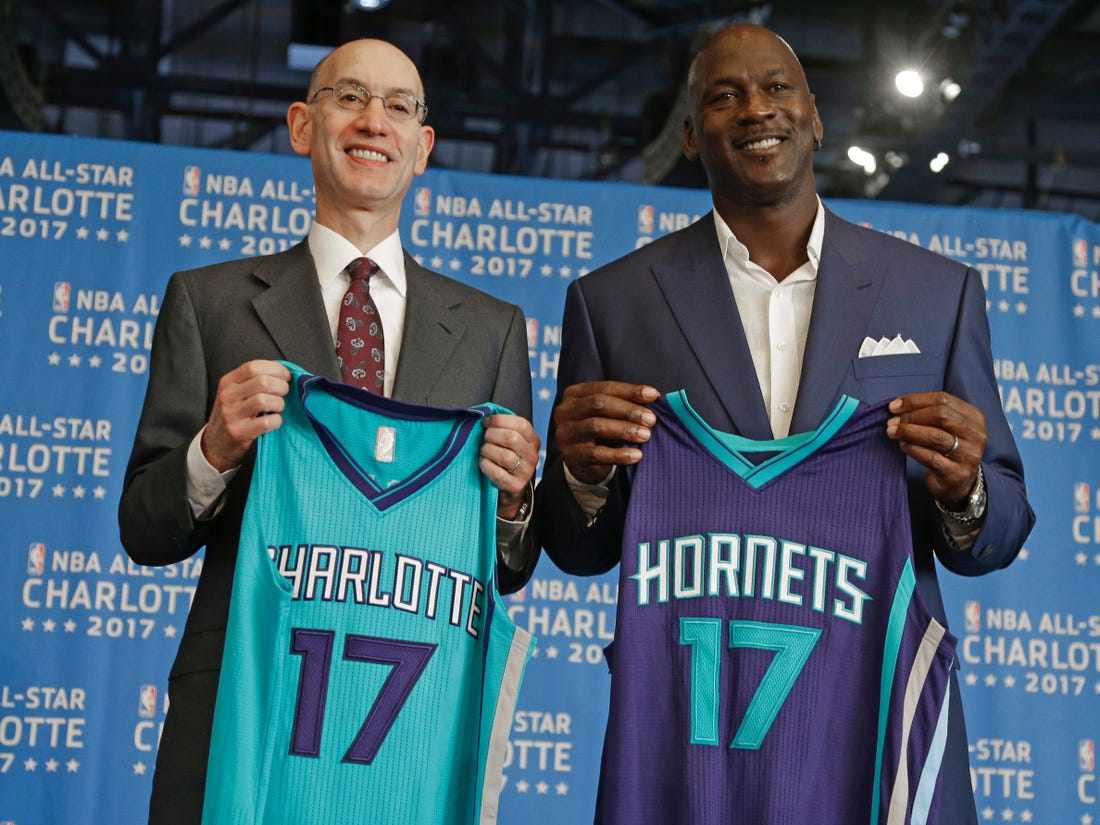 Within the next four years, the team had officially turned him into a billionaire. The Hornets were estimated to be worth $1.3 billion while Michael owned 97 percent of the total equity.  MJ sold 20 percent of his stakes for $1.5 billion to a couple of fund managers in 2019.
Fairly recently, it was also reported that the NBA legend joined hands with Hollywood superstar Will Smith and invested $305 million in Dapper Labs, the makers of NBA Top Shot. As of 2021, the company is valued at a sky-high $2.6 billion which will only go up. The company also has other investors like NBA stars Kevin Durant and Alex Caruso.
The Black Cat also owns a minority stake of the MLB team, the Miami Marlins. Jordan joined hands with Derek Jeter to invest in this MLB team. Furthermore, he has also invested in Sportrador, Muzik, and aXiomatic.
A worthy opponent. Can you handle 16 oz of steak? (photo by Instagram's ray.qin) pic.twitter.com/MQUp0sKxzf

— MJ's Steak House (@MJSHChicago) May 9, 2016
Moving on, the genius businessman did not stop at all of these. Michael has invested in several restaurants all over the U.S. The ex-athlete owns 1000 North in Jupiter, Florida, and is also the founder of Micheal Jordan Steak House. The Fine-dining restaurant has its headquarters located in New York while having established several branches in various U.S. states.
View this post on Instagram
MJ has another investment worth $150 million in NASCAR. He founded and currently operates the 23XI auto racing organization which competes in NASCAR. Finally, if all of that was not enough, Michael Jordan also owns a Nissan car dealership in Durham, North Carolina.
Michael Jordan's Earnings Through Media Ventures
The ex-NBA player has starred in various movies and commercials. The Black Cat has done over 40 films and commercials. Starting with 'Space Jam' in 1996 which grossed over $250 million in the box office, he has starred in films, TV series, and documentaries like 'My Wife And kids', 'Michael Jordan To The Max', 'The Dream Team', 'ProStars', 'Blink', 'He Got Some' and several others.
Last year, a ten-part documentary called 'The Last Dance' was released on the online streaming platform, Netflix, following Jordan's journey to becoming the greatest basketball player of all time. The documentary also features several other NBA stars like Scottie Pippen, Isiah Thomas, Charles Barkley, and more.
Furthermore, Jordan has taken part in hordes of commercials. One of the most legendary commercials MJ has done is called 'Maybe It's My Fault' which has gained millions of views online and continues to do so to date. Another noteworthy commercial amongst several others is with Nike titled the 'Failure'.
Shortly after being drafted by the Chicago Bulls, Michael did a series of commercials with the Chicago Chevrolet Dealers who as a payment, gifted him with a brand new C4 Corvette worth $40,000. Finally, the NBA legend was also featured as a character in a collaboration between Nike and Fortnite.
How Michael Jordan Spends His Billions?
There are only so many athletes in the world who have acquired billionaire status. Michael Jordan being one of them is not shy to show the world how a billionaire lives a super expensive lifestyle. While spending to live life the majority of the world can only dream of, MJ also gives back to society. Here's how the Black Cat spends his billions.
Michael Jordan's Lavish Mansions
MJ has spent quite a fortune on numerous luxury abodes. First off, in 2012, the NBA legend built his dream mansion in Jupiter, Florida for a staggering $12.8 million. The home features 11 bedrooms, a full-size basketball court, a modern media room, and separate quarters for guests and staff.
Since Michael wants to enjoy his free time privately, the property is also surrounded by tall trees. Another important thing to note is this property is located in the Bear Club which contains one of the best private golf courses in the US. Since MJ loves to golf, it explains why he chose his particular location.
Jordan also owns a $2.8 million lake house in Charlotte, North Carolina. The expensive mansion has an exquisite lake view and is located near the Peninsula golf course. The traditional-style home with high ceilings and five bedrooms makes for a great vacation home.
The Black Cat loves a change of view. Thus, he owns another mansion near the mountains in Park City, Utah. The $7.5 million home. The 10,000 square feet property has a stunning mountain view, five bedrooms, eight bathrooms, an infinity pool, a gym, and a home theatre.
For the final mansion in the list, this can easily outshine everything else. Jordan's $29 million home in Chicago is easily the crown jewel, amongst the various property he owns. The lavish home boasts 32,683 square feet of living space offers nine bedrooms and 19 bathrooms. An NBA quality basketball court, a 15 car garage, a home cinema, a wine cellar, and everything else you can think of, this house has got it.
However, MJ decided to sell the property and put it up in the market for an asking price of $14.9 million, 8 years after listing the place. Jordan has to pay over $600,000 in tax and in staff, salary to keep the house in top condition.
Michael Jordan's Car Collection
All of the garages in all of the mansions he owns combined, will not be able to house the massive 40 plus cars in Jordan's collection. Much like MJ's flashy personality, the ex-athlete owns some serious set of wheels, which can easily turn the heads of the bystanders.
One of the best cars the star player owns is an Aston Martin DB9 Volante with a retractable roof. The $150,000 vehicle offers 540 horsepower and reaches a top speed of about 300 kmph.  MJ's Mercedes Benz SLR McLaren 722 edition, also steals hearts. The price of the car is a sky-high $625,000 and can reach 0-60 in 3.6 seconds.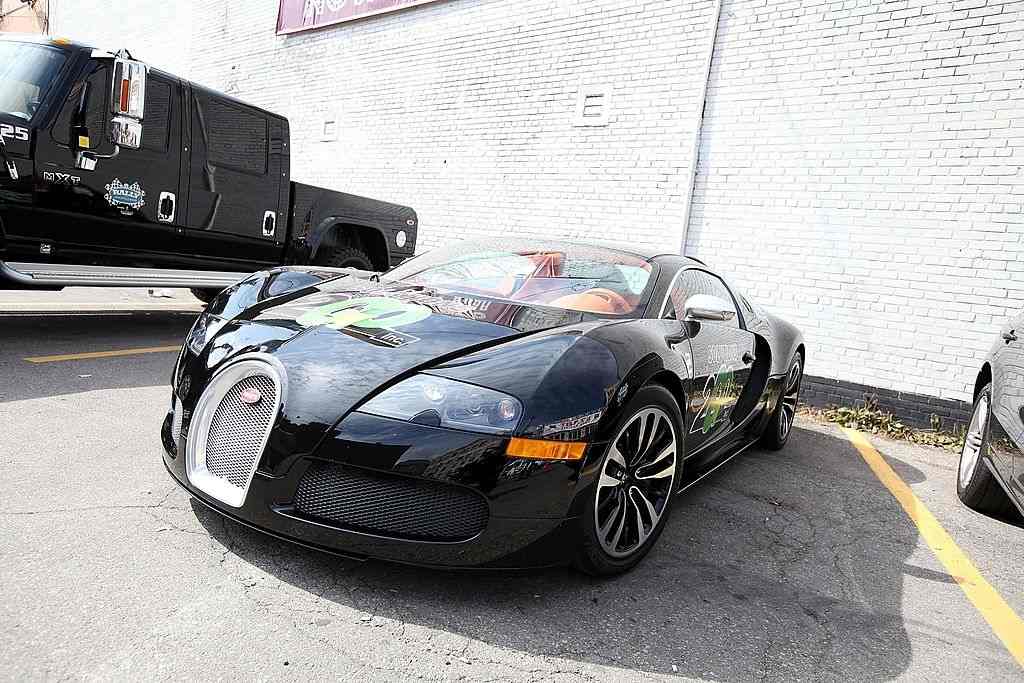 Michael also owns a Bugatti Veyron Sang Noir worth over $2 million and Cadillac XLR-v worth over $100,000. It is fair to estimate that MJ has spent around $10-20 million is his car collection.
Michael Jordan's Private Jet
The star ex-athlete likes to take vacations in his $61.5 million private jet with his family. The Gulfstream G-IV is customized with Jordan's signature Jumpman logo on the tail and a white and light blue color combination.
Michael Jordan's $80 Million Yacht
The Black cat bought the $80 million boat in 2019 to spend his vacation and cruise around the island of St. Barths. To keep the yacht functional during spending time in it, reportedly, the NBA legend has to pay a sum of $840,000 a week.
Michael Jordan's Watch Collection
Owning a massive collection of timepieces, Jordan has spent millions of dollars to form such a one-of-a-kind collection. Some of the best watches he owns are his $145,000, Urwerk UR-202 made with sapphire crystals, and an Ulysse Nardin Royal Blue Tourbillon worth a staggering $1.1 million features 48 white diamonds and 12 blue diamonds.
Another proud timepiece in his collection is an A. Lange & Sohne Datograph boasting platinum bands and sapphires, the watch is priced at over $90,000. An interesting fact to note is that Jordan also has a varied collection of Rolexes. Amongst which the most expensive one is the Rolex Daytona Platinum worth $75,000.
Michael Jordan's Lavish Lifestyle: Custom Golf Course and Gambling
After being agitated while playing golf in a country club due to its pace, Jordan decided to build his golf course. Located in Hobe Sound, Florida, the course is called Grove 23 and can be played in both fast and slow paces. Collectively with the building cost, land revenue, and customization, the golf course put a $20 million dent in his bank balance.
MJ also actively participated in gambling at one point in his life. The Bull's ex-star player would bet 100s of thousands of dollars on a single golf shot. Confident in his skill at playing basketball, he would also bet on making very difficult shots. While this hobby has filled his pockets in some instances, other times, Michael wasn't so lucky.
Michael Jordan's Expensive Divorce Settlement
Juanita Vanoy, MJ's ex-wife, filed for divorce in 2002. The couple separated in 2006 after what has been considered the most expensive settlement in sports history. The 17-year marriage ended with MJ paying a whopping $165 million in the divorce settlement to Vanoy and an additional $2.1 million in legal fees.
Michael Jordan's Non-Profitable Investments: The Charity Work
Michael Jordan has a big heart and has donated big amounts to several charitable foundations. The NBA legend donated a hundred million dollars to the Black Lives Matter collective. Further, he pledged $7 million for opening two health and medical centers in North Carolina while the year before that, he donated $2 million to hurricane relief efforts.
Furthermore, the Black Cat also frequently donated to the NAACP legal defense and educational funds and also pledges money to mentorship programs for young athletes.