Timothy Theodore Duncan, better known as Tim Duncan is a former American professional basketball player and coach for the San Antonio Spurs. In his 19-year long year career that he has played in the NBA, Tim has proved himself to be one of the greatest power forward of all time.
Having five championships under his belt, Duncan is also a 15 times All-star making him one of the highest-paid players during his time. After he retired from playing, the former NBA star also coached the Spurs for a short duration. Alongside the NBA, his other ventures all add up to the net worth he has acquired over the years.
A Glance at Tim Duncan's Asset Accumulation
| | |
| --- | --- |
| Name | Timothy Theodore Duncan |
| Age | 45 years old (Born April 25, 1976) |
| Residence | Mansion in San Antonio, Texas |
| Net Worth 2021 | $130 million |
| Salary | $10 million |
| Endorsement Earnings | $5 million |
| Source of wealth | NBA, Endorsements, Business |
| Endorsements | Nike, Adidas, AT&T, Bridgestone |
| Expenditure | Mansions, Cars, Charity |
| Philanthropy | Tim Duncan Foundation, Children's Bereavement Center, Children's center of San Antonio, Cancer Therapy and Research Center. |
What Is Tim Duncan's Net Worth In 2021?
According to Players Bio, Tim Duncan's net worth as of 2021 stands up to an estimated $130 million. The star power forward has proved to be one of the most dominating forces in the history of the game which has helped him amass such a huge net worth.
Tim Duncan's Source Of Wealth
Apart from his salary from the NBA, the star power forward has also tried his hand in coaching, business, and other avenues. Here's how Tim Duncan accumulates such a huge amount of wealth.
Tim entered the league with the San Antonio Spurs in 1997 and acted as their power forward for 19 seasons. During that duration, he has had several contract extensions and a varied annual salary. In the 2009-10 season, he was earning a career-high annual salary of over $22 million. Further, the ex-NBA star player has earned a massive sum of $242 million as salary alone.
Gregg Popovich will miss tonight's Spurs-Hornets game due to personal business.

Tim Duncan will serve as the Spurs head coach tonight in place of Pop. pic.twitter.com/pvZFshWuOs

— San Antonio Spurs (@spurs) March 3, 2020
Apart from his salary as a player, Duncan also acted as the assistant coach to the San Antonio Spurs. Nicknamed The Big Fundamental, the NBA legend has earned around $2 million for his short coaching endeavor.
Tim Duncan's Endorsement Deals
Over the years, The Big Fundamental has signed deals with various brands. While information regarding his contracts with the brands is very scattered, it is known for sure that Tim signed a multi-year sneaker deal with the powerhouse global brand, Adidas. The NBA legend joined their roster during the 2003 NBA All-Star weekend.
Before joining the three-stripe gang, however, Tim was heavily endorsed by Nike. Adidas' immediate competitors in the market backed the power forward from his rookie years until the early 2000s. With Nike, he also released two signature shoes called the Air Max Duncan and Air Max Duncan II. Soon after, Tim was hand in hand with Adidas.
The NBA star is also backed by the world's largest telecommunications company AT&T. Finally, in 2012, he signed a deal with a Japanese multinational auto and truck parts manufacturer, Bridgestone. The two parties seem to be in business even now. The once highest-paid athlete in the world has earned over $5 million from his brand deals.
Tim Duncan's Earnings Through Business
Aiming to live a smooth sailing life even after retirement, many NBA players have ventured into the world of business. Tim Duncan is no exception. In 2013, The Big Fundamental invested and opened a vehicle customization and accessories shop in San Antonio called the BlackJack Speed Shop. The facility is located near the Spur's practice grounds.
As of 2021, the shop seems to be running very well and has a very positive Google review of 4.5 stars from around 200 people.
How Tim Duncan Spends His Millions?
Actively living a life most people can only dream of with massive mansions, cars, and much more, the Big Fundamental also has a big heart. Tim believes in giving back to society and is very active in the philanthropic scene. Here's how the San Antonio Spur's legendary power forward spends his millions.
Tim Duncan's Lavish Mansions
Being one of the most quintessential players of all time, Tim's taste in mansions does not fall short compared to his beautiful plays. The Big Fundamental bought a massive mansion near Lake Travis in Austin, Texas. Sitting on 2.25 acres of land, the $1.25 million home boasts an outdoor fire pit, a double-height living room, chef's kitchen, five bedrooms, and four bathrooms.
The 3955 square feet mega-mansion also features a game room, a study, a soaking tub, and a 5 car garage. However, this home that Duncan purchased in 2005, was put on the market for an asking price of $1.2 million.
While the exact location of Tim's current mansion and its features are kept from the public, it is known for sure, that The Big Fundamental currently resides in San Antonio, Texas.
Tim Duncan's Car Collection
Duncan's love for cars is unmatched. The ex-NBA star even runs his auto customization shop and has around nine cars in his collection. Probably, the most notable car in his collection is his Nissan GTR. The car can cost anywhere from $145,000 to $250,000.
Other cars The Big Fundamental owns are Blue Porsche 911 turbo worth $170,000, a 1955 Chevrolet Bel Air Convertible, a 1968 Chevrolet Camaro, and more.
Tim Duncan's Non-Profitable investments: The Charity Work
Tim Duncan actively gives back to society. The former NBA star established the Tim Duncan Foundation in 2001. The non-profit organization worked towards funding health awareness programs, education, and sports activities in San Antonio, Winston-Salem, and the Virgin Islands.
Within the first two years of establishing the foundation, it raised more than $350,000 for breast and prostate cancer-related research. Furthermore, Duncan has also donated to the Children's Bereavement Center, the Children's center of San Antonio, and the Cancer Therapy and Research Center.
Tim Duncan​ returns to the U.S. VI this weekend to deliver more food and medical supplies. Says the help needs to continue @DuncanRelief pic.twitter.com/UKlXA1ZoKN

— John Elizondo (@johndelizondo) October 7, 2017
The Tim Duncan Foundation has taken part in several Bowling for charity events raising thousands of dollars. Also, in partnership with BlackJack Speed Shop, The Big Fundamental organized for required supplies during the Hurricane Harvey Terror.
Finally, last year during the global coronavirus pandemic, Tim Duncan helped several US college students reach home by paying for their plane tickets.
Tim Duncan's Girlfriend, Vanessa Macias's Net Worth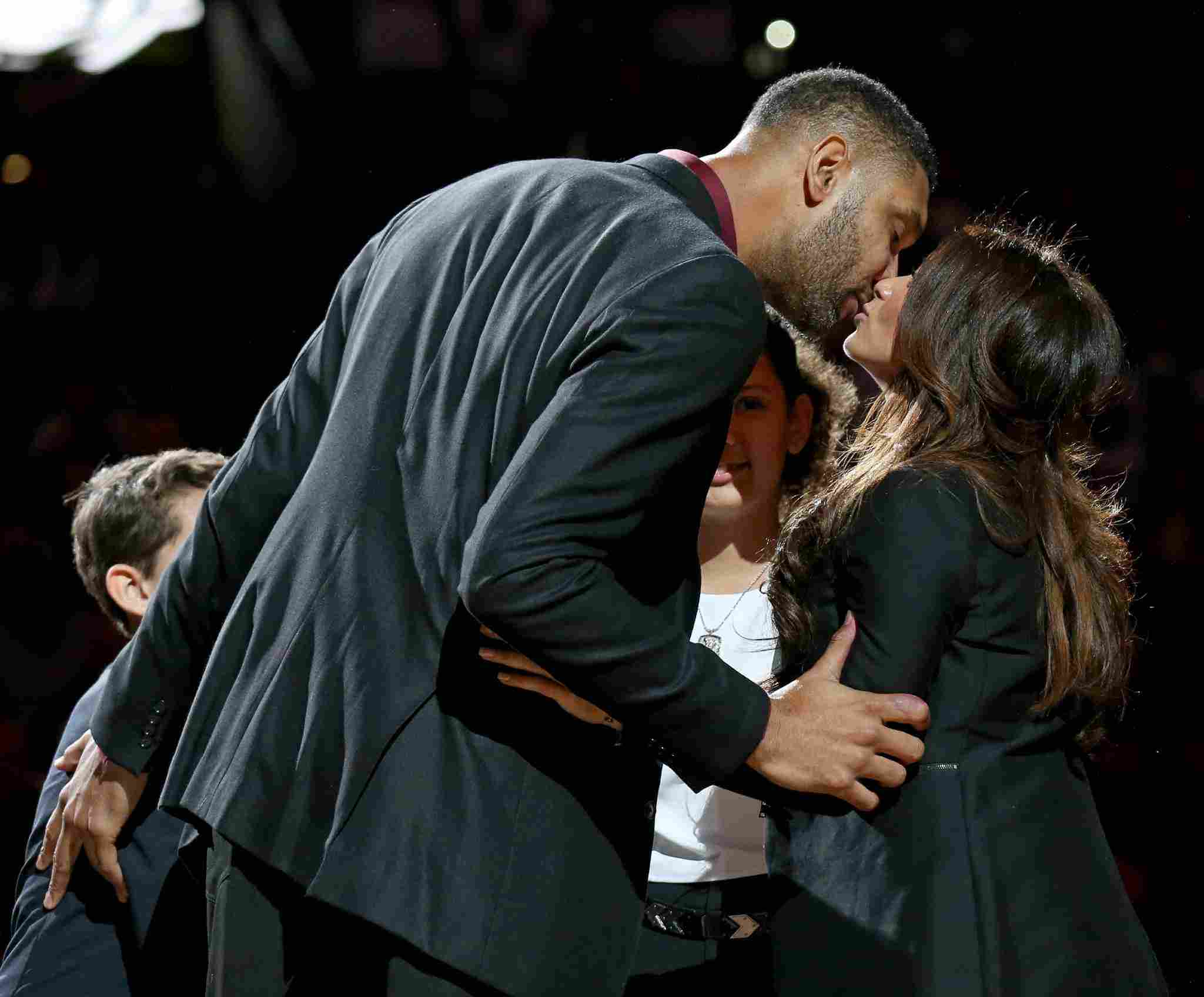 After Tim was divorced in 2013, he started dating Vanessa Macias and even gave birth to their child together in 2017. Vanessa is an American radio personality and a model. While it can only be assumed, certain sources and websites claim that her net worth was around a million dollars in 2020.
Tim Duncan's Lawsuit Against Former Financial Advisor
In 2015, the basketball star went to court against his ex-financial advisor Charles Banks, suing him for $20 million Tim claimed to have lost due to him. Two years later in April 2017, Banks pled guilty of fraud, and finally, in 2018 the case settled with Tim accepting $7.5 million. Charles Banks was also sentenced to four years in prison.