Joey Bosa, a defensive end for the Los Angeles Chargers, was slapped with a massive fine of $55,456 for unsportsmanlike conduct and his harsh criticism of the officials after last week's 31-30 loss to the Jacksonville Jaguars. This fine comes as no surprise as Bosa's actions on the field were a direct cause of the team's loss, eliminating them from the playoffs.
The Chargers were up 27-0 on the Jags but blew the lead, and their loss eliminated them from the playoffs. The Jaguars' comeback was largely aided by Bosa's unsportsmanlike conduct penalty late in the game. Jaguars quarterback Trevor Lawrence threw a touchdown pass with five minutes and 30 seconds left in regulation. This cut the deficit to four.
During the play, though, Jacksonville right tackle Jawaan Taylor appeared to get into his pass protection before the ball was snapped. But the refs didn't throw the flag.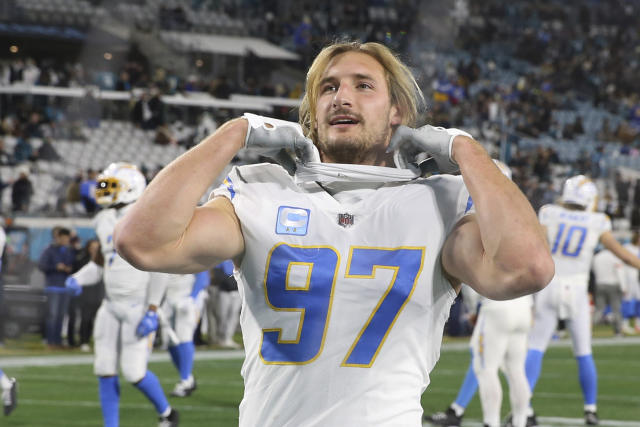 Angry about the no-call, Bosa slammed his helmet to the ground. When an assistant rebounded for him and gave the helmet back, Bosa slammed it again. The officials didn't miss that one. An unsportsmanlike penalty on Bosa moved the ball to the 1.5-yard line. The Jags converted and went on to win the game. Bosa's frustration with the officials reached a boiling point as he criticized their calls, calling them out for being on a "power trip."
The fine issued to Bosa is one of the largest fines handed out by the NFL this season, and it serves as a reminder of the high stakes and intense pressure that players face on a weekly basis. The fine also highlights the NFL's zero-tolerance policy for unsportsmanlike conduct and criticism of officials.
Bosa's comments about the officials being on a "power trip" and his frustration with the missed call, may resonate with many fans and players who have been frustrated with the league's officiating in recent years.
Despite his frustration, Bosa accepted his fate and the fine that came with it. He acknowledged that he should have handled the situation differently, and took responsibility for his actions on the field. Despite the disappointment of the loss, Bosa remains a four-time Pro Bowler and a valuable asset to the team.