The notorious Conor McGregor needs no introduction as he is arguably the most popular fighter in the world today. But Conor McGregor did not always have a luxurious life of fortune! The athlete was living on a plumber's paycheck and welfare due to poverty.
Conor McGregor's parents were suburban Irish folk who had small dreams and ambitions. They worked blue-collar jobs and tried to provide for their three children in the small town of Crumlin. The house that Tony and Margaret McGregor had in Crumlin was a two-bedroom establishment.
But it was these humble beginnings that gave Conor McGregor the determination and grit to one day become a world-famous personality and change the lives of his family altogether! But Conor would not be the legendary figure he is today if not for his father, Tony McGregor.
Who is Conor Father Tony McGregor?
Tony McGregor is the Irish father of the biggest UFC superstar ever, Conor McGregor. Tony came from very humble beginnings as the son of a petty officer in the British navy. His father's absence at home was enough for his mother to cheat on him and break their family apart.
Tony moved from Liverpool to Ireland and lived with his extended family and relatives until he came of age. Tony bounced around from menial jobs and that is where he met the woman who would become Conor McGregor's mother.
Conor McGregor father Tony McGregor has the same personality as his famous son, both being loud-mouthed and very quick-witted with strong Irish accents to emphasize their personalities even more! A clip of Tony McGregor joking about coins went viral on the internet a few years back:
Tony McGregor has supported Conor all throughout his life and career. He has been the driving force behind Conor's success.
What Tony McGregor currently does?
Tony McGregor is currently retired and involved in altruistic activities as a celebrant who performs duties to the public as a member of the church and organization. But before his son became world-famous and extremely rich, Tony McGregor bounced around from one odd job to another.
His first ever job was as a technician's apprentice, but that career was short-lived. He moved to work in a factory that is where he met his future wife, Margaret McGregor. But finding it hard to support a family, Tony McGregor decided to invest in his own Taxi cab and become a cabbie.
Tony drove a cab for the next 26 years of his life before calling it quits. Tony mentioned in an interview that he loved being a cab driver even after attaining celebrity status due to his son!
What is Tony McGregor's net worth?
Tony McGregor is not nearly as wealthy as his son. Working as a taxi driver in the UK has earned him a sustainable life but nowhere like the millions his celebrity son brings in on a daily basis.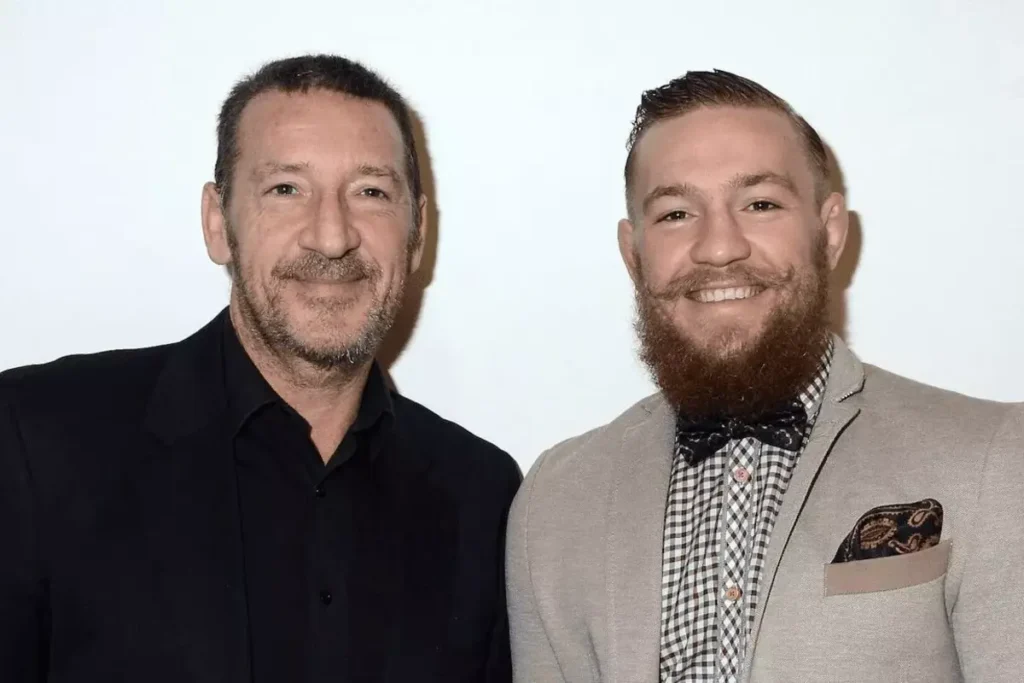 But Mr. and Mrs. McGregor's lives have undoubtedly turned around in fortune due to their son's unprecedented success inside and outside the octagon! A multi millionaire's parents for sure enjoy the millions provided by their children! But no specific amount has been released officially regarding Tony McGregor's net worth.
Tony McGregor's impact on Conor's Career
Tony McGregor has been a major part of Conor's career and life. He was the backbone for young Conor and drove him around to kickboxing and football practices. Tony McGregor gave young Conor a very stable life and a solid childhood which helped him focus on the path that would ultimately lead him to become successful.
Tony's influence on Conor's early life has been immense and that has manifested in a very good relationship between the father-son duo. Although Tony occasionally did admit that he and Conor almost came to blows when Conor lashed out as a teenager.
Tony McGregor struggles throughout life
Tony McGregor had a very hard time growing up after his mother left his father and started a family with another man. But since his father was provided custody of the children, The responsibility of Tony and his sibling's care fell to his paternal aunts.
From an apprentice to a factory worker, the start of Tony McGregor's career was not a very solid one. He eventually became the owner/driver of a Taxi cab and decided to stick to that for the rest of his life.
Tony met Conor's mother Margaret when they were 16 and eventually married her. They were blessed with 3 children with Conor being the youngest of the lot. Living on a Taxi driver's earnings naturally came with a lot of monetary struggles for the McGregor family, but all that has been wiped out by the extreme success of Conor McGregor.