Pele, the king of football, sadly passed away at the Albert Einstein hospital in Sao Paolo at the age of 82 after a long battle with cancer and will now rest peacefully.
The three-time world cup winner is largely regarded as the greatest player of all time since he inspired generations upon generations and sparked worldwide enthusiasm for the game.
Brazil legend Pelé has died at the age of 82.

The original GOAT. A trailblazer. One of the finest players to ever lace up.

He will be missed by millions. pic.twitter.com/sZiiLLmCYF

— ESPN FC (@ESPNFC) December 29, 2022
Pele was hospitalized for a very long time, suffering from colon cancer and heart problems. His family offered support and started gathering at the hospital for a few days, and now they will grieve as the king has passed away.
His daughter, Kely Nascimento, confirmed his passing on Instagram with a photo of the deceased soccer legend's family holding his hands.
"We love you endlessly. Rest in peace," she wrote
The official Pele Twitter account posted an update where it was stated that Pele "enchanted the globe with his sporting brilliance" and helped to convey a message of love.
A inspiração e o amor marcaram a jornada de Rei Pelé, que faleceu no dia de hoje.

Amor, amor e amor, para sempre.
.
Inspiration and love marked the journey of King Pelé, who peacefully passed away today.

Love, love and love, forever. pic.twitter.com/CP9syIdL3i

— Pelé (@Pele) December 29, 2022
His message today becomes a legacy for future generations. Love, love, and love, forever," the post reads.
Athletes from all around the world show love and sympathy.
Pele has a tremendous impact on athletes around the world, inspiring them to pursue their dreams, and when the hero passed away, the world pays tribute to the man they loved.
Pele's death prompted an outpouring of condolences from around the world, and the Brazilian government designated three days of mourning for the departed soccer hero.
Brazilian President Luiz Inacio Lula da Silva posted an extended tribute to Pele on Twitter, writing how he felt privileged to have seen the late star in action.
"There was never a Number 10 like him," Lula wrote, referring to the number Pele wore while playing for Brazil.
Brazilian soccer superstar Neymar Jr. wrote that "Pele changed everything," giving a voice to poor, Black people, and giving visibility to Brazil.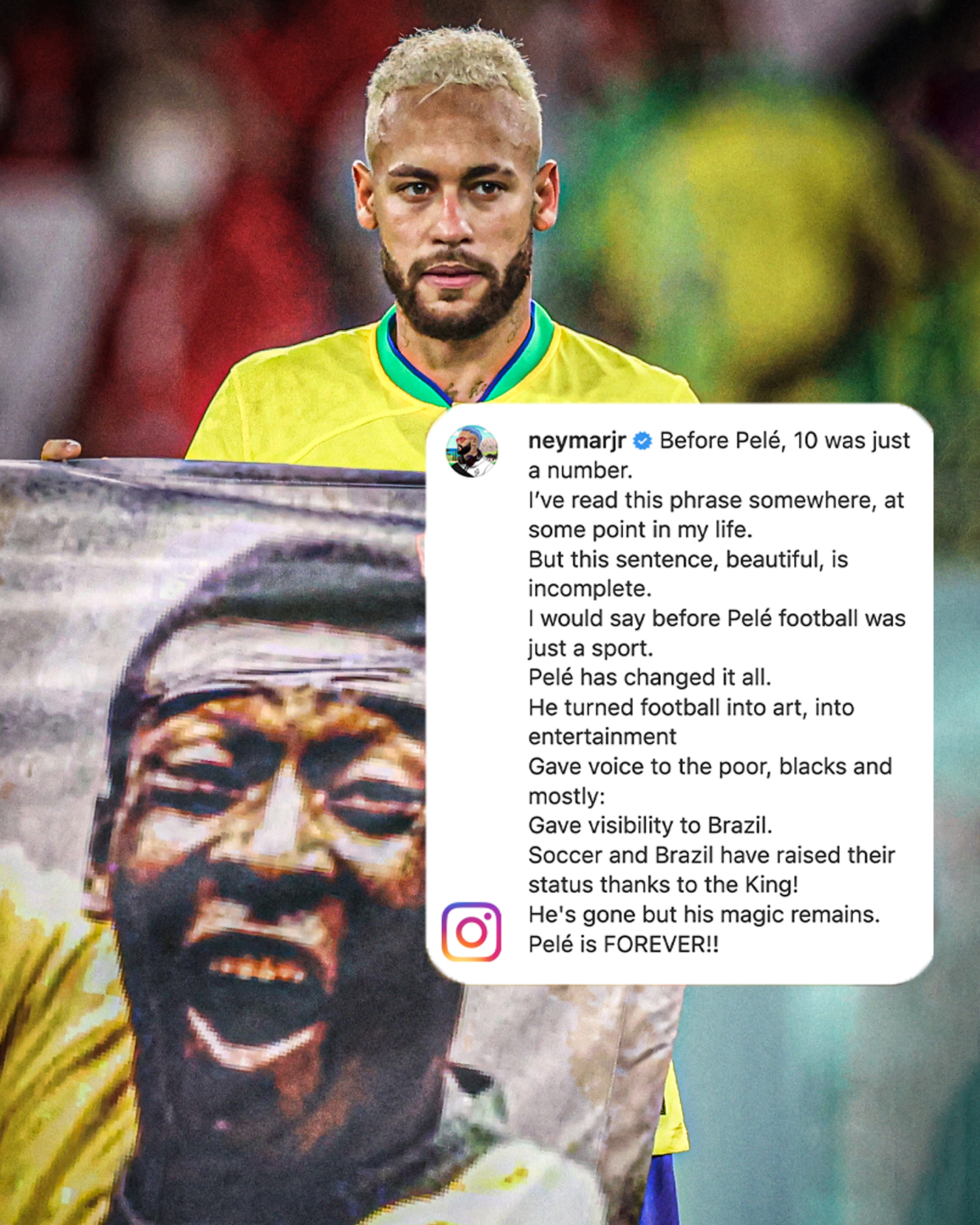 Brazil's CBF soccer federation said Pele "gave us a new Brazil and we can only thank him for his legacy."
Portuguese footballer Cristiano Ronaldo posted a tribute, offering his condolences to the people of Brazil, saying the death of "King Pele" has sent great "pain" throughout the football world.
View this post on Instagram
Argentina's Lionel Messi, team captain of the recently crowned World Cup champions, paid tribute to the star in a post on Instagram.
View this post on Instagram
Kylian Mbappe, who helped France reach into the most recent World Cup final in Qatar against Argentina, offered his condolences in a post on Twitter.
The king of football has left us but his legacy will never be forgotten.
RIP KING 💔👑… pic.twitter.com/F55PrcM2Ud

— Kylian Mbappé (@KMbappe) December 29, 2022
"The king of football has left us, but his legacy will never be forgotten," Mbappe wrote.
How well will the world remember Pele?
Pele will live on in the hearts of all Brazilians, including fans and followers around the world, as a reward for what he has done for them, and they will celebrate Brazil's success as a tribute to the King.
RIP Legend! #Pele pic.twitter.com/htmPjUo5qb

— Satish Acharya (@satishacharya) December 30, 2022
The reality that he is a former World Cup champion and the only player to win the title three times places him in the front row of legends.
We express our deepest condolences to his family and pray that God offers them the strength to endure such a devastating loss.