The Razor of UFC has remained indomitable since 2014 when he started professional fighting. Curtis Blaydes, known for his immensely powerful punches, his incredible strength is steadily on the rise. 
With 14 victories under his belt already, The Razor is hungry for more. Steady believer in the tackle and grapple technique, Blaydes has been breaking heads and winning matches.
On the hunt for the UFC heavyweight belt, it will take the man from Naperville, a while longer to reach his goals. Meanwhile, following his latest match with Volkov, we take a look at Blaydes' best moments since his MMA inception.
#10. Francis Ngannou Vs. Curtis Blaydes ( April 10, 2016) [L]
Despite staying on the losing side in this match, Blaydes had put up a fight like no other. The clubbing blows of Ngannou soon had Blaydes seeing shapes as a right hand collided at the back of the Razor's head. 
Francis had Blaydes on his knees thrice within 10 seconds. However, the never-say-die attitude of Blaydes wanted more even after failing to stand.
Unfortunately, the fight ended, the doctor's stoppage as the declaration stated that Blaydes was unable to continue. A disappointment for Blaydes as he as in no mood for towel throw.
#9. Cody East Vs. Curtis Blaydes (October 1, 2016) [W]
Curtis Blaydes went to work soon with East, exchanging lethal blows. A solid right hook that sent East reeling was the opening Blaydes needed.
He followed that up with a tackle and East was dazzled by a row of body shots by the elbow. East made one last attempt to push Curtis Blaydes towards the net.
This was reaped no fruits as Blaydes rained down elbow shots to the side of his opponent's head. All that was left for the referee to call the match as Blaydes won by a TKO.
#8. Curtis Blaydes Vs. Adam Milstead ( February 4, 2017) [W]
Making use of his plan of making a ragdoll out of his opponents, Blaydes made full use of his extra weight to wear down on a weak Milstead. The already injured knee of Milstead gave out due to excess pressure and the bout was over soon in the second frame.
While groveling on the mat, Milstead held on to his throbbing knee that Curtis Blaydes had hurt by tripping him. A painful distortion of the knee was widely visible in the replays that happened.
Milstead carried his knee into the second frame where it buckled for the last time making Blaydes victorious. Blaydes had his gameplan set, of attacking the bad knee, till his opponent gave in.
#7. Blaydes Vs. Daniel Omielanczuk (July 8, 2020) [W]
What ended in a unanimous decision resulting in a victory for Curtis, was an entire match that saw brutal throws of fists and kicks. A bloody Omielanczuk and a panting Blaydes dragged the match to an exhausting finish.
The highlights of the match were the attempts by Omienczuk to twist the ankle of his opponent into submission. It also included the uniquely timed punch of Blaydes that hit Daniel straight in the face exactly when his knee smashed into Blaydes'.
Although the match ended in a U-Dec, both the fighters had given it their everything. A better fighter by technicalities, Curtis Blaydes reigned supreme and victorious. 
#6. Curtis Blaydes Vs. Alexei Oleinik (November 4, 2017) [W]
The fight between the two men had been brutal. With punches flying wildly, Blaydes had pulled out all stops.
After an already dazed Oleinik returned for the final frame of the match, he was trying to push himself up. It was this moment when Blaydes attempted an illegal soccer kick. 
Lucky for both men, it barely connected. Just the tip of the foot of Blaydes touched the ear of Oleinik. This was enough for the doctor stoppage and after a thorough examination, Blaydes was declared victorious by a TKO.
#5. Blaydes Vs. Alistair Overeem ( June 9, 2018) [W]
Despite avoiding the huge fists of Blaydes for a long time, Overeem's quick footing gave away when caught in a grapple. Reduced to a ragdoll, Overeem had his back on the mat when Curtis Blaydes went to work.
Blasting at his opponent with his elbows, Blaydes showed no signs of relent. Few elbow shots later, Overeem's face burst open with blood spurting.
The only thing left was for the referee to separate the two men and declare Blaydes the winner. Overeem left learning first hand the colossal damage that the elbows of Blaydes causes.
#4. Curtis Blaydes Vs. Francis Ngannou (November 24, 2018) [L]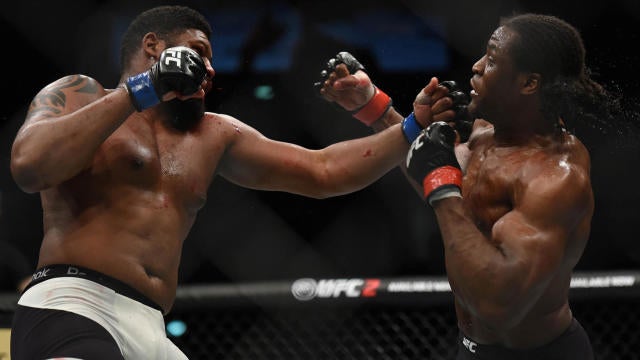 The second loss of Blaydes in this long list of wins was handed to him by the same person who caused his defeat back in 2016. Blaydes had been rooting for redemption in this fight which however backfired.
The fight was only 45 seconds left as Ngannou unleashed his superhuman strength. Blow after blow collided with Blaydes' body after a shot to the head had already sent him reeling.
Few punches more and the match was over. Ngannou threw his arms up in celebration as Blaydes looked on in frustration laced with pain.
#3.  Blaydes Vs. Shamil Abdurakhimov (September 7, 2019) [W]
Maintaining absolute dominance over Abdurakhimov, Curtis Blaydes had his opponent right where he wanted him. Trapped with his back on the mat, Aburakhimov had no way to defend himself.
Weakening him with punches to the face, Blaydes was relentless. With Abdurakhimov's arm trapped, and nowhere to go, Blaydes brought out his egregious elbows. 
One elbow straight at the nose and his opponent was grabbing it already as his face contorted in pain. The match ended with a W for Blaydes as blood poured down Abdurakhimov's face.
#2. Curtis Blaydes Vs. Junior Dos Santos (January 25, 2020) [W]
Pure, unadulterated power is defined by Curtis Blaydes, as was seen in this match against Dos Santos. The match was over by round 2, due to the lethal blows Blaydes dealt.
All it took was a well-devised 1-2 punch, with the second one connecting. Santos keeled over immediately at the velocity with which the fist connected with his face. 
However, Blaydes was not ready to stop, as he charged his opponent to the net, thrashing knees and throwing punches. the referee called it soon after. 
#1. Blaydes Vs. Alexander Volkov (June 20, 2020) [W]
The final match that happened two days back has rocketed Blaydes up the ladder for a title shot but also given him a heel turn. 
Dominating Volkov for the entirety of round 2, Blaydes had him on the mat, booed by the audience for making a rag-doll of his opponent for 25 minutes.
Unfazed by that, Blaydes commented that he had already warned it would be a rag-doll match. Declared a victory by a unanimous decision, Blaydes chalked up another win.
Dana White, however, had comments regarding the match. Now it is unsure whether Blaydes is a crowd favourite.