Jake Paul is an up-and-coming social media star turned professional boxer. Also known as "The Problem Child", he is slowly establishing himself as the next big thing in the world of boxing.
After transitioning from YouTube, Jake is gradually building his resume as a professional boxer. As such, Jake's boxing record currently reads 4 fights, 4 wins, with 3 wins coming by way of knockout and 1 via split decision. Thus, we can say that Jake has made a good start to his boxing career.
Known for his extensive cardio and clinical striking, Jake is sure to have made good money from his fights. Thus, the only question in people's minds will be: How much did he earn? Let's examine Jake Paul career earnings through salary, purse, payouts, bonuses, incentive pay, sponsorship & what his net worth is.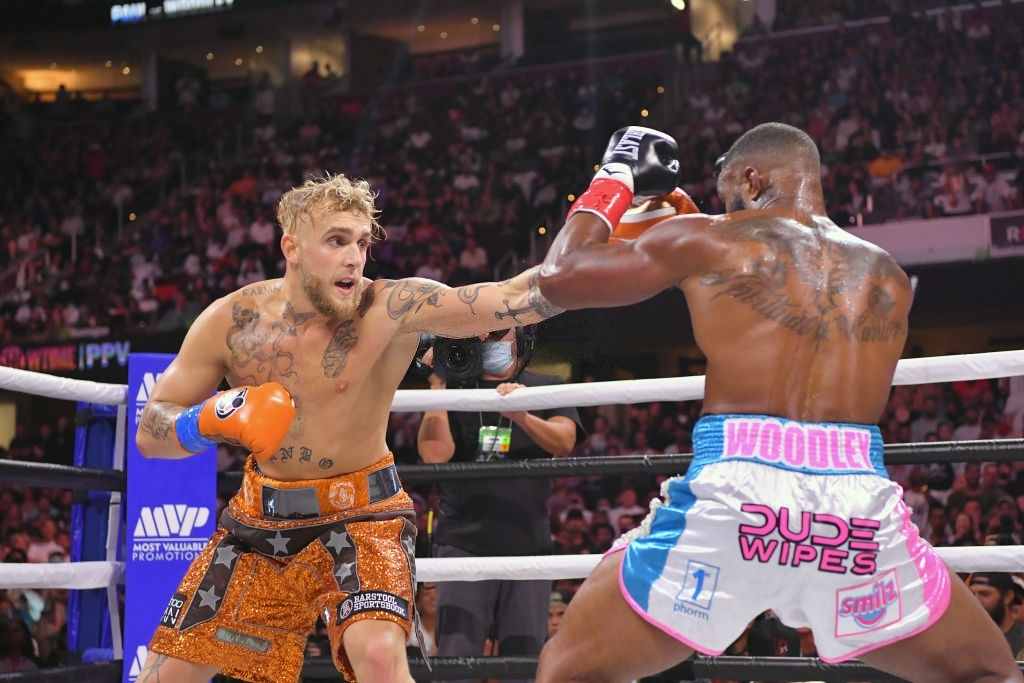 Before we begin, here are some essential things to keep in mind. Firstly, Florida Athletic Commission does not release fighter pay, so none of the following payout data for the event is official. However, we can estimate a fighter's pay info by looking at their previous, officially-released salaries.
Secondly, in his upcoming fight, Jake Paul is expected to earn equal to or more than the $2.8 million that he made against Tyron Woodley. With all that out of the way, let's begin.
Jake Paul Career Earnings
Throughout his career, Jake has brought in a humungous amount of money. As such, it is very difficult to acquire and compile a completely flawless record of all of Jake Paul's earnings from fights. Hence, here are approximates of some of "The Problem Child's biggest paydays over the years:
| | | |
| --- | --- | --- |
| Date | Opponent | Earnings |
| December 2021 | Tommy Fury | $2.8 million+ (expected) |
| August 2021 | Tyron Woodley | $2.8 million |
| April 2021 | Ben Askren | $690,000 |
| November 2020 | Nate Robinson | $1.2 million |
| January 2020 | AnEsonGib | $1 million |
Estimated Career Earnings: $8,490,000 ($8.4 million)
A Glance at Jake Paul Asset Accumulation
| | |
| --- | --- |
| Name | Jacob Joseph Paul |
| Age | 24 years old ( Born 1997) |
| Net Worth | $30 million |
| Status | Active |
| Salary | $2.8 million+ (upcoming fight with Tommy Fury) |
| Source of Wealth | Boxing, YouTube, Endorsements |
| Endorsements | boohooMan, Anti Fund Investment Fund, DraftKings, RNBO Clothing, SPRAYGROUND |
| Endorsement Earnings | $1 Million+ (per annum) |
| Marital Status | Unmarried |
| Residence | Calabasas, California and Cleveland, Ohio |
| Charities | Make-A-Wish Foundation, Hurricane Harvey Relief, etc. |
What is Jake Paul Net Worth in 2021?
According to sources, Jake Paul's Net Worth sits at a massive $30 million in 2021. For the most part, Jake makes most of his killing plying his trade inside the ring but also from his lucrative endorsement deals and his YouTube and music ventures. Currently, the American fighter is sponsored by boohooMan, Anti Fund Investment Fund, DraftKings, RNBO Clothing, SPRAYGROUND, and more.
As mentioned above, Jake's earnings from boxing amount to $8.4 million (approx.). Aside from this and his lucrative endorsements, the American fighter has also begun making considerable investments in other sectors. However, not much information is available at this point.
With his career still blooming, the 24-year-olds influence is also expected to keep increasing, making him a very marketable athlete. Thus, you can expect a significant increase in Paul's endorsement earnings in the coming years. Moreover, "The Problem Child" will look to increase his Net Worth, even more, when he takes on Tommy Fury on December 18, 2021, at the Amelie Arena in Tampa, Florida.