Twitter fights between All-Pro cornerbacks are the next stage of the NFL offseason. Asante Samuel, a former cornerback for the Patriots & Eagles, raised concerns about Jets cornerback and superstar Sauce Gardner being regarded as the second-greatest player at his spot by players, coaches, executives, and scouts, which sparked a spirited discussion.
Without a doubt, a player's profile might benefit from being in one of the largest media marketplaces in the world. The statistics speak for themselves: the first-round pick for 2022 had a career-high 20 passes intercepted in his rookie season, in addition to yielding a 53.5 percent completion percentage, and a 62.7 passer rating when targeted in the air, as reported by Pro Football Reference. He received the highest cornerback rating from Pro Football Focus as well.
Gardner has already stated that he wants to be remembered as the position's all-time best player. He may now have an additional source of motivation going into his sophomore season, thanks to Samuel.
Sauce Gardner, Asante Samuel argue over cornerback rankings on Twitter
Samuel claimed that Gardner's rookie season had been overhyped by the "New York media". It's hardly surprising to see Gardner & Pat Surtain be recognized as the best 2 cornerbacks in the NFL after they both made NFL All-Pro First Team last year. Samuel seems to disagree with Gardner as well, saying Seattle's Tariq Woolen enjoyed a superior rookie campaign.
Samuel, a four-time Pro Bowler, also claimed that Darrelle Revis, a seven-time Pro Bowler who will be honored into the NFL Hall of Fame this summer, experienced a similar reaction to the "New York media" treatment. He continued the exchange of messages in a subsequent tweet addressed to Gardner, not letting the topic die there.
NFL HOF Darrelle Revis weighs in on Sauce Gardner, Asante Samuel's feud
Darrelle Revis, a former Jet, joined in the debate as well, because Samuel had included him in the conversation. He recalled how, prior to a game, the New York Jets wide receivers dubbed him "DOUBLE MOVE KING" due to the scouting report's description of his apparent difficulties in defending against double moves.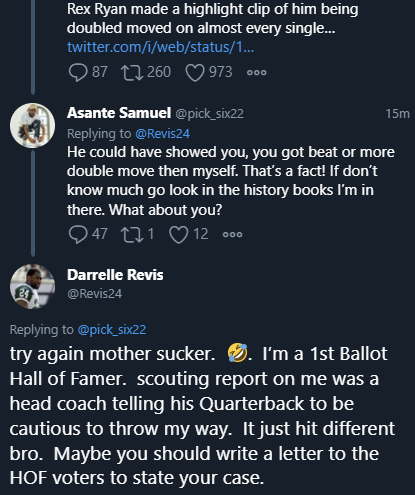 The Pro NFL Hall of Fame class for this year, which was revealed in February, was led by Revis. The seven-time Pro Bowler, who departed with 29 total interceptions over 11 seasons, is largely regarded as the finest cornerback of his generation. Revis contributed to the Super Bowl XLIX victory of the New England Patriots.
Samuel participated in 11 NFL seasons, playing with the Patriots from 2003 to 2007 as well as the Eagles from 2008 to 2011 & the Falcons from 2012 to 2013. The 4 time Pro Bowler, who played for New England in two Super Bowl victories, placed second in the Defensive Player for the Year award in 2009 & retired with 51 career interceptions. He also twice led the NFL in interceptions.