Kyle Lowry Net Worth 2021: Salary, Endorsements, Mansions, Cars, Charity And More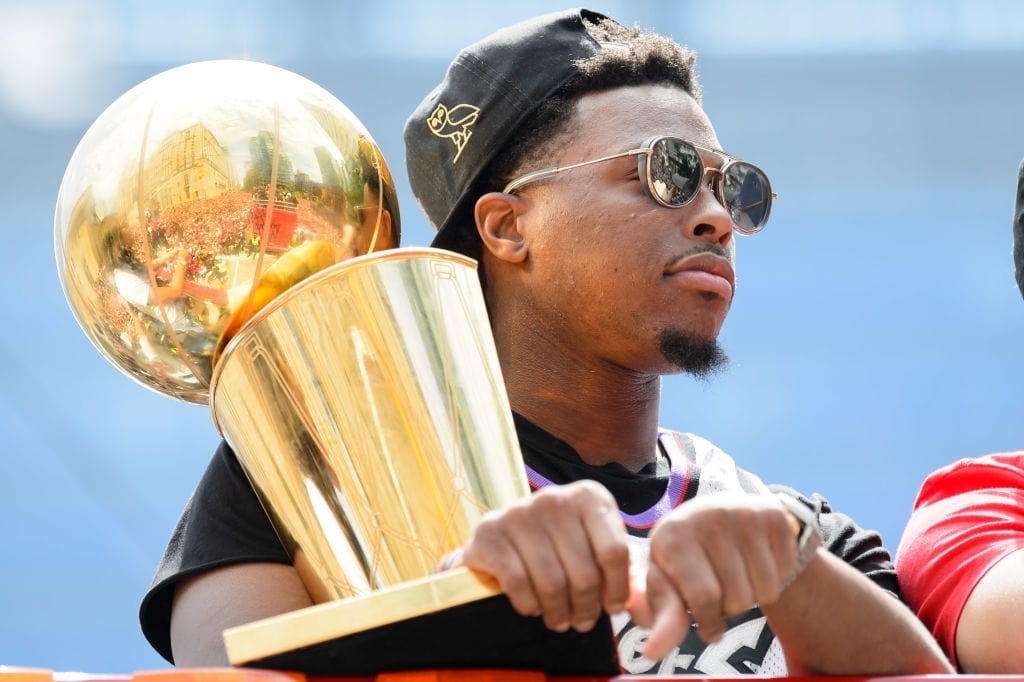 Kyle Terrell Lowry, better known as just Kyle Lowry is an American professional basketball player in the National Basketball Association. Being an active player in the NBA, the veteran athlete currently holds the point guard position for the Miami Heat, where he got traded to by the Raptors earlier this year.
In the course of his currently ongoing long career in the NBA, Lowry has proven to the world why he deserves to be a highly paid athlete and in that same process has earned millions of dollars. The star point guard has played for four teams starting from 2006 and has also landed some major brand deals to his name. Let us dive deeper into all the details surrounding the net worth of Kyle Lowry as of 2021.
A Glance At Kyle Lowry's Asset Accumulation
| | |
| --- | --- |
| Name | Kyle Terrell Lowry |
| Age | 35 years old (Born on march 25, 1986) |
| Residence | Mansion in Miami |
| Net Worth 2021 | $55 million |
| Salary | $30 million |
| Endorsement Earnings | $5 million |
| Source of wealth | NBA Salary, Endorsements, Media ventures |
| Endorsements | Adidas, Axe, Sony, NBA2K, Citizen Watch Canada, Taylor Made Golf |
| Expenditure | Mansions, Cars, Charity |
| Philanthropy | The Lowry Love Foundation |
What Is Kyle Lowry Net Worth In 2021?
The six feet tall point guard for the Miami heat has made a fortune for himself in the long course of over a decade that he has dedicated to the game and to the NBA. As per the research conducted by our team here at Sportszion, the veteran star player's estimated net worth as of this year calculates up to a massive sum of $55 million dollars. It can be speculated that the 35-year-old athlete may soon retire but before that, he will add more to this already massive empire.
Kyle Lowry's Source Of Wealth
Kyle entered the NBA during the 2006 NBA draft and since then has played for a total of four teams which has resulted in a massive salary. Apart from this, the veteran star player has other sources like massive endorsement deals, business endeavors, and other media involvements, which keep on adding to his wealth. Here's how Kyle Lowry earns his millions.
The one time NBA champion entered the league with the powerhouse that is the Memphis Grizzlies as the 24th overall pick in the 2006 NBA draft with a starting rookie salary of a sum just over a million dollars. By the time, he moved teams, Lowry was earning $1.1 million from the franchise.
Kyle worked hard with the team for three seasons to 2009 after which he got transferred to the Houston Rockets. The Houston Rockets signed a three year deal with the star player which earned him a massive salary of over five million dollars per year. However, he was soon traded to yet another team.
During the 2012-13 season, the bulldog got traded to the Toronto Raptors, which proved to be the most promising franchise that he had ever played for, both in terms of career stats as well as salary. With the Toronto Raptors, Kyle signed a massive deal worth $85 million dollars for a term of three years.
The franchise filled up his pockets pretty well with a career high annual salary of over 32 million dollars in the 2019-20 season. However, during the last season, the veteran star player got traded to the Miami heat for whom he currently plays.
The Miami Heat currently pays a massive annual salary of 30 million dollars to Kyle Lowry. In the course of 17 years that Lowry has dedicated to the game, he has earned a massive sum of over 217 million dollars from his salary alone.
Kyle Lowry's Endorsement Deals
Kyle Lowry has proven himself to be one of the most consistent players of the league and in doing so has attracted a lot of big deal brands to his name. From the time the veteran athlete was playing ball in his high school, he was rocking Adidas shoes. Thus it comes as no surprise that his most massive deal comes from a global big name brand, Adidas with whom Kyle has signed a multimillion dollar multiyear shoe deal.
While his primary involvement is with the shoe company, Kyle also earns from his indulgence with brands like men's grooming product company, Axe, Audio Company Sony, NBA2K, Watch Franchise Citizen Watch Canada, and Taylor Made Golf amongst several others.
While assigning an exact value to his earrings from these brands' deals will not be possible, our research speculated that he has earned over five million dollars from these deals.
Kyle Lowry's Earnings From Media Ventures
Since brands and companies look for athletes who have shown longevity in the league, players like Kyle are the prime target for various commercials. While the veteran star player has not appeared in a lot of commercials, it still makes a small percentage of his earnings. He has done several advertisements like one with AT&T, Foot Locker, Google Mini in collaboration with the Toronto Raptors, and finally, with gaming brand Play Station.
How Kyle Lowry Spends His Millions?
Just like other basketball players in the league, Kyle Lowry earns a lot of money which in turn enables him to lead a luxurious and lavish lifestyle. Starting from multiple beautiful houses and mansions to fancy and fast cars, he has not spared a single expense to live a rich life. Further, he has also spent a part of his fortune on charitable deeds. Here's how the former NBA champion spends his hard earned money.
Kyle Lowry's Lavish Mansions
The six time NBA all-star has a magnificent portfolio when it comes to real estate and mansions. While the house he owned in Toronto was put up for sale in the market before he was traded, he currently owns a house in Miami, which still remains a mystery. Alongside these two massive mansions, Kyle also has complete ownership of his childhood home and another massive mansion in his hometown of Pennsylvania.
Kyle Lowry listed his house in North York, Toronto for a massive asking price of $5.3 million. The northern Toronto mega mansion offers a living space of over nine thousand square feet and boasts six bedrooms, ten bathrooms, a full chef's kitchen, an infinity pool, a home gym, a dedicated games room, and a theatre room with a holding capacity of twelve people.
Kyle Lowry's Car Collection
Just like Stephen Curry and LeBron James, the bulldog has one of the most impressive collections of hot wheels in all of the NBA. Starting the list strong with a James Bond-styled silver Aston Martin DB9 worth a massive sum of over 250 thousand dollars.
Reportedly, Kyle also owns a fully customized Ford van to drive and travel around with his family worth over 75 thousand dollars. Finally, other sets of wheels that the star player is rumored to own are a Mercedes Benz S class, a Ferrari Italia, and a Porsche Carrera GT.
Kyle Lowry's Non-Profitable Investments: The Charity Work
And from 2017 >>
Kyle Lowry treats Etobicoke kids to Toys 'R' Us shopping spree
Lowry Love Foundation gifts 26 surprised St. Stephen studentshttps://t.co/mqlQwfCc9o pic.twitter.com/sEcUZsvoED

— toronto.com (@torontodotcom) August 2, 2021
Unlike the beast that he is on the court, Kyle Lowry is a completely different person off the court with one of the warmest hearts in the league. The bulldog is a frequent contributor to the world of philanthropy. Alongside his wife, the star player launched the Lowry Love Foundation in 2013 with the sole purpose of improving the lives of the underprivileged and disadvantaged of Philadelphia and Toronto.
Via his non-profit organization, Kyle Lowy has donated thousands of dollars towards the betterment of society.
Kyle Lowry's Wife, Ayahna Cornish-Lowry Net Worth in 2021
Kyle is married to his longtime love interest and high school sweetheart, Ayahna Cornish for over nine years now. The couple leads a very happy life together with their two children. Ayahna has maintained a very low profile and thus information about her career is absent currently. However, it can be speculated that she definitely is a financial contributor to her family alongside Kyle.