Liam Wilson from Brisbane takes a huge step towards the commitment he did to his sickly father in the deathbed, as he takes on Jackson Woods this month. Wilson shall be fighting the Australian on August 26, his seventh fight inside the ring.
Wilson shall be colliding with Woods in the undercard fight where the main eventers are Tim Tszyu and Jeff Horn. The fight that goes down in Townsville will be another step Wilson takes towards making his dreams come true.
At the young age of 15, Liam Wilson saw his mentor and biggest supporter for boxing, Peter taken to a hospital in Toowoomba. Peter Wilson had a history of alcohol abuse which had finally gotten to him.
With a failing liver and suffering from pneumonia, Wilson Sr. was counting his last breaths. It was then when his son made the promise to his sickly father, that he would win the world championship title in boxing, some day.
"I promised him on his deathbed that I'd win a world title," is what that keeps Liam going, every day.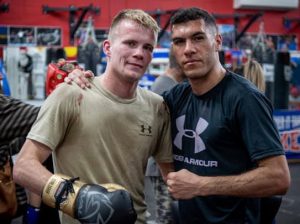 The 24-year-old recalls how he was called in by the hospital staff to say a few things to his dying father. Instead of bidding adieu to the most excited person for him, he made a promise.
Liam has been staying true to that promise made 9 years back and is doing everything possible to win the world title. He is already being seen as a future world champion, given his impeccable skills inside the ring.
The boxer has two children now, Maverick and Charlotte, the two additional reasons for him to succeed even more. Liam believes, his children provide him the fuel to go that extra mile.
Keep an eye on Liam Wilson. Became the first guy to put Jesus Cuadro to sleep.

Cuadro lost a MD to JoJo Diaz in his last fight in September. https://t.co/N9dGYiY60A

— Aussie Boxing Scribe (@el_pollo_loco) February 29, 2020
"I'm a hard person to beat because of that.", says Wilson, about his children who are amongst his biggest support. Every time he faces off some titan of boxing, he considers his two shoulders to be blessed by his father and his children.
Wilson already has 138 fights as an amateur, fought in world championships twice, and has fought at Commonwealth Games. Back in December, he picked up a remarkable U-Dec victory against Mauro Alex Hasan. 
His real boost began when he gathered an amazing victory by KO against Jesus Cuadro on the Melbourne match featuring Jayde Mitchell.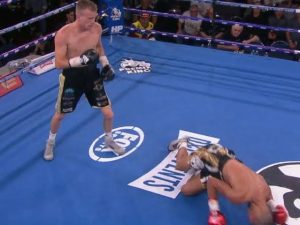 His KO became viral immediately and his profile as a global boxer was now getting established firmly
Liam Wilson was awesome against Cuadro and traveled far enough with Jojo Diaz, the world champion presently. He is rather pleased that his W was well received and so far, he is satisfied with his progress.
After five months, he is now getting ready for the grandest bout in Australia, which has seen its fair share of drama during build up.
Nate Beauchamp was supposed to be his opponent initially, until being pulled for restrictions on traveling. It was only then, that Woods was selected to be the opponent of Liam Wilson.
The distractions and uncertainties regarding border restrictions are a thing to worry, but Wilson is rather at peace. He is happily training the 5 weeks time he has and promises to bring his A-game on August 26.