Vinicius Jr has suffered yet another racist incident yesterday. The player has been the victim of racist chants and insults ever since he joined Real Madrid. In yesterday's incident, the player traveled with the team to Valencia. In a very heated game, Madrid lost 1-0 to Valencia.
The game had to be momentarily halted for ten minutes when Vinicius pointed to a Valencia supporter in the stands. He claimed to be racially abused by the supporter, with much confusion ongoing.
However, Vinicius Jr has gained widespread support across the soccer community as Ronaldo, Kylian Mbappe, and other professional footballers showed their support for the player.
Ronaldo, Kylian Mbappe, and others come out against racist attack
The lack of action from the La Liga authorities has earned them widespread condemnation across the world. Similarly, messages of support are pouring in for the Brazilian player.
Former Manchester United legend Rio Ferdinand was one of the strongest supporters. He wrote, "How many times do we need to see this young man subjected to this s***?? I see pain, I see disgust, I see him needing help… and the authorities don't do s*** to help him."
How many times do we need to see this young man subjected to this shit? @LaLiga @UEFA @FIFAcom pic.twitter.com/FsEJUZuvMY

— Rio Ferdinand (@rioferdy5) May 21, 2023
"There needs to be a unified approach to this otherwise it will be swept under the carpet AGAIN." He then tagged several of world football's biggest stars including Lionel Messi and Cristiano Ronaldo.
Paris Saint Germain superstars Neymar Jr. and Kylian Mbappe led the way to support the player. In an Instagram story where he shared Vinicius's post, Mbappe wrote, "You are not alone. We are with you and we support you."
Neymar shared the same photo and wrote, "With you!" with an angry emoji.
Even former Real Madrid legend Ronaldo Nazario wrote, "Once again an episode of racism in La Liga. As long as there is impunity, there'll be racism. Unacceptable that refs, RFEF, and authorities are left without action and that fans applaud such absurdity. It's enough. Vini, count on me in your fight. In our fight."
Earlier today, Brazil's president also spoke for the player and asked authorities to tackle the problem soon. Richarlison, Ronaldinho, and Casemiro also spoke passionately in favor of the player.
Vinicius Jr condemns La Liga
The Valencia fans were seen shouting racist insults and chants all throughout the game aimed at Vinicius Jr, all based on his black skin color. They called him 'mono', which means monkey in Spanish. There is a video below that shows the full extent of the racist chants.
The player was later sent off for an altercation with Valencia players. He pointed to the Valencia fans and gestured to them that they will be relegated, even though they are safe from it.
After the game, Vinicius decided to condemn the authorities for their lack of action. In a social media post, he wrote, "It wasn't the first time, nor the second, nor the third. Racism is normal in La Liga. The competition thinks it's normal, the Federation does too and the opponents encourage it. I'm so sorry."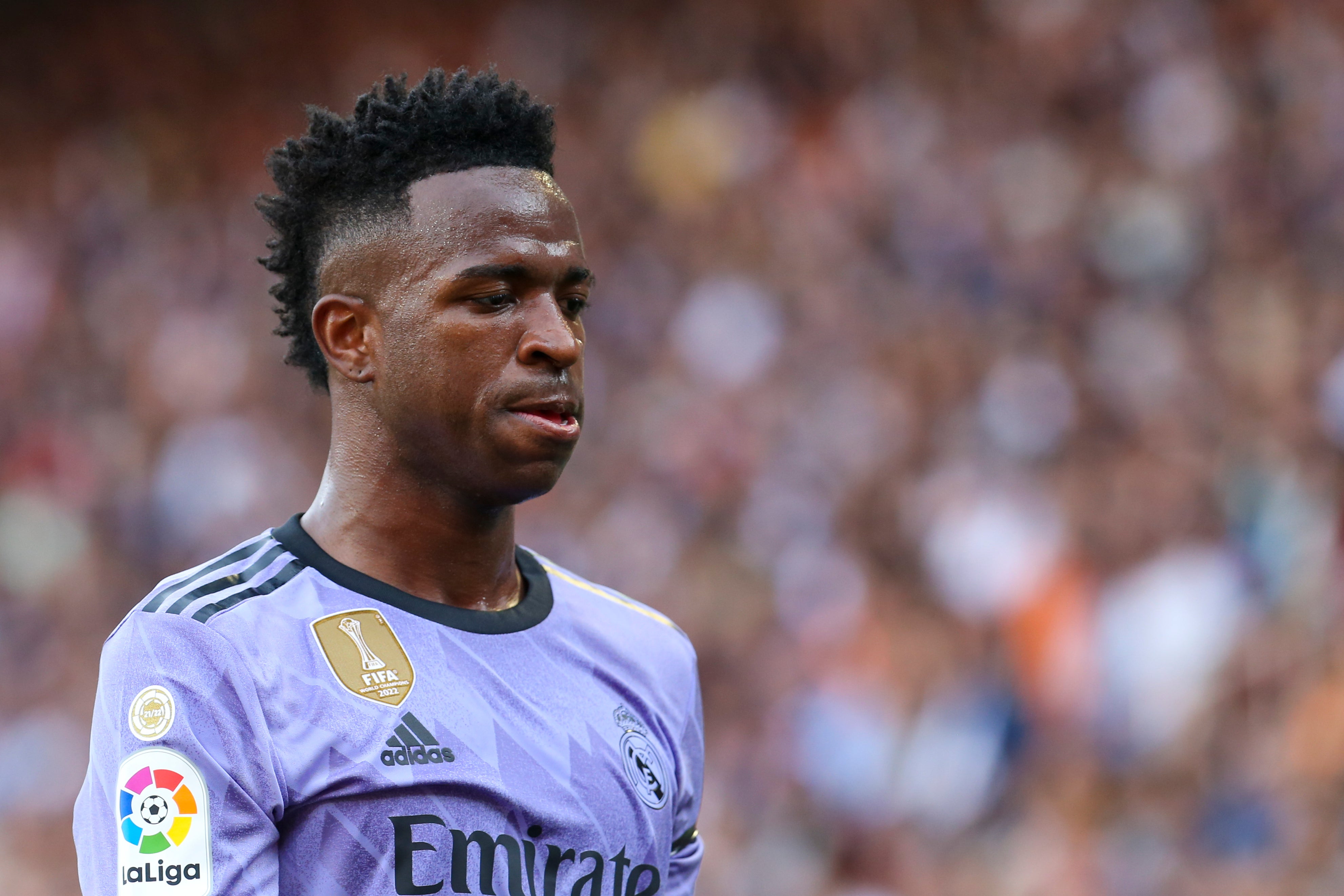 "The championship that once belonged to Ronaldinho, Ronaldo, Cristiano, and Messi today belongs to racists. I'm sorry for the Spaniards who don't agree, but today, in Brazil, Spain is known as a country of racists."
"But I am strong and I will go to the end against racists. Even if far from here."
Real Madrid has also already filed a hate crime complaint with Spanish authorities.
It remains to be seen what new developments occur and what punishments are taken. As of now, the football world continues to condemn the racists and support Vinicius Jr to find justice.