In a jaw-dropping twist that sent shockwaves through the squared circle, rap sensation Bad Bunny has unleashed an unstoppable barrage in the realm of merchandise sales, delivering a devastating suplex to the legendary Rey Mysterio's faction.
With the momentum gained from WWE Backlash, the Latino World Order (LWO) and their charismatic leader Bad Bunny has emerged as the undisputed champions, leaving their opponents dazed and bewildered.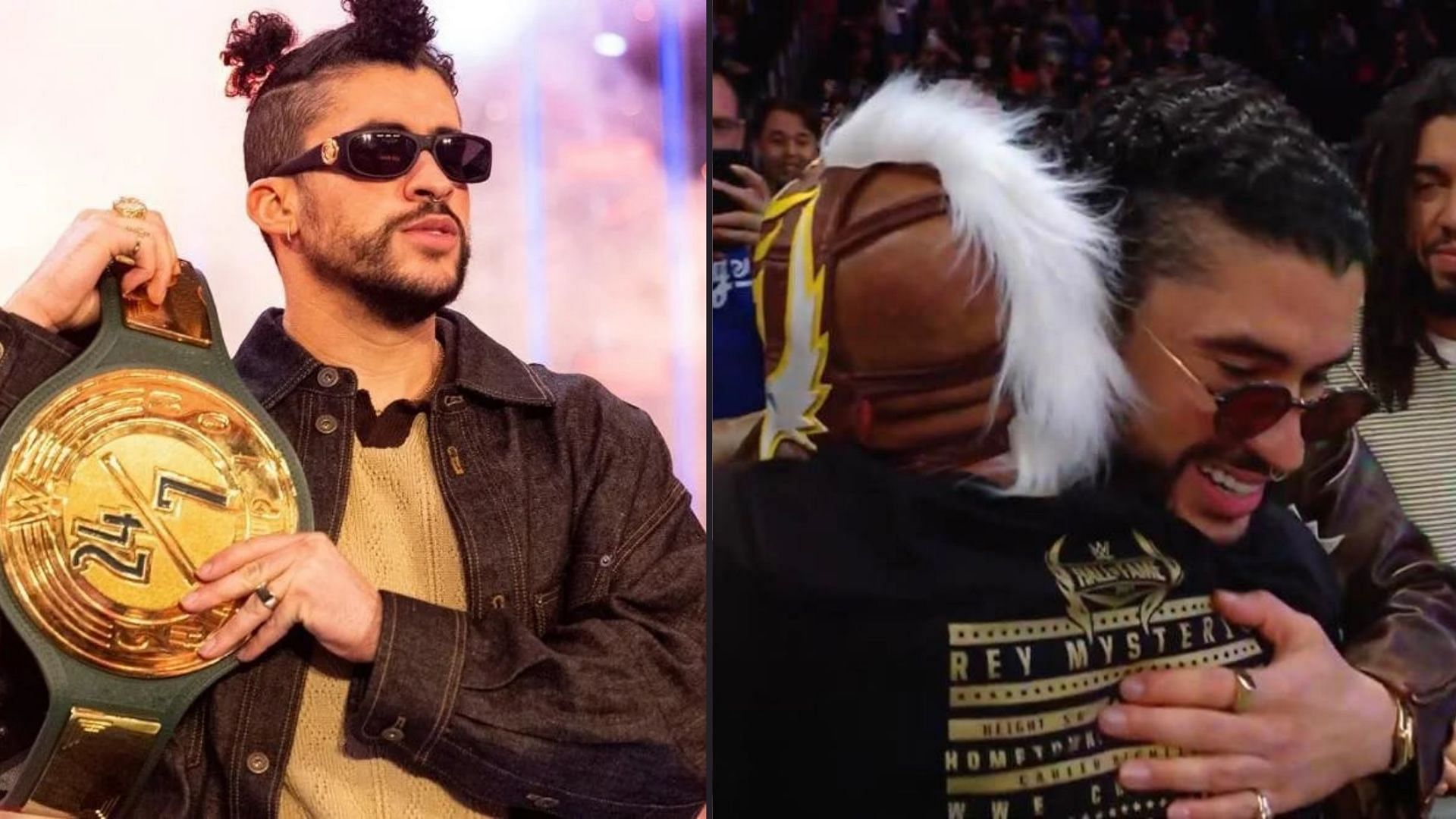 Bad Bunny and the LWO: Conquering Merchandise Sales with Ferocious Flair!
According to the esteemed combat sports merch maven, Brandon Thurston, Bad Bunny and the LWO have secured the top two spots on the coveted WWE merchandise sales leaderboard. These ring warriors have left their adversaries in the dust, pummeling the competition with an unrelenting flurry of shirt sales and memorabilia.
Thurston's meticulous analysis, fueled by the "top sellers" lists flaunted by the promotions, paints a vivid picture of Bad Bunny's conquest. However, it's important to note that this measuring stick is akin to a flying armbar—a risky move that may not accurately reflect the internal numbers of the companies or their merchandise distributors.
For the 2nd week in a row, Bad Bunny has topped merchandise sales on WWEShop.

This week (13-19/5):

1. Bad Bunny
2. LWO
3. Rhea Ripley
4. Seth Rollins
5. Cody Rhodes
6. Matt Riddle
7. The Usos
8. Roman Reigns
9. Braun Strowman
10. Raquel Rodriguez

(Wrestlenomics) pic.twitter.com/uDAC8oEx6w

— . (@Bub3m16) May 20, 2023
Undeterred by the pressure, Bad Bunny and the LWO have maintained an iron grip on WWE's virtual store shelves. Thurston's educated estimate suggests that the Puerto Rican powerhouse continues to claim the throne of sales supremacy.
The LWO's black Latino World Order t-shirt has reigned supreme for an entire week, defying the odds and driving fans into a frenzy. This merch momentum remains steadfast, even after Rey Mysterio's valiant effort fell short in the intense WWE World Heavyweight Championship tournament on "WWE SmackDown."
#BadBunny in #LWO Gear 🔥🔥 #WWE2K23 #shorts #reels #roadto2k #fun #bunn… https://t.co/b4jG2xYDci via @YouTube

GO CHECK OUT The NEWWW @WWEgames episode noww #WWE #WWE2K23 pic.twitter.com/fDKRSMMfDT

— Tino (@tinotime1996) May 14, 2023
In this fierce combat for sales glory, rising stars Rhea Ripley and Seth Rollins have emerged as worthy contenders, nipping at the heels of Bad Bunny and the LWO. Ripley, an explosive force in her own right, has claimed the third spot with an electrifying surge, while Rollins, known for his cunning tactics, clenches the fourth position.
Ripley's black "She's My Mami" shirt has struck a chord with the masses, capturing the second-best-selling shirt accolade. Meanwhile, Rollins' audacious "Woah Ohh Ohh" tee has planted itself firmly in the fourth position.
Bad Bunny would be the No.1 selling merch superstyin WWE right now. While the LWO group woybe at 2.

Source: Wrestling INC 🔥

Hmm pic.twitter.com/MQvkCZh6BR

— 🌰TheBastardNoah🌰 bucks 2-0 (@TheBastardNoah) May 22, 2023
Not to be outdone, Bad Bunny's allure and charm have resulted in two shirts securing spots among the top 10 in individual item sales. Indeed, the Wrestlenomics report leaves no room for doubt. Bad Bunny and the LWO reign supreme as the ultimate victors of WWE merchandise sales.
The earth-shattering reception the LWO receives week after week is akin to a deafening roar, hinting at their potential to forge main event-level superstars such as Santos Escobar and Zelina Vega. Without a doubt, the LWO's dominance in merchandise sales leaves a trail of destruction in its wake.
From Melodies to Mayhem, Redefining Wrestling Stardom
Endorsed by luminaries like John Morrison, The Miz, and Rey Mysterio, Bad Bunny's dedication and profound respect for the sport have garnered him widespread admiration. Bad Bunny's meteoric rise to say the least in the WWE realm began with an earth-shattering tag-team match at WrestleMania 37.
Joining forces with his ally Damian Priest, the rapper unleashed a spectacle that left audiences thunderstruck, showcasing his astonishing in-ring prowess. Not content with a single conquest, Bad Bunny fearlessly entered the 2022 Royal Rumble, staring down the beastly behemoth known as Brock Lesnar.
Most recently, Bad Bunny found himself embroiled in a no-holds-barred San Juan street fight against his once-trusted friend turned rival, Damian Priest, at Backlash in Puerto Rico. With each high-flying maneuver and bone-crushing slam, Bad Bunny has exhibited an unwavering dedication to his craft, captivating audiences with his electrifying performances.
In the world of combat sports, Bad Bunny stands as a phenomenon, defying expectations and leaving a lasting impact on the wrestling landscape. As the battle for merchandise supremacy rages on, the Bad Bunny's ferocity remains unmatched. Brace yourselves, for the Bunny's reign, has only just begun.