In a scathing critique of the Las Vegas Raiders, an NFL executive has slammed the team for their recent downward trajectory despite the signing of quarterback Jimmy Garoppolo.
According to ESPN, former San Francisco 49ers quarterback Garoppolo signed a three-year, $67.5 million deal, including $34 million guaranteed with the Raiders recently, allowing him to reunite with his former Patriots offensive coordinator Josh McDaniels.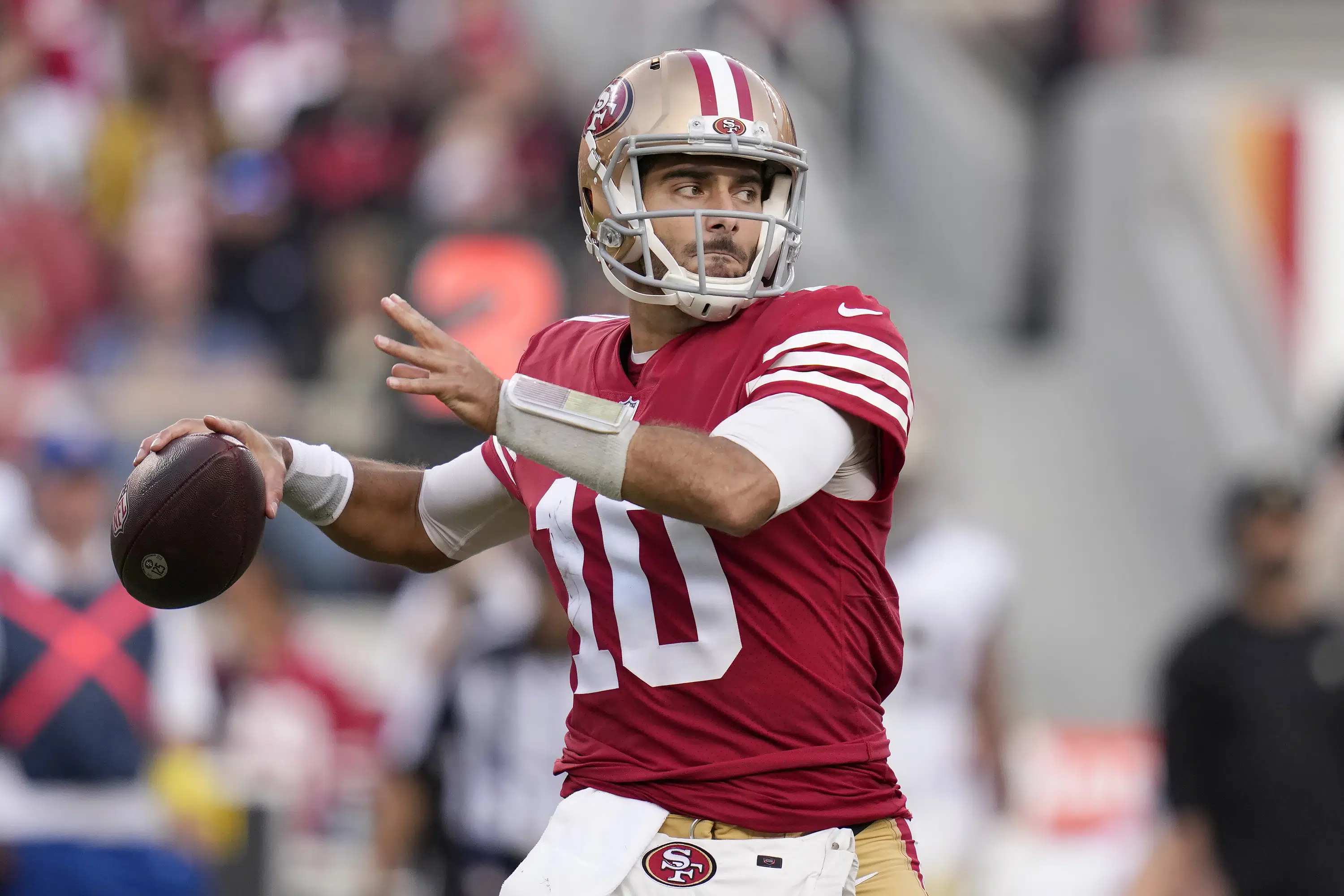 What did the NFL executives say about the present scenario of the Raiders after acquiring Jimmy Garoppolo?
The Athletic's senior writer Mike Sando asked some executives their viewpoint regarding the Raiders move and one executive literally pointed out the thoughts of almost every other executive.
"They want familiarity, but they have downgraded in every way", the executive stated.
The topic came as the executive criticized the Raiders' recent draft picks and free agent signings as picking Jimmy Garoppolo as a starting QB made sense, albeit letting Derek Carr go without getting anything in return was a very bad move by the team.
The Raiders also made a huge blunder by trading Darren Waller, one of the best TEs of the league, to save $15 million and signing the Patriots' free agent Jakobe Meyers, costing them the exact amount they wanted to save by releasing their veteran tight end.
"The Raiders have been building for so long, tearing it down with each new regime. This is a team that had Derek Carr and Khalil Mack and Amari Cooper. Jon Gruden came in and wanted his guys. Josh McDaniels came in and wants his guys. Maybe they should have a coach who can work with the guys they've got. Now, Darren Waller is gone, too", he added.
McDaniel was eyeing acquiring the players he worked with in the past- he was Garoppolo's first offensive coordinator in the Patriots from 2014 to 2017, Jakobe and he worked together in New England from 2019 to 2021, and Philip Dorsett worked with him in the Patriots from 2017 to 2019.
Familiarity can never be an issue, however, the common problem here is that the Raiders don't possess a strong offensive infrastructure. Like the executive pointed out, the Raiders could have retained their key players like Darren Waller with some minor changes. Whether the free-agent moves will move a needle for the Raiders team in upcoming years is yet to be seen.
Do you also think that the Raiders made the moves they shouldn't make? Or do you think they made right decisions? You can share your valuable opinions in the comments.