Three NBA playoffs games postponed after Bucks boycott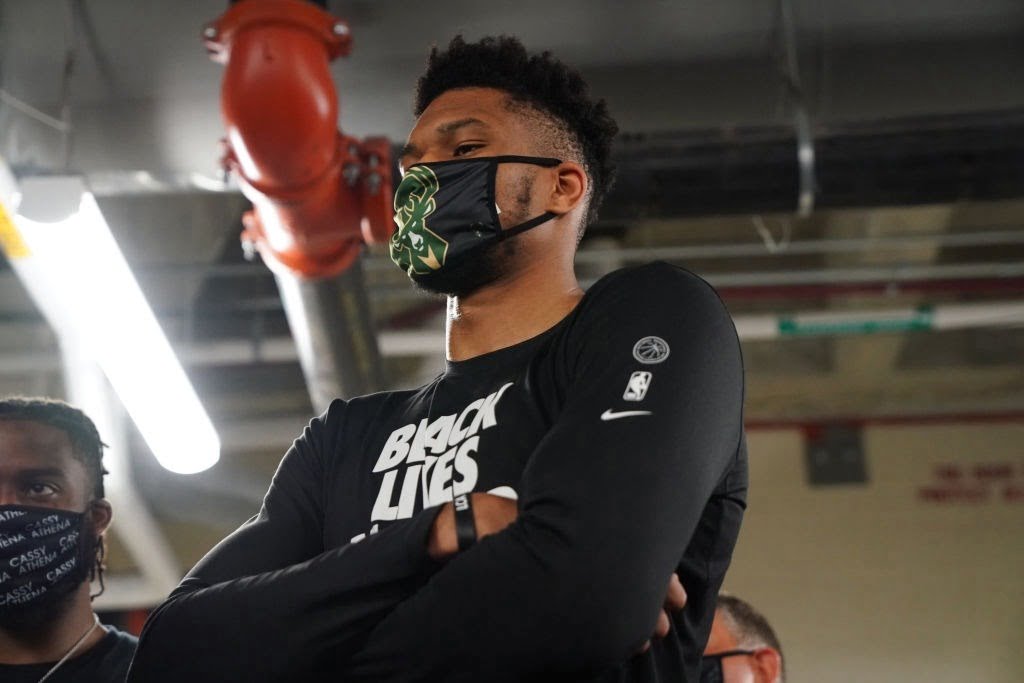 The Milwaukee Bucks team reportedly did not enter the court at the scheduled tip-off of their playoffs game five against the Orlando Magic, after which they have received a ton of support from the other NBA players, athletes and people all over the world. What has resulted in a three NBA playoff games postponement the league has decided to support the movement.
Supporting the 'Black Lives Matter' movement and condemning the shooting of Jacob Blake the NBA association and the NBA Players Association have made a joint decision to postpone the Game 5 scheduled between Bucks and Magic, Blazers and Lakers and Rockets and Thunders.
The NBA and the NBPA today announced that in light of the Milwaukee Bucks' decision to not take the floor today for Game 5 against the Orlando Magic, today's three games – MIL-ORL, HOU-OKC and LAL-POR have been postponed. Game 5 of each series will be rescheduled.

— NBA (@NBA) August 26, 2020
Who is Jacob Blake and what happened?
A 29 years old African American man, Jacob Blake was shot seven times on his back in front of his children by three police officers. Sparking national outrage this incident has the people calling for justice and holding the officers accountable for the misdoings. An investigation has been launched to probe into the whole incident.
"Anybody that is white, that is doing an investigation about a black young man that was shot seven times in his back, and haven't come up with an answer or a comment at this point, is not welcome,"
said Jacob's father to a reporter expressing his disbelief in the investigation.
Boycott NBA
After the Bucks initiative to not appear in the game tonight a number of players, coaches and analysts have made remarks and boycotted NBA activities.
Along with the suspension of the playoffs games today (which have been scheduled on Wednesday), the players took to social media to speak their thoughts to the massive fan following of the NBA. The players who have broken their contracts by collectively protesting are demanding justice for the shootings.
The Milwaukee Bucks in their statement stated that
"We are calling for justice for Jacob Blake and demand the officers be held accountable. For this to occur, the Wisconsin State Legislature must reconvene after months of inaction and take up meaningful measures to address issues of police accountability, brutality and criminal justice reform. We encourage all citizens to educate themselves, take peaceful and responsible action, and remember to vote on Nov. 3."
"Despite the overwhelming plea for change, there has been no action, so our focus today cannot be on basketball."

Sterling Brown and George Hill read a prepared statement from the Milwaukee Bucks players.

(via @malika_andrews)pic.twitter.com/9rsHeWoKKx

— SportsCenter (@SportsCenter) August 26, 2020
Reaction across the league
In one of his recent interviews, LeBron James quoted that his mind is not completely into basketball which is rather in the thought of what he can do for the African American community in the USA. Wanting owners to take more action and participation in these issues, LeBron expressed his fear of him and his sons belonging to the African American community while living in the USA.
FUCK THIS MAN!!!! WE DEMAND CHANGE. SICK OF IT

— LeBron James (@KingJames) August 26, 2020
While his teammate Lakers guard JR Smith posted on Instagram, "You didn't hear us now you cannot see us. "
Hall of Fame coach Doc Rivers said that we need to demand better and it is deplorable that nothing happens even after such protests. Former USA president Barack Obama tweeted his interview video.
I commend the players on the @Bucks for standing up for what they believe in, coaches like @DocRivers, and the @NBA and @WNBA for setting an example. It's going to take all our institutions to stand up for our values. pic.twitter.com/rUGETgAt7P

— Barack Obama (@BarackObama) August 27, 2020
NBA analyst Kenny Smith exited the Inside the NBA set on TNT set in support of the movement by the players.
Legend Bill Russell supported the move by the current players and appreciated analyst Kenny Smith too.
I'm moved by all the @NBA players for standing up for what is right. To my man @TheJetOnTNT I would like to say Thank you for what you did to show your support for the players. I am so proud of you. Keep getting in good trouble. @NBAonTNT @ESPNNBA @espn #NBAPlayoffs ✊?

— TheBillRussell (@RealBillRussell) August 26, 2020
"We know it's a very emotional time for our players. They are struggling with what's been happening in this country for months, if not years," said WNBA Commissioner Cathy Engelbert who supports the WNBA league's decision to not play on Wednesday.
NBA Season Suspension
Two front runners in the NBA championship race The Los Angeles Lakers and LA Clippers have reportedly voted in favor of season suspension while most other teams have voted in favor of completing the season. The meeting which was more of a poll was headed by speakers consisting of NBA players: NBPA president Chris Paul, NBPA VP Andre Iguodala, Kyle Korver and Clippers coach Doc Rivers
Discussions on continuing season will extend into tomorrow, sources tell ESPN, but appears unlikely the three playoff games on Thursday will be played. "Everyone is still too emotional," one high-ranking source tells ESPN. "There needs to be more time to come together on this."

— Adrian Wojnarowski (@wojespn) August 27, 2020
Conclusion
Basketball is something that unites a lot of people across the world. It also gives players who are icons a better opportunity to make statements and spread the word. Suspension of the NBA season is the last thing that the fans want right now as now is the time we need unity more than any other instance. Also, mentioning the livelihoods depending on the game a season suspension would cripple the economic status of the people related to the game who are already hit due to the coronavirus pandemic. What can be done is to play the season with provisions to make the Black Lives Matter movement stronger and donating the money generated to the charities working for the same because it is bigger than just basketball.