The name of Gracie Hunt is closely associated with the dominant NFL team the Kansas City Chiefs. The honorable lady is the daughter of the team's owner Clark Hunt. Besides belonging to the owner's family, Gracie holds an important position within the Chiefs.
So, let's find out more about the Chiefs beauty queen who works closely for the welfare of the team.
Gracie Hunt: Early Life and Background
The beautiful lady is the daughter of Clark and Tavia Hunt. Gracie is the eldest child of the couple and has a younger brother and sister. She is a stunning woman of 23 and is very focused on her career.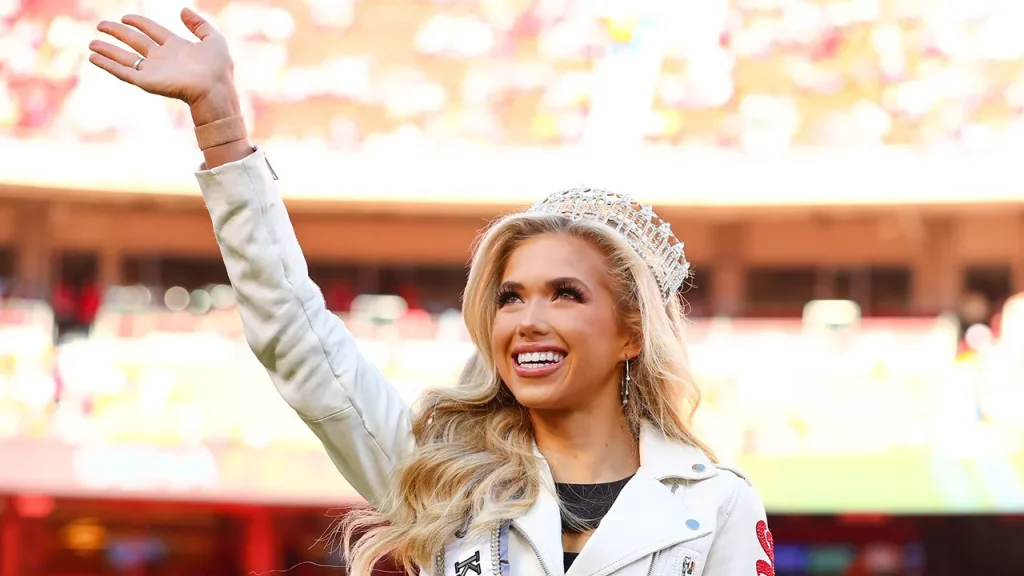 As she belongs to one of the richest families in America, the pressure of being prominent was always present in her way. And she seems to be successful to hold onto her family heritage and do something with her own endeavors.
Gracie is quite beautiful and her beauty comes with a brain too. She has participated in many beauty contests over the years and left solid footprints in the fashion arena. Clark Hunt's daughter became Miss Kansas USA in 2021 and made her parents extremely proud.
Gracie Hunt's Role in the Kansas City Chiefs Organization
Locking her pageants crowns on the shelf, she entered into sports management to satiate her other cherished project which is the craze for sports. Gracie got the role of the Chiefs' public relations official and is very pleased to attend press conferences, games, and other activities.
Gracie Hunt is still a student at the University of Kansas and studying sports management. She is perhaps focusing on preparing herself for a much bigger role within the team.
Patrick Mahomes, Chiefs Heiress Gracie Hunt, and NFL world mourn the loss of Norma Hunt – "She will be missed!" https://t.co/GBKHGR1ueQ

— Sport Tweets (@TweetsOfSportUK) June 5, 2023
Many spectators claim that Gracie's smiling face only adds more charm to the Kansas City Chiefs whenever she makes her way to the ground and cheers for her team. Who knows, she might be the future Chiefs owner after her father and take the team to a more prestigious position than where they are today.