10 of the oldest footballers in FIFA World Cup history
Football has always been a game of competition, especially for places and shirts. Now, when it comes to the international scene, we always see a very impressive player struggling to get game time, especially when we have veterans who are fan-favorites in the same position as the said "impressive players".
These veterans too don't always want to disappoint their fans, thereby playing with all their strength and capabilities. Most of the time, they always get carried away with their performances that they continue playing until well past their peaks.
In football, peaks of footballers are considered to be between the ages of 26 and 33. Anything after that and you will be considered aged. Looking back at the FIFA World Cup and the players it had featured over time, it has been discovered that a lot of aged players are been displayed over and over again. So, we take a look at the most aged players to have featured in the World Cup:
#10. Willy Caballero (Age – 36)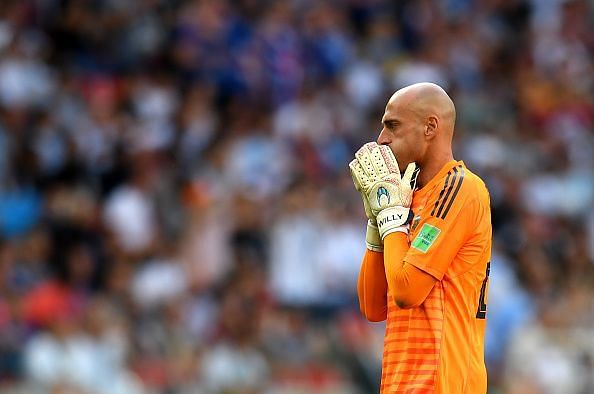 Starting off our list of the top 10 oldest players to feature in the FIFA World Cup is the Argentine guardian. Caballero spent most of his playing career in the Spanish Segunda Liga, with Elche and Malaga, although he eventually played in the La Liga later on with Malaga.
In 2014, he signed for Manchester City, helping them win the League Cup in 2016, saving three attempts in the ensuing penalty shoot-out against Liverpool, and in 2017, when game time was getting hard to come by for him at the Etihad, following the arrival of manager, Pep Guardiola, he signed for Chelsea, where he remained till present.
He represented Argentina at the under – 20 level, helping them to win the 2001 FIFA World Youth Championship, and was an unused member of the 2005 FIFA Confederation Cups in 2005. He featured for Argentina in the 2018 FIFA World Cup that was played in Russia aged 36 and made 5 appearances in all for the senior team.
#9. Tim Cahill (Age – 38)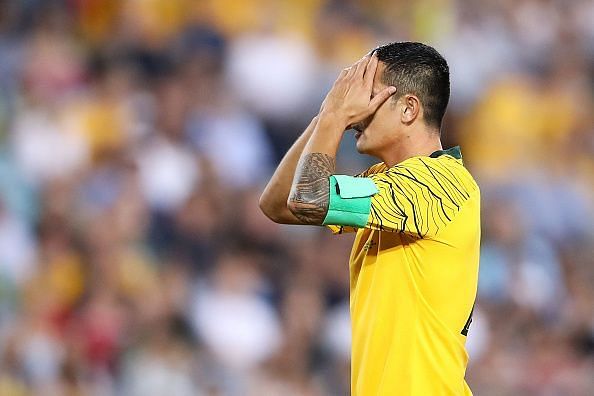 He is the all-time highest goal scorer for Australia. He was the first Australian to score at a FIFA World Cup and has scored in the World Cup competitions (2006, 2010, and 2014). He started his football career at Millwall in 2007, where he had 217 appearances, scoring 52 goals, before moving on to Everton. At Everton, he played 226 games and scored 56 goals.
He then went on to play at New York Red Bull, Shanghai Shenhua, Hangzhou Greentown, Melbourne City, and Jamshedpur, where he retired in 2019. At the national level, he played for Samoa U20 in 1994 at the OFC U20 Championship, before changing his allegiance to his country of birth, Australia, making his debut on March 30, 2004, against South Africa.
He went on to score 50 goals in 108 appearances for Australia, representing the country once at the 2018 FIFA World Cup tournament at the age of 38. Although he couldn't go far in the tournament, Cahill entered the oldest World Cup players' list.
#8. Sergei Ignashevich (Age – 38)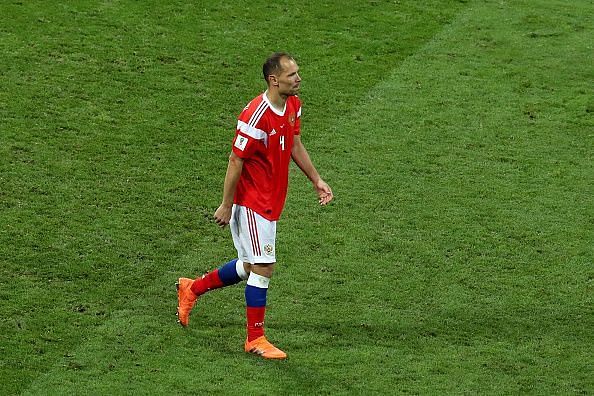 This is another man who entered the history books during last year's edition of the tournament. Ignashevich spent his entire career in Russia, starting his senior football career with Spartak Orekhovo, just for a year and joined Krylia Sovetov Samara also for one season.
He was signed in 2000 by Lokomotiv Moscow, winning three trophies with them – The Russian Cup in 2001, The Russian Premier League in 2002 and The Russian Super Cup in 2003, before signing for CSKA Moscow in 2004. At CSKA, he won 3 league titles, 5 Russian Cups and the 2005 UEFA Cup.
He made his international debut in a match against Sweden in 2002 and he went on to have 120 appearances for the Russian national team. But he came out of international retirement to play for Russia at the 2018 FIFA World Cup aged 38.
#7. Rafael Marquez (Age – 39)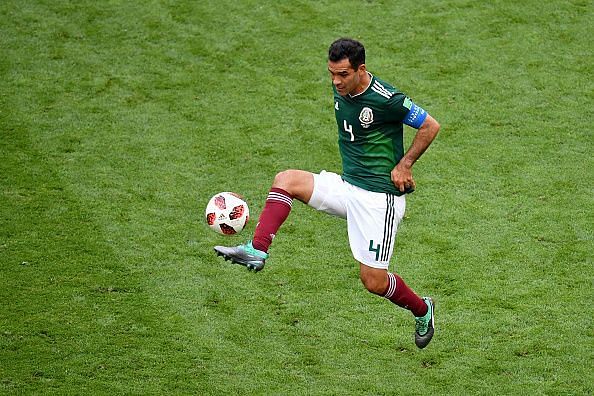 Nicknamed El Kaiser, Rafa Marquez is regarded as the best defender in the history of Mexico and one of the best Mexican football players of all time. Marquez began his playing career with Atlas in 1996, appearing for them 77 times and scoring 6 goals before moving on to Monaco in the French Ligue 1 and winning the Ligue 1 title with them in 2000.
He moved to Barcelona in 2003. He appeared in 163 games at Barca, scoring 9 goals, and winning tons of trophies. He globe trotted for a while, moving to the New York Red Bulls, Leon, Hellas Verona, before finally calling it quits with football at Atlas in 2018. He made his debut in the Mexico national team on February 5, 1997, and went on to appear for them 147 times, scoring 17 goals
He appeared for Mexico at the 2018 FIFA World Cup held in Russia at the age of 39 years, making him the second oldest outfield player at the competition. His appearance at the competition also means that he was the fourth player to feature in five World Cup finals, and the first-ever player to captain in five World Cup tournaments.
#6. Dino Zoff (Age – 40)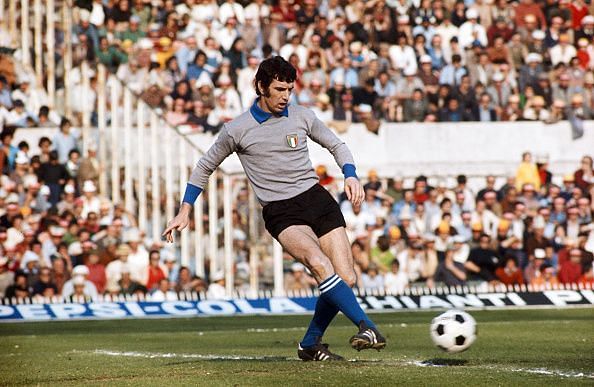 This became the oldest player in football history to win the FIFA World Cup when he won the trophy with Italy in the 1982 tournament. He competed in the competition at the age of 40 years, 4 months and 13 days, even captaining the team.
He was named as the third greatest goalkeeper of the 20th century behind Lev Yashin and Gordon Banks. He holds the record for the longest playing time without allowing goals in at international tournaments, with 1142 minutes set between 1972 and 1974.
He started his football career with Udinese in 1961, after being rejected by Internazionale and Juventus for lack of height. He made 34 appearances before moving to Mantova, where he made 131 appearances. He joined Napoli in 1967 where he made 142 appearances before transferring to Juventus, where he stayed till his retirement in 1983.
He made his senior Italian debut on April 20, 1968, in a quarter-final win against Bulgaria at the 1968 Euros in Naples. He went on to rack up 642 appearances for the Azzurri, even appearing for them at the age of 40 in the 1982 round of the tournament.
#5. Peter Shilton (Age – 40)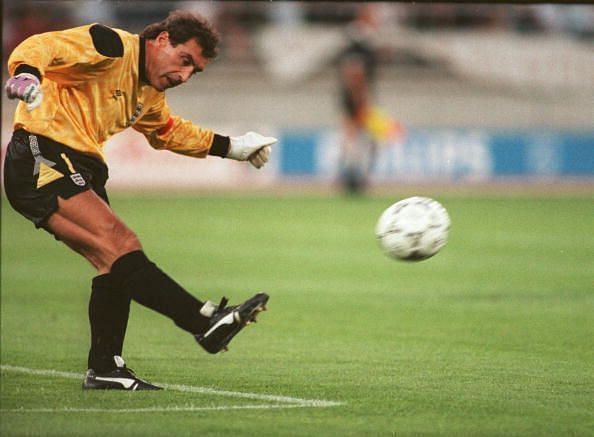 He currently holds the record for playing the most games for the England national team, with 125 caps – you would make that much appearances too if you play till you early forties – Shilton feature for England in the 1990 World Cup at the age of 40 years, 9 months and 19 days.
He started his football career at Leicester City, before moving on to Stoke City, Nottingham Forest, Southampton, Derby County, Wimbledon, Bolton Wanderers, Coventry City, West Ham United, and Leyton Orient.
He had his international debut for England in 1970, before going on to feature for the nation a record 125 times, even till after he turned 40. He is the oldest English footballer of all time and he also holds a place among the oldest players to participate in a World Cup match.
#4. Pat Jennings (Age – 41)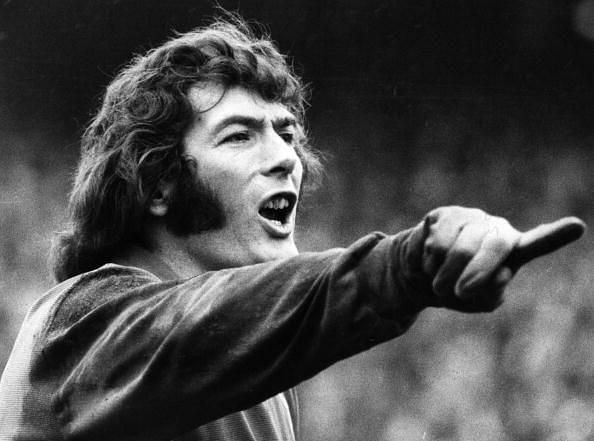 Another legendary goalkeeper on this list, the unbeatable Pat Jennings is the record holder for most appearances for Northern Ireland after featuring in the country's outing at the 1986 FIFA World Cup at the age of 41 and making his way into the history books as a result.
He started playing at the Shamrock Rovers' under – 18 side, he moved to Newry Town, and then Watford, before he was bought by Tottenham Hotspur in 1964. He appeared 472 times for the Lilywhites before moving on to their arch-rivals, Arsenal in 1977, where he stayed until 1985.
He made his international debut in a British Home Championship match against Wales on April 15, 1964. He went on to be capped 119 times with the national team set up. He even appeared for North Ireland in the 1986 World Cup, after retiring from club football.
#3. Roger Milla (Age – 42)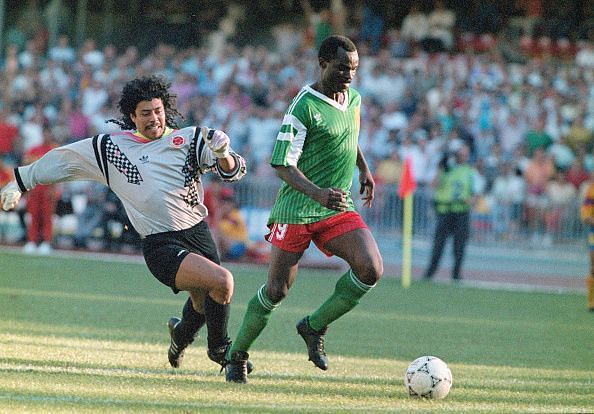 Roger Milla is the oldest goal scorer in the World Cup competition, having scored for his Cameroon side at the 1994 FIFA World Cup against Russia at the age of 42 years, 1 month and 8 days. He started his football career at Leopard Douala in 1970, having 116 appearances at the club scoring 89 goals. He moved to Tonnerre in 1974, where he had 69 goals in 87 appearances.
He finally moved to Europe with Valenciennes in 1977, where he scored 6 goals in 28 appearances, before moving on to Monaco, Bastia, Saint – Etienne, Montpellier, Saint – Pierroise, Pelita Jaya, and Putra Samarinda between 1979 and 1996.
He made his debut appearance for Cameroon in a World Cup qualifier match against Zaire in 1973. He went on to feature for the Indomitable Lions 63 times, scoring 37 goals. He even came out of retirement to play for them in the 1990 World Cup, being 38 years then, before featuring again in the 1994 edition of the tournament at the age of 42.
#2. Faryd Mondragon (Age – 43 years)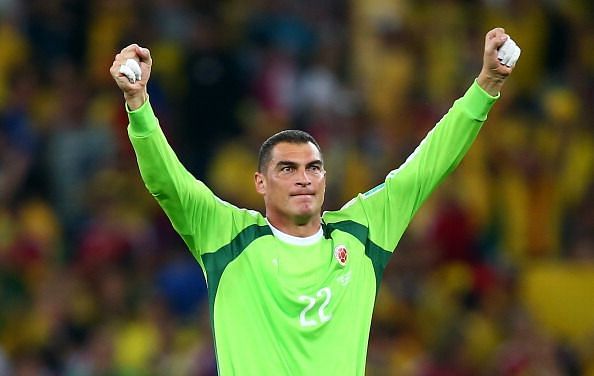 He was the oldest player to play in the FIFA World Cup for four years after he featured in the 2014 FIFA World Cup for Colombia at the age of 43 years and 3 days. In fact, many thought he would remain at the top of the list for many years after he achieved the feat in Brazil.
He began his playing career at Deportivo Cali in 1990, before moving to Independiente Santa Fe in 1992, and then Cerro Porteno the same year. He went on to join Argentinos Juniors in 1993.  Then he went globetrotting with Independiente, Real Zaragoza, Metz, Galatasaray, 1. FC Koln, Philadelphia Union, before he retired at Deportivo Cali.
He made his international debut against Venezuela in 1993 and went on to win 51 caps for the Colombian national team. He even featured in the 2014 FIFA World Cup for Colombia at the age of 43. He ranks second on this list.
#1. Essam El Hadary (Age – 45)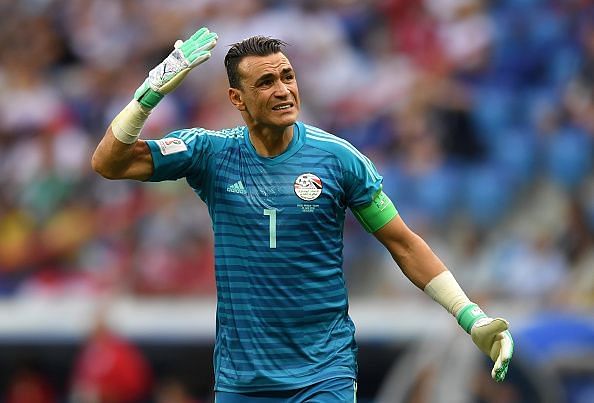 Finally, we've gotten to the man everyone would love to learn about on this list. Essam El Hadary is the oldest player in the history of world football after he appeared for Egypt in the 2018 FIFA World Cup at the age of 45 years and 161 days.
He was nicknamed "The High Dam", he played most of his football career at Al Ahly, where he won 26 trophies – 8 Egyptian Premier League titles, 4 Egypt Cups, Egyptian Super Cups, CAF Champions Leagues each, 3 CAF Super Cups, 2 Arab Super Cups and one Arab Club Champions Cup.
He also played for Damietta, Sion, Ismaily, Zamalek, Al Merreikh, Wadi Degla, Al-Taawoun FC, and was presently at Nogoom. He made his international debut in 1996, winning four Africa Cup of nation titles, it was said that he retired in 2013 after he was benched for several games, but he came back on March 5, 2014.
He won 150 caps with the Egyptian National team, featuring in their recent outing at the 2018 FIFA World Cup held at Russia. He was aged 45 years old then, and it was heard that he is still bent on featuring in the 2022 edition that would be held in Qatar.