Anthony Marshon Davis Jr., better known as Anthony Davis is a household name in the basketball community. The Laker's star center or power forward entered the league with the New Orleans Hornets in 2012 and later signed a contract with the Los Angeles Lakers in 2019.
Winning the NBA championship with the Lakers in 2020, Anthony's worth sky-rocketed. Being one of the highest-paid athletes in the world right now, surprisingly, Anthony likes to save money. Let us unfold all that there is about the NBA star's net worth and his wealth.
A Glance at Anthony Davis's Asset Accumulation
| | |
| --- | --- |
| Name | Anthony Marshon Davis Jr |
| Age | 28 years old (Born March 11, 1993) |
| Residence | Mansion in Bel Air |
| Net Worth 2021 | $60 million |
| Salary | $32 million |
| Endorsement Earnings | $10 million |
| Source of wealth | Salary, Endorsements, media ventures |
| Endorsements | Nike, red bull, Saks Inc, ExxonMobil, Foot Locker, ruffles, NBA2K |
| Expenditure | Mansions, Cars, charity |
| Philanthropy | Anthony Davis Family Foundation |
What Is Anthony Davis's Net Worth 2021?
According to Celebrity Net worth, The LA Laker's star player has an estimated net worth of $60 million as of 2021. With a championship under his belt, Davis's already high salary will keep growing. Furthermore, his endorsement deals and ad campaigns keep on adding to his net worth.
Anthony Davis's Source of Wealth:
Anthony's primary source of income is his professional career in the NBA. Other avenues include his brand deals and media ventures that make him richer by the minute.
Anthony Davis's NBA Salary:
Entering the NBA as the first overall pick by the New Orleans Hornets in 2012, Anthony has proved time and time again why he deserves to be a highly paid athlete. Currently, The NBA star earns a career-high annual salary of over $32 million with the LA Lakers which will further rise to a staggering $43 million by the 2024 season.
Nicknamed The Brow, Anthony signed a five-year contract with the Lakers in 2019 worth $190 million which is the fifth-largest deal in the history of the game. During the nine seasons he has played in the league, Anthony has earned over $150 million in salary alone.
Anthony Davis's Endorsement Deals:
AD's off-court earning primarily comes from his massive endorsement deals. In 2017, he signed a multi-year deal with Global brand Nike. In 2019, Anthony signed a deal with Potato Chips Company, Ruffles, and was named as the brand ambassador and creative partner. The two parties have released Anthony Davis's signature flavored chips called the "Lime & Jalapeno".
View this post on Instagram
Brow's other endorsement deals include NBA2K, Red Bull, Saks Inc., ExxonMobil, and Foot Locker. Annually, The NBA star earns $10 million from brand deals alone.
Anthony Davis's Earning Through Media Ventures:
The Olympic gold medallist has appeared on quite a few commercials over the years. Alongside commercials for brands like Red bull and Sportswear Company Foot locker, the 2017 All-Star MVP is primarily associated with the company, First Entertainment Credit Union. The financial services company and Davis had one major thing in common, figuring out saving money and budget-friendly expenditures.
Becoming the company's brand ambassador, Anthony was featured on several advertisements, commercials, billboards, and several other mediums through which the idea of financial literacy was promoted. The entire process must have been quite profitable for the Laker's star since he joined hands with the aforementioned in 2020.
How Anthony Davis Spends His Millions?
Unlike many highly paid athletes in the NBA, Anthony likes to save a fortune rather than trying to spend it. He believes in a comfortable life after retirement and credits his parents and other close associates for being able to control his whims. But he still owns certain amenities which are nothing short of expensive. Here's how the Brow spends his millions.
Anthony Davis's Lavish Mansions
AD paid $7.5 million on a massive mansion in the LA suburb of Westlake Village. Spanning over 2.3 acres of land, the huge mansion offers over 16,000 square feet of living space. The two-story property features an infinity pool worth $1 million alongside five bedrooms, six and a half bathrooms, and an indoor basketball court. Davis put this mansion up for sale at $8 million and later sold the property for $6.5 million in December 2020.
While the mansion was up for sale, Anthony reportedly rented a Bell Air home for 50,000 dollars a month and lived there for quite a long time. Finally, in 2021, the star power forward bought a mansion in the Bel Air Crest region for a whopping $31 million.
Anthony Davis's Car Collection
The Brow likes to keep it minimalistic and functional and reportedly, owns a few great sets of wheels. The star player owns a Mercedes Benz S500 coupe worth around $160,000 and a Porsche Panamera.
The basic price of the car is about $100,000 excluding customizations, which can be worth another additional $50,000. Earlier this year he was also spotted driving a Roll Royce.
Anthony Davis's Jewelry Collection
Anthony has been spotted wearing different sets of necklaces and other jewelry. While no one can pinpoint the athlete's actual collection or the worth of what he embraces himself in, they are no were near cheap. AD loves the idea of saving and thus, it can be assumed that his collection is not vast.
Anthony Davis's Luxurious Lifestyle: Custom Aquarium 
Anthony Davis has had a custom aquarium built in his LA mansion in December 2017. The 1100 gallon aquarium is home to over 50 different variety of exotic fish and also feature the star player's jersey number, his initials, and his signature unibrow. With a tabletop built around the uniquely shaped oval aquarium, it must easily cost over a million dollars.
Anthony Davis's Non-Profitable Investments: The Charity Work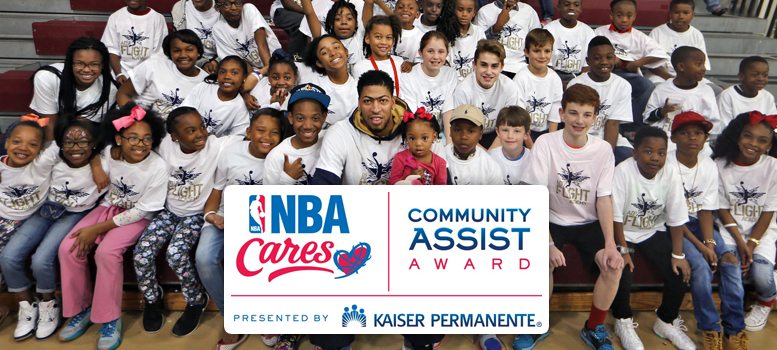 The Brow runs a non-profit organization called the Anthony Davis Family Foundation. Last year, the foundation committed to donating a sum of $250,000 to show their support for the launch of the "Help Feed the Frontline Fighting COVID 19 – LA" campaign. Furthermore, due to several other charity works and helping the society, Anthony Davis received the NBA Cares Community Assist Award for his philanthropic deed throughout New Orleans.