The Football Association has charged Liverpool manager Jurgen Klopp for comments he made against referee Paul Tierney during his team's dramatic 4-3 win over Tottenham on Sunday.
The Reds' manager has been given time until Friday, the 5th of May. He has until then to respond to the charges and explain himself.
The FA released a statement about the charges. It said, "It is alleged that the manager's comments regarding the match official during post-match media interviews constitute improper conduct in that they imply bias, and/or question the integrity of the referee, and/or are personal/offensive, and/or bring the game into disrepute."
May 2, 2023
What did the Liverpool manager say?
Ahead of his side's upcoming game against Fulham, Jurgen Klopp spoke in a press conference. He said, "The whole situation should not have happened at all."
"It was out of emotion and anger in that moment. That's why I celebrated the way I did. We won a game 4-3 in a spectacular manner and the only headlines I created and I really regret that. It's not necessary and not how it should be."
Klopp pulling his hamstring after screaming into the fourth official's face is the funniest thing you'll ever see. pic.twitter.com/9tsVb5pC3e

— Mehul Gupta 🏆🏆🏆 (@mehulg10) April 30, 2023
Klopp was enraged that Spurs were given a free kick that led to their equalizer. He then raced to yell at the fourth official after Liverpool scored the winner through Diogo Jota, injuring his leg in the process.
After his celebration, he was shown a yellow card by the referee. Klopp claimed after the game that what Tierney said to him during the booking was "not OK."
He was later heard saying, "We have our history with (Paul) Tierney, I really don't know what this man has against us, he has said there are no problems but that cannot be true. And now his comments have earned him an investigation from the FA.
Jurgen Klopp has been charged with improper conduct by the Football Association for comments he made about referee Paul Tierney after Liverpool's 4-3 win over Spurs. pic.twitter.com/03Q7vOUOzw

— Sky Sports Premier League (@SkySportsPL) May 2, 2023
According to the Professional Game Match Officials Limited (PGMOL), the body in charge of Premier League referees, the referee Paul Tierney "acted in a professional manner" throughout the game and also when cautioning Klopp. They also said that all match officials are recorded thanks to a communications system.
Jurgen Klopp's Spat with Referees and Liverpool's Quest for European Qualification
Klopp received a one-match ban after being sent off against Manchester City in October for criticizing the referee's assistant. He was also fined £30,000 and cautioned about his future behavior.
Klopp's previous spat with Tierney was during Liverpool's 2-2 tie at Tottenham in 2021, in which Kane avoided a red card but Andy Robertson was subsequently dismissed for aggressive behavior. Tierney's lack of "objectivity" was criticized by Liverpool manager Jurgen Klopp.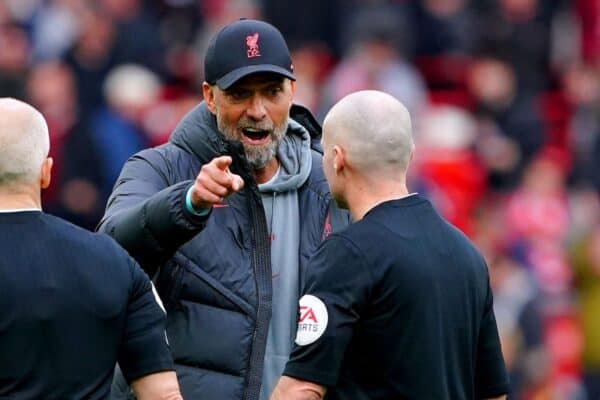 At the end of the game, Klopp approached Tierney. He then stated that the referee was the only official with whom he disagreed.
Tierney booked Liverpool's Andy Robertson earlier this month following a controversial incident that involved assistant referee Constantine Hatzidakis elbowing the Liverpool defender.
Liverpool will now face Fulham tonight in a bid to get to five consecutive Premier League wins. They will hope for a win to keep their chances for European qualification alive.