Ryan Garcia took on Gervonta Davis in a twelve-round bout in front of a packed T-Mobile Arena in Las Vegas. It is needless to say fight fans all around the world were excited about this fight. And this matchup delivered to its expectations as both lightweights put on a terrific show for the audience.
In the seventh round of the fight, Tank landed a powerful body shot to knockout King Ryan and emerged victorious in this super fight. Speaking more about this fight, Gervonta's power was on full display as he countered Garcia and delivered a nasty hook to drop him on the floor in the second round.
Tank Davis body shot on Ryan Garcia https://t.co/EtcTB4Y2VO

— Danny (@CountOn24) April 23, 2023
Despite getting knocked down in the second round, Ryan Garcia showed great heart to recover and make it a close contest. However, Tank's power proved to be too much as his body blow in the seventh round left Ryan on the canvas. After being unable to recover and get up from the second knockdown, the 24-year-old lightweight spoke about his KO loss in the post-fight interview.
Ryan Garcia | POST-FIGHT INTERVIEW: 'Tank is a great fighter … he caught me with a good shot, and I just couldn't recover' 👏 #DavisGarcia | #Boxingpic.twitter.com/dJUjpJ86zQ

— RINGOFHIGHLIGHTS (@ringofhighlight) April 23, 2023
"He caught me with a good shot. I don't want to be making any excuses. He just caught me with a good body shot and snuck under me. I just couldn't recover, I couldn't breathe. I was gonna get back up but I just couldn't get up."
Ryan Garcia believes that giving Gervonta Davis too much respect cost him the fight
While speaking in the post-fight interview, Ryan Garcia revealed the reason why he fell short against Gervonta Davis after a good first round. The 24-year-old lightweight boxer started strong as he pushed Tank back by applying a good amount of pressure. However, Davis weathered the storm and bounced back strongly to secure two knockdowns and finish the fight.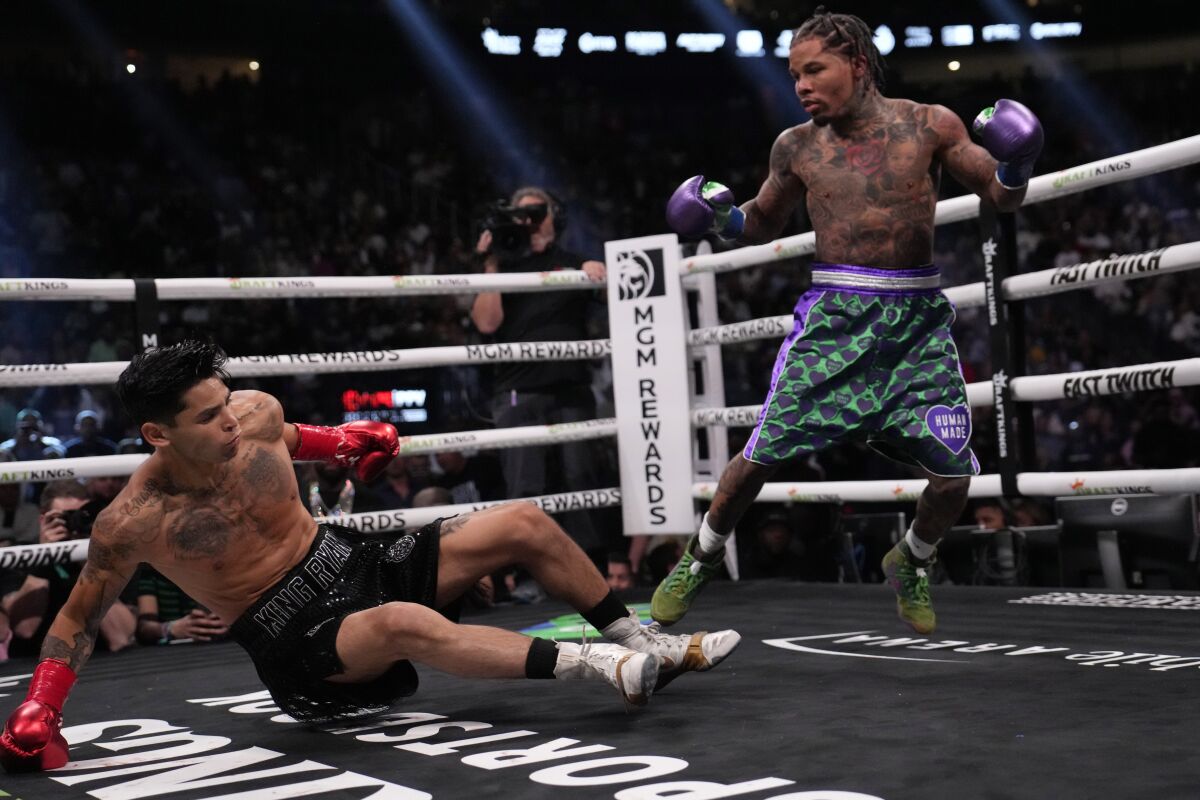 "I think I should have pressured him a little harder near the ropes. I was giving him a little too much respect and I think that was my downfall."
Despite suffering his first professional loss, Ryan Garcia showed class as he shook hands with Gervonta Davis and put their rivalry to bed. It would be interesting to see how the 24-year-old Mexican lightweight bounces back from this knockout loss. Do let us know in the comments section your thoughts on Ryan's performance against Davis.