Jake Paul has been running his mouth ever since his loss to Tommy Fury. The younger Paul's brother seemed to have aggravated his condition as he was caught having an acrimonious exchange of words with Floyd Mayweather Jr. He even had to run away from the scene, making things even worse for him.
One of Mayweather's crew members got the entire verbal spat on camera. He later handed the clip to TMZ sports, where these two were seen to be exchanging words right outside the Miami-Dade arena after the Miami Heat- Cleveland Cavaliers game.
The video suggests that one of Mayweather's crew members ignited the spark and was heard saying repeatedly if they should "bust him up."
Whether they would bust him up or not, the situation clearly went on to be another meme material perhaps. The meme aficionados are familiar with the "Why are you running" meme. Jake Paul was apparently caught off guard in a scenario that alluded to that meme, as that same person kept chanting, "Where are you running, Jake? Why is he running?"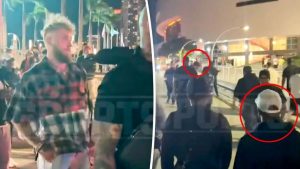 What did Jake Paul have to say about the incident?
Jake Paul eventually told his side of the story on Instagram. He claimed that "Money" was still mad about the time he infamously snatched a hat off the legendary boxer's head. His brother Logan Paul was squaring things off against Mayweather for an exhibition fight. Jake understands that the incident might be jarring for him.
What Paul doesn't understand is why Mayweather is still holding on to that incident. Jake claimed that Mayweather tried to rattle him with about fifty guys. As things transpired, Jake deemed it wise to run off and later advised Mayweather to move on from that incident.
What's Mayweather's side of the story?
However, one of Mayweather's crew members claimed that they didn't have any malevolent intention toward Jake Paul. It just happened that they ran into each other after the game. They felt it necessary to make a statement as Jake crossed lines while throwing unwarranted snide remarks at Mayweather. Jake made it bigger than a typical trash talk.
Who was at fault still remains unclear. Both have had their sides of the story to share. Jake, however, has not tried to hide the fact that he ran out of that place of his own volition. Jake doesn't feel it contingent upon him to face up to Mayweather in an uneven battleground. He even called out Mayweather for a fair battle in the ring. Things might get interesting if Jake, befittingly, drags this issue further down the line.