Joe Burrow injury update: The Bengals QB's timeline of return revealed following successful appendix surgery
The quarterback for the Bengals, Joe Burrow, successfully underwent surgery to remove his appendix. As Cincinnati's training camp gets underway, he is likely to skip practice for a few days. While a precise return date cannot be determined until after surgery, appendectomies are "minimally invasive," according to Dr. Tracey Childs, chief of surgery at Providence Saint John's Health Center in Santa Monica, California.
"He will probably miss practice for a week, or two," said Childs, who has been doing appendectomies for 40 years. "When he is comfortable enough to practice he can practice without restrictions. This is what we call 'bread and butter surgery.' It's super common."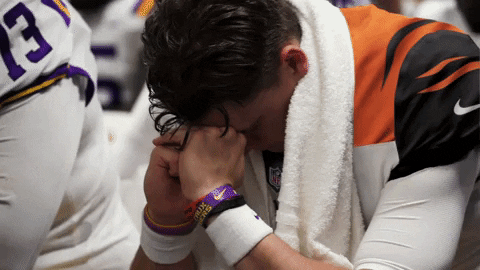 The quarterback underwent surgery right away when it was revealed that he had appendicitis on Tuesday. Zac Taylor, the head coach of the franchise, predicted that Burrow would be released from the hospital on Wednesday. "The timeline is obviously to be determined but again, everything went smoothly," Taylor said.
Because every athlete recovers in a different manner, it is difficult to say when Burrow will be able to participate in league games. An appendectomy normally takes 7 to 10 days to heal, sometimes even longer. In any case, Cincinnati doesn't begin padded sessions until the next week.
Brandon Allen, the backup quarterback, will play most of the snaps in the interim. "He won't lose a step," Allen said. "When he gets back and is able to practice, I think he'll be right in stride with (what he'd be) if he was here."
Also seeing more time with the Bengals is former UDFA Jake Browning, who joined the practice squad in September. In the upcoming days, Cincinnati might bring in another young signal-caller.
The 25-year-old quarterback led the Bengals to their first Super Bowl trip since 1988 in 2021 after recovering from a left knee injury incurred during his rookie season. Burrow threw for 4,611 yards and 34 touchdowns during the regular season, earning him the league's comeback player of the year honor.