Aaron Rodgers is being compared to a fictional soccer player! The popular character is incredibly portrayed by an Austrian-born, Chicago-raised actor Maximilian Osinski who previously starred as Agent Davis on Marvel's Agents of SHIELD.
From the cast and crew shooting in real Premier League stadiums to displaying incredible choreographed plays, Ted Lasso season 3 gives a major real soccer world vibe and one of its characters Zava is catching the eyes of the audience for his similarities with the veteran Rodgers.
Does Ted Lasso's Zava look like Aaron Rodgers?
NFL fans across the country are buzzing with excitement as they draw hilarious parallels between Green Bay Packers quarterback Aaron Rodgers and Apple TV's popular fictional character Ted Lasso's Zava character, newly introduced in Season 3 Episode 2 of the series.
Many fans were drawing similarities between the four-time MVP and Zava.
I'm on to something here man. I can feel it. 😂#AaronRodgers #zava #nyjets #JetsTwitter #Jets pic.twitter.com/TBh1XNbaHw

— GreenBean (@beanthejetsfan) April 8, 2023
Catching up on Ted Lasso and Zava is def based on Aaron Rodgers right?

— 💫🅰️♈️🆔 (@ADavidHaleJoint) April 7, 2023
Some fans were arguing the character was definitely based on A-Rod as the looks and personality traits of Zava are very similar to Aaron's.
the ted lasso writers 100% based zava on aaron rodgers lol

— mike taddow 🆓 (@MikeTaddow) April 8, 2023
Anyone watching #TedLassoSeason3 think that the Zava is a character based on Aaron Rodgers? The similarities are just unbelievable from looks to character traits Lol

— Todd Stanley (@TRStanley16) April 1, 2023
A user tweeted that if another team swooped in and snatch Rodgers away from the Jets, it would be much like Richmond did with Zava on the show.
I swear to God the parallels between the Aaron Rodgers drama and Ted Lasso are uncanny, and it would be delicious to see another team swoop in and snatch Rodgers away from the Jets much like Richmond did with Zava on the show.

— Donovan Payton (@dtpayton) April 4, 2023
Who is Zava's character based on except Rodgers?
Osinski revealed Zava portrays the "ego and energies" of real soccer players like Eric Cantona and Robert Lewandowski, however, the main role model was Swedish-born marvel Zlatan Ibrahimović from the slick back ponytail to the neatly trimmed facial hair both of them resemble crazy.
"When I got the breakdown for the role, they described him as a mix between Zlatan Ibrahimović and Eric Cantona," he stated.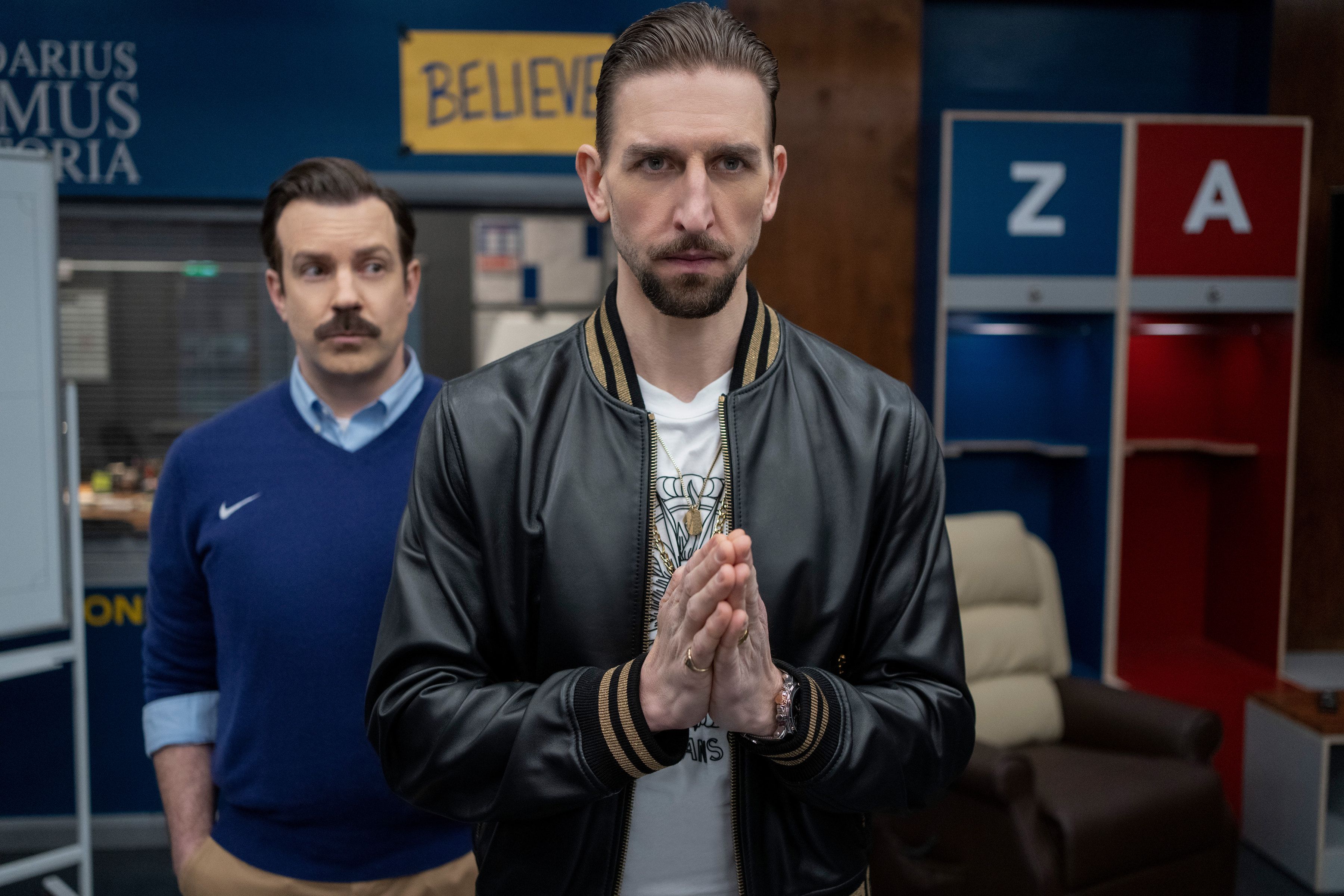 Osinski wanted to capture a sense of the real man behind the soccer player and not just what global sports superstars show to the press.
"You get a sense that these guys know what the press wants, and the press uses them as much as they use the press. I never viewed them as bad guys or villains. One thing I noticed with these big personalities, especially with Zlatan, is they'll say something really cocky but then give a wink or a smile. You get a sense that they mean what they say at the moment, but they do have charm, too," he further added.
As more episodes will air, fans will draw more parallels between Zava's character and Rodgers for sure.
While the comparisons between Rodgers and Zava are not surprising, they highlight the creativity and humor of NFL fans who are always finding new ways to entertain themselves and share their love for the game.