Oleksandr Usyk, popularly known as the Cat, is an up-and-coming name in the boxing world. A former cruiserweight champion, the Ukrainian is said to be the best technical boxer by Johnny Nelson, another champion.
Apart from his gold medals at the 2011 World Championships and the 2012 Olympics, he became the first cruiserweight in history to hold all four major world championships — the WBA (Super), WBC, IBF, and WBO titles. Currently, he holds the #9 position on ESPN's Men's P4P list.
Once dubbed a 'live bodybag' by his soon-to-be opponent Anthony Joshua, Usyk holds a spotless 18-0 record. How much has this success impacted Oleksandr Usyk Net Worth? Let's have a look at his career earnings, salary, endorsement, and more.
A Glance at Oleksandr Usyk Asset Accumulation
| | |
| --- | --- |
| Name | Oleksandr |
| Age | 34 (Born on 17 January 1987) |
| Net Worth | $4 Million (estimated) |
| Status | Active |
| Salary | $2.5 (last fight) |
| Source of Wealth | Boxing, Endorsements, Businesses |
| Endorsements | BoxRaw, Rival, JAXET, LOMUS, WePlay Esports |
| Endorsement Earnings | $1 million+ |
| Marital Status | Married to Kateryna Usyk with 3 children |
| Residence | Kyiv, Ukraine |
| Charities | Oleksandr Usyk Foundation, Parimatch and more. |
What is Oleksandr Usyk Net Worth in 2021?
According to our research, Oleksandr Usyk's Net Worth sits at an estimated $4 million in 2021. For the most part, the Ukrainian makes most of his money in the boxing ring. However, endorsements by various boxing-related brands and his own sportswear brand further add to his income.
Generally, Oleksandr gets a hefty paycheck after each fight, with his last fight with Derek Chisora fetching him $2.5 million. Moreover, the earnings have been gradually increasing after each fight and are expected to grow further on.
In summary, Usyk brings in a good amount of revenue from all of his different ventures. Presently, he is the fourth-best active heavyweight as per BoxRec and ESPN.
Oleksandr Usyk's Sources of Wealth
To begin with, Oleksandr Usyk has various sources of wealth. The boxer owes the majority of his wealth to his professional boxing and endorsements. Let's take a look at the brief detail on The Cat's earning sources.
Oleksandr Usyk's Earnings through Boxing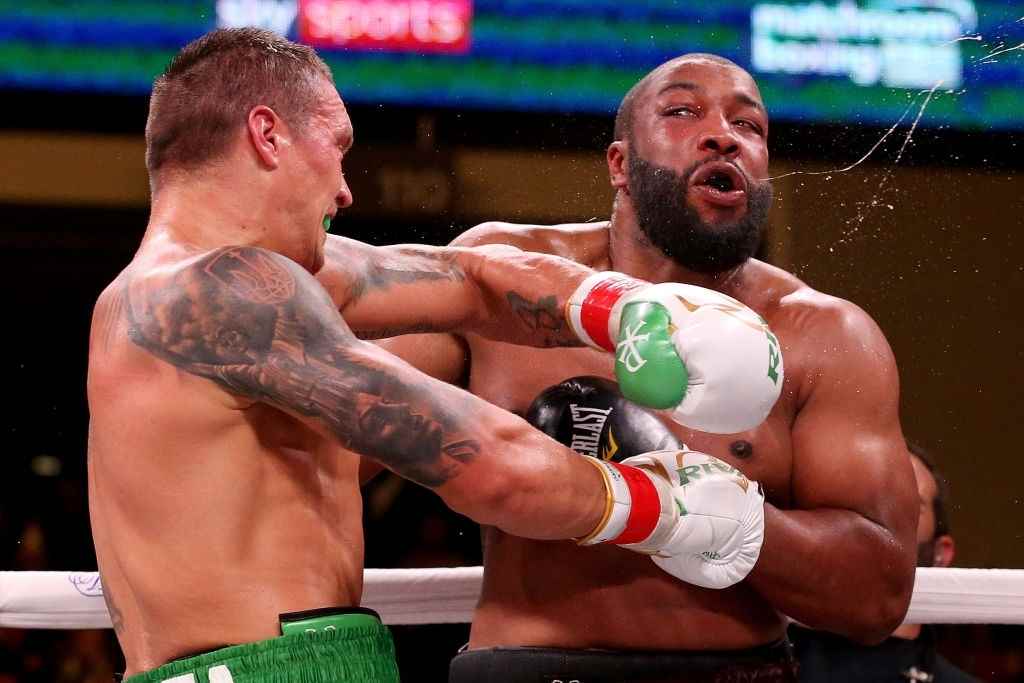 Initially, Usyk's paychecks started lower than $50,000 (£37k). However, over time the Ukrainian has worked hard to earn his stripes and his money. As a result, Oleksandr's career earnings sit at a respectable £3.8 million.
Furthermore, in his upcoming fight with Anthony Joshua, Usyk will be doubling his career earnings in one fell swoop. As it stands, Usyk will earn a guaranteed £3 million and an additional £2 million from PPV sales. Here is a list of Oleksandr Usyk's biggest paydays:
| | | | |
| --- | --- | --- | --- |
| Fights | Purse | Result | Date |
| Krzysztof Glowacki | £37,000 | W | 17 Sep 2016 |
| Michael Hunter | £55,000 | W | 8 Apr 2016 |
| Marco Huck | £55,000 | W | 9 Sep 2017 |
| Mairis Briedis | £148,000 | W | 27 Jan 2018 |
| Murat Gassiev | £250,000 | W | 21 Jul 2018 |
| Tony Bellew | £730,000 | W | 10 Nov 2018 |
| Chazz Witherspoon | £ 1 million | W | 12 Oct 2019 |
| Derek Chisora | £1.8 million | W | 31 Oct 2020 |
Oleksandr Usyk's Endorsement Deals
Oleksandr Usyk, Vasyl Lomachenko, and Managing Partners of WePlay Esports Yura Lazebnikov and Oleg Krot have signed an agreement to create a company that will hold WePlay Ultimate Fighting League!

Follow our news — more fun is to come! @weplayufl pic.twitter.com/I67wVSP1hv

— Alexander Usyk (@usykaa) April 12, 2021
Additionally, the former cruiserweight champ has endorsement deals with boxing apparel company BoxRaw. Also, Usyk's gloves for fights and training are provided by Rival. Apart from that, the boxer has a partnership with WePlay Esports, an organization for fighting game tournaments. Oleksandr has also partnered up with clothing brand JAXET.
Oleksandr Usyk Businesses
On August 1, big boxing returns to Ukraine. USYK 17 PROMOTION is debuting with an innovative sports show – Big Boxing Night.#bigboxingnight #bigboxingnight2020 #usyk17promotion #usyk pic.twitter.com/K96MNgupuO

— Alexander Usyk (@usykaa) July 14, 2020
Usyk owns his very own boxing promotion, USYK 17 PRODUCTION, and runs another clothing brand LOMUS with his wife, Kateryna. Therefore, Usyk manages to rake in well over $ 1 million from these sources as well.
How Oleksandr Usyk Spends His Millions?
Try to keep in training all the time! pic.twitter.com/UIa4Fot1A8

— Alexander Usyk (@usykaa) February 9, 2018
Despite having a respectable net worth, Oleksandr Usyk refrains from spending lavishly on houses, cars, and other luxury items. Rather, he prefers to use his money wisely and opts to spend it on his family vacations and holidays.
Oleksandr Usyk Luxury Home
Presently, Oleksandr is said to be residing in a big mansion in Kiev (Kyiv), Ukraine. The boxer lives here with his wife and three children. Earlier this year, in the midst of the coronavirus pandemic, Usyk uploaded an endearing and lovable video of training his daughter how to box.
Oleksandr Usyk Luxury Cars
Similarly, the Ukranian's garage is nothing spectacular or flashy either. As such, Usyk is known to have a Lexus LX SUV which costs between $80,000 and $90,000, and an old school Mercedes W140 which costs around $15,000.
Oleksandr is particularly fond of his old-school Mercedes and released a video of it on his social media. According to sources, Usyk claims the simplistic car to be his dream car and seemed overjoyed at the fact that he finally owns one.
Oleksandr Usyk's Non-Profitable Investments: The Charity Work
Whilst there is not a lot of information regarding Usyk's charitable deeds, it is known that the boxer runs a non-profit foundation, the Oleksandr Usyk Foundation. Moreover, he has also joined Parimatch as the first-ever Responsible Gambling Project ambassador.