Anthony Joshua is one of the biggest names in the boxing world. The British professional boxer is a two-time unified world heavyweight champion. Currently, Joshua also holds the WBA, IBF, WBO, and IBO titles.
Before his professional boxing career, Joshua found great success representing England at the World Championships and the 2012 Olympics. Anthony prioritizes winning medals over money and once famously rejected £50,000 to turn professional.
However, AJ eventually did go professional and now has a record of 25 wins and only 1 loss, boasting an incredible 22 wins by knockout. So how has this impacted his Net Worth? Let's have a look at Anthony Joshua's career, salary, endorsement, and more.
A Glance at Anthony Joshua Asset Accumulation
| | |
| --- | --- |
| Name | Anthony Joshua |
| Age | 31 ( Born on 15 October 1989) |
| Net Worth | $80 Million (estimated) |
| Status | Active |
| Salary | £10 million (last fight) |
| Source of Wealth | Boxing, Endorsements, Business |
| Endorsements | Under Armour, Jaguar Land Rover, Beats Electronics, Sky Sports, Audemars Piguet, DAZN, Electronic Arts, and Hugo Boss, Lucozade |
| Endorsement Earnings | $11 million+ |
| Marital Status | Unmarried |
| Residence | Watford, Hertfordshire and North London, England |
| Charities | Stubhub, Forever Hope, Great Ormond Street Children's Hospital, Fight for Peace's Academy |
What is Anthony Joshua Net Worth in 2021?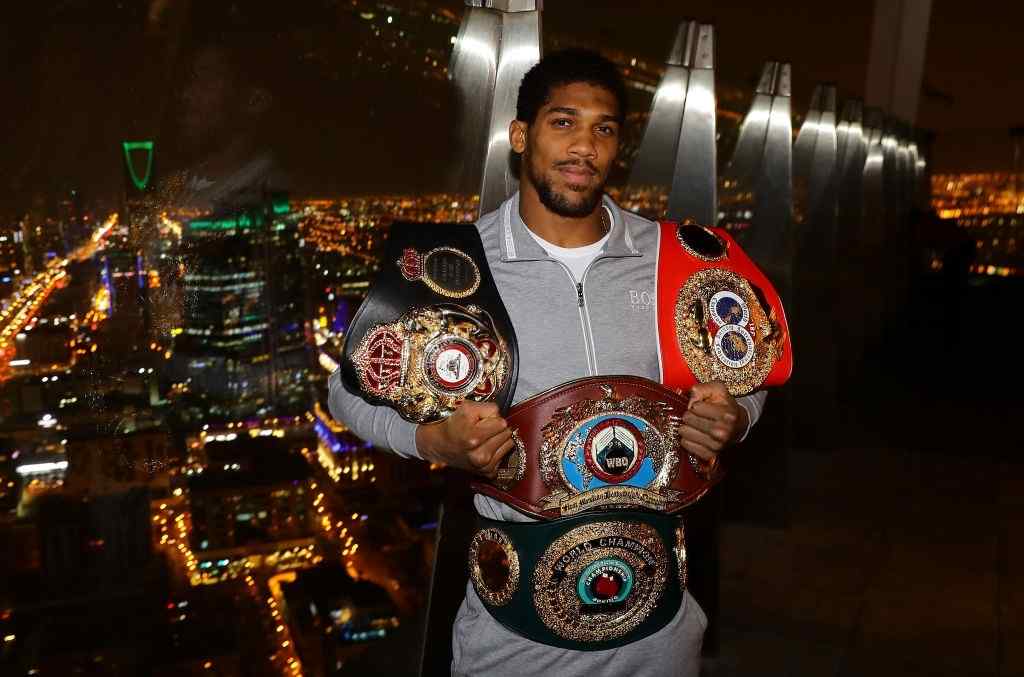 According to our research, Anthony Joshua's Net Worth sits at an estimated $80 million in 2021. For the most part, Joshua makes most of his killing plying his trade in the ring but also from his lucrative endorsement deals.
Last year, the British-Nigerian also scored a thundering knockout on Kubrat Pulev. As a result, AJ's influence has grown further and seen him become one of the most promising and marketable athletes.
Previously, in an interview with GQ, AJ talks about becoming a multi-millionaire. But, he feels that he must now aim higher and is hence working toward becoming a multi-billionaire instead.
Anthony Joshua's Sources of Wealth
To begin with, Anthony Joshua has various sources of wealth. The boxer owes the majority of his wealth to his professional boxing and endorsements. Let's take a look at the brief detail on AJ's earning sources.
Anthony Joshua's Earnings through Boxing
Initially, Joshua rejected the opportunity to turn professional as he still wished to compete for medals and other accolades. However, after beginning his professional career, Joshua has brought in more than $160 million in fight purse and PPV revenue.
Furthermore, in his upcoming fight with Oleksandr Usyk, Anthony stands to make a guaranteed £10 million and an additional £5 million from PPV shares. Here is a list of Anthony Joshua's biggest paydays:
| | | | | |
| --- | --- | --- | --- | --- |
| | Fights | Purse | Result | Date |
| | Dominic Breazeale | £4.5 million | W | 25 June 2016 |
| | Charles Martin | £5 million | W | 9 April 2016 |
| | Eric Molina | £5 million | W | 10 December 2016 |
| | Carlos Takam | £10 million | W | 28 October 2017 |
| | Kubrat Pulev | £10 million | W | 12 December 2020 |
| | Wladimir Klitschko | £15 million | W | 29 April 2017 |
| | Joseph Parker | £20 million | W | 31 March 2018 |
| | Alexander Povetkin | £20 million | W | 22 September 2018 |
| | Andy Ruiz Jr. | £25 million | L | 1 June 2019 |
| | Andy Ruiz Jr. | £60 million | W | 7 December 2019 |
Anthony Joshua's Endorsement Deals
Additionally, AJ has also been referred to as a 'marketing juggernaut' by Forbes. Namely, Joshua's sponsors include: Under Armour, Jaguar, Land Rover, Beats Electronics, Sky Sports, Audemars Piguet, DAZN, Electronic Arts, and Hugo Boss, Lucozade. Therefore, Anthony can rake in more than $11 million through endorsements alone.
On top of that, Anthony also travels in an Under Armour-sponsored £45 million private jet for his vacations. Freddie Cunningham, Joshua's marketing manager claims that all of AJ's holidays (to Jamaica, Miami, and Dubai) are free and paid for. Freddie adds, "He's not spending that money. He's accumulating money. He's living a lifestyle that probably everyone wants him to live, or see him live, but he's doing it in a smart way. Tactful."
Anthony Joshua's Business
Friendships evolve around business when everyone is commited to hard work 🎓 #AJBXNG pic.twitter.com/fzOwmrtpuh

— Anthony Joshua (@anthonyjoshua) May 17, 2018
Joshua owns his very own sportswear clothing brand, AJBXNG. Apart from that, AJ is also the CEO of AJ Boxing and Commercial. Setting up this company means that Joshua is personally able to look after his commercial interest, management, and brand.
How Anthony Joshua Spends His Millions?
Summer Madness 🪐 pic.twitter.com/DEUzjIUMAs

— Anthony Joshua (@anthonyjoshua) July 9, 2021
Despite having a big bank balance, AJ remains level-headed and uses his money strategically. Recently, he told his social media followers: "Don't save what is left after spending, spend what is left after saving." Hence, rather than spending lavishly on himself, he works towards providing more for his friends and family.
Anthony Joshua Luxury House
Recently, The Mirror reported that Joshua invested close to £7.5million in real estate in 2020. Presently, he resides with his mother and close family in a £175,000 ex-council house. However, whilst training for his fights, the boxer is known to rent out a £20,000 a week apartment as well. Reportedly, AJ also spent £500,000 on a penthouse for his ex-girlfriend Nicole Osborne, following their split.
Anthony Joshua Luxury Cars
In addition to that, the British-Nigerian owns a fleet of luxury cars. Namely, the collection includes a Jaguar XJR (£93,000), a Range Rover SVAutobiography Dynamic (£150,000), and a Rolls Royce Phantom (£600,000). Whilst the Jaguar and the customized Range Rover are provided to him for free by his sponsors, he still has to bear some expenses for their maintenance.
Anthony Joshua's Non-Profitable Investments: The Charity Work
Above all, Anthony believes in giving back to his friends, his family, and society. As a result, Joshua has supported Stubhub, Forever Hope, Great Ormond Street Children's Hospital, by raising more than £10,000 through donations and auctions.
Moreover, Joshua took the initiative to help the country's youth stay away from gangs, drugs, and alcohol by funding the "Fight for Peace's Academy" in Newham for young boxing aspirants. Anthony is also a big advocate for "Black Lives Matter" and was at the forefront of protests in Watford, England.