Patrick Mahomes Girlfriend: Top 10 Interesting Facts of Brittany Matthews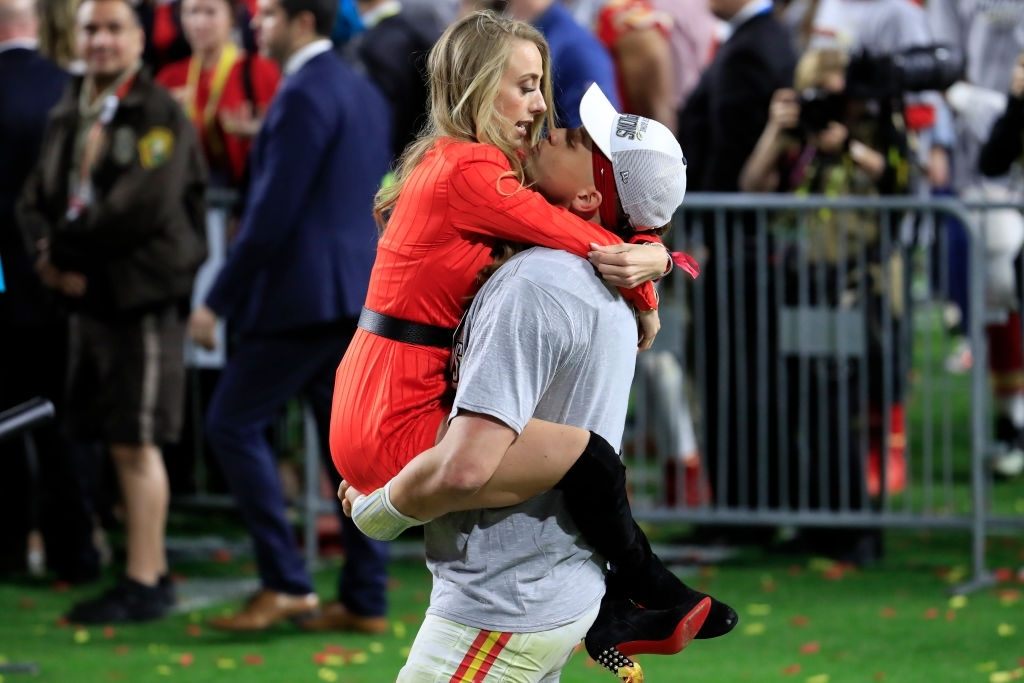 Brittany Matthews, the girlfirend of the star NFL player Patrick Mahomes is a former professional athlete and currently an entrepreneur of her own athletic company. She is definitely not that famous as a particular individual. Yet, her fame stands upon the fact that she is the partner of the Kansas City Chiefs quarterback.
This is how fans get to know her and strike up a few questions about her because she is not a huge celebrity with a variance of social media handles. In this article we will cover the Top 10 Interesting Facts Of Brittany Matthews.
#1.

Patrick and Brittany are high-school sweethearts:

High-school love life happens to be the best if it further remains the same in future. Well that is somewhat exactly how Brittany met the love of her life. A set of mutual friends and a lot of love is what they shared from the very beginning and the couple moved on to become a happily married couple.
#2.

The couple went to rival colleges:

The high-school blooming loved bloomed even more when Patrick and Brittany joined different colleges. Moreover the two were basically college rivals. They were obviously not close together, yet the couple made efforts to find time for each other and feed fat their passionate romance.
#3.

Brittany is a former athlete:

Even though not much covered in the news and media, we must know that Brittany has also been an athlete at a point in her life. She played for the Icelandic Soccer Team and loved it when she was in high school. However she deciphered that too much dedication to the game would hamper with her academics. Therefore she ceased to play after making a few notable professional appearances.
#4.

She is an entrepreneur:

After taking herself out of her soccer player mode, Brittany has found her focus to shift into being an entrepreneur. She set up her personal business in the Kansas City Area as a fitness trainer helping out all those who need a fair push up in order to maintain good physique and health.
#5.

She encountered a majorly tragic incident:

In the year 2018, Brittany was almost all over the news surrounding a massive tragedy that occurred in her life. Her step-father Paul Massey went to meet Patrick Mahomes in one of his games. Upon arriving at the stadium, he collapsed and by the time he was at the hospital, he breathed his last. It was an extremely impactful moment for Brittany.
#6.

Patrick was not informed of the tragdey until the end of his match:

The coach of Kansas City Chiefs, made sure of not letting Patrick encounter any media personell or whoever might know about the incident of Brittany's stepfather's death. It was right after the match that he was called upon the tunnel to inform about the incident. He rushed afterward avoiding any media interaction in order to be with her.
#7.

Brittany recently required security protection:

At one of the Kansas City Chiefs' games in which her boyfriend Patrick was also playing, Brittany required some protection. She was attending the game with her brother at the Gillette Stadium when the Kansas fans happened to end up harassing them alongside booing their team as well. Brittany and her brother had to have security intervene and move them out of their seats back to safety.
#8.

She and Patrick are pet parents:

Brittany and Patrick share immense love and affection for animals. It is noticeable in the way through which the couple pet their two dogs. They are parents to a Pitbull and a Cane Corso whose names are Steel and Silver resepctively. The couple alongside their pets were featured on the Companion Protect 2020 Pet Calendar. The proceedings of the same have been shared between Kansas City area animals shelter and Patrick's 15 and the Mahomies Foundation.
#9.

Brittany receives a lot of hate:

Regardless of being in a happy love life with her childhood sweetheart, Brittany at times receives a lot of rough talk that associates Patrick or his team's performance on various occassions. But, true love does not get moved by such petty stuff and therefore the couple is still living a happy life together.
#10.

She loves Kansas City:

Brittany Matthews had to move to the city of Kansas due to Patrick's career with the Kansas City Chiefs. Apparently the couple also took along their dogs and Brittany seems to be loving the locale to the core. She has reportedly stated the Kansas happens to be one of her fvourite cities to stay in. The couple mentioned that they have received warm welcome from the people around since they arrived in here. Until Patrick's change in career or location, Brittany states that Kansas is her most comfortable home till then.