The football transfer market has become crazy in recent years, with clubs now forced to shell out hefty amounts in order to sign their preferred targets. The summer transfer window was no different, as the elite clubs went in search of additions.
Manchester United had to pay a world-record fee in order to get the signature of Harry Maguire, who departed Leicester City for a whopping £80 million.
On the other side, Arsenal had to break their transfer record to sign Nicolas Pepe, who joined the Gunners from Lille in a deal worth £72 million. Other sides across the world also spent big sums during the summer transfer window.
With the inflation of player prices on the market, there has never been a better time to recount all the biggest bargains of the past.
Sports Zion, therefore, brings you the 10 best football free transfers of all time:
#10 Zlatan Ibrahimovic (PSG to Manchester United)
Zlatan Ibrahimovic has built quite a remarkable career for himself. He remains one of very few players to have remained consistent at the top, even in old age. The big Swede has played for a number of teams and, in truth, has commanded hefty transfer fees in the past.
However, his move to Manchester United in 2016 counts as one of the best free transfers of all time. Ibrahimovic joined the Red Devils that summer and helped Jose Mourinho's men win three major trophies (Europa League, Carabao Cup and Community Shield).
Need I state that the 38-year-old was instrumental in all those triumphs, scoring 27 goals in all competitions. He scored the winning goal the Community Shield against Leicester City and did same in the final of the Carabao Cup against Southampton. Surely, his signing was a big bargain, considering her joined on a free transfer.
#9 Roberto Baggio (AC Milan to Bologna)
Former Italy international Roberto Baggio holds a special place in world football. Baggio was a special talent and played all his life in Italy. Having started his career in Serie C, he rose to play for some of the biggest teams in the country.
Baggio had notable stints with AC Milan, Fiorentina, Juventus and Inter Milan. However, his move to the aforementioned clubs didn't spark eyebrows compared to when he joined Bologna in 1997.
The attacking midfielder joined Bologna from AC Milan on a free transfer and immediately rediscovered his form. He stayed at Bologna for just a year, where he scored 22 goals, before being sold for good money to Inter Milan the following year. Now that's a great deal.
#8 Sol Campbell (Tottenham to Arsenal)
Sol Campbell's move from Tottenham to Arsenal is usually remembered for the animosity it provoked between fans of both clubs. Already city rivals, the two North London clubs became even more divided after the Englishman's transfer.
Campbell was nurtured at the Tottenham academy and even rose to become Spurs captain. However, the defender wasted no time in crossing carpets when the Gunners came calling in 2001. Even more painful for Spurs, Campbell joined Arsenal on a free transfer.
While Tottenham lost a very important player, Arsenal brought out his best, as Campbell won a host of trophies in his time at the Emirates. He also went on to captain the Gunners and was part of their Invincible side that went unbeaten in 2004.
#7 Gary McAllister (Coventry to Liverpool)
Gary McAllister's move to Liverpool in the year 2000 was greeted with huge dissatisfaction among many Reds fans. This was largely due to the fact that the midfielder joined from low-rated Coventry and was already aged 35.
For many Liverpool fans, McAllister was past his best and would add nothing to their club. However, the Scotsman proved everyone wrong by delivering key performances at Anfield. By the time he left, many even considered him as a club legend.
McAllister was instrumental as Liverpool won multiple titles, including the victory in the 2001 UEFA Cup, where he scored in the final. The midfielder may have joined the Reds on a free transfer but he rose to become a leader in the dressing room. In the end, he became one of the best signings Liverpool have ever made.
#6 Esteban Cambiasso (Real Madrid to Inter Milan)
Former Argentina international Esteban Cambiasso is known for his breathtaking shooting ability. The midfielder also gave English fans a taste of his magic when he helped Leicester City survive relegation in the 2014/2015 season.
However, years before he completed that free transfer to Leicester City, Cambiasso was the subject of a weird transfer which turned out to be one of the shrewdest businesses in football history. The Argentine was once on the books of Real Madrid but he found game time really hard to come by.
He was released to join Inter Milan for free in 2004, having made just nine appearances in the league for the Blancos the previous season. Cambiasso became an instant hit at Inter, helping them win the Coppa Italia in his debut season. He went on to win numerous other trophies, including a treble in 2010 under Jose Mourinho.
#5 James Milner (Manchester City to Liverpool)
Many rival fans mocked James Milner when he completed a free transfer from Manchester City to Liverpool in the summer of 2015. The veteran midfielder refused to renew his contract with the Cityzens after growing tired of his bit part role in the team.
Jurgen Klopp had freshly joined Liverpool at the time and the German manager quickly signed Milner. It goes without saying that the Englishman became Liverpool's most important player, featuring in a variety of positions for the Reds.
Milner was initially being played as a left-back, but he sometimes also deputised as a right-back. When he finally got the chance in midfield, he took it and has now become a regular in Klopp's all-conquering Liverpool side. Milner was a key member of the Liverpool side that won the Champions League in 2019.
#4 Henrik Larsson (Celtic to Barcelona)
Henrik Larsson makes our list of best football transfers of all time, having completed a move to Barcelona in 2004. The former Sweden international joined the Spanish giants from Scottish side Celtic under very controversial circumstances.
Larsson had scored against Barcelona the previous season and was one of the best players in the Scottish Premier League. However, he opted to move to Spain when his contract with Celtic expired.
The striker's stay at Barcelona was not really successful but he finally made his mark during the 2006 Champions League final. With Barcelona down by a goal against Arsenal, Larsson was brought on as a substitute. The Swede became a super sub, setting up both goals as Barcelona came from behind to win the trophy. To be bought for nothing and to make such an impact surely make this union very special.
#3 Andrea Pirlo (AC Milan to Juventus)
Former Italy midfielder Andrea Pirlo is very much respected for all that he has achieved in football. As a deep-lying playmaker, he blazed the trail wherever he played and rightly ended his career as one of the most decorated players the game has ever seen.
He won numerous titles, including multiple Champions League and Serie A titles. But for all of Pirlo's genius, he was once released by AC Milan. Having achieved so much with the Rossoneri, the club deemed him surplus to requirements in 2011.
The midfielder was quickly snapped up by Juventus, where he went on to enjoy major success for the next four years. He won six Serie A titles, two Supercoppa Italiana and one Coppa Italia during his time at the Allianz stadium. For a player who was signed for free, it doesn't come any better than this, does it?
#2 Robert Lewandowski (Borussia Dortmund to Bayern)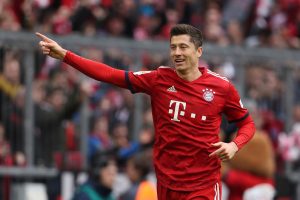 Transfers can sometimes breed chaos and enmity among clubs and none comes to mind in recent years than Robert Lewandowski's move to Bayern Munich. The Polish striker was one of the key players at Dortmund, helping them win two Bundesliga titles.
However, once Bayern made an approach, his head was turned. Lewandowski tried to force a move in 2013 but Dortmund opted not to grant him his wish. The striker, therefore, had to stay, but refused to sign a contract extension and subsequently left on a free transfer in the summer of 2014.
The 31-year-old has since enjoyed massive success in Bavaria, winning multiple Bundesliga titles, as well as emerging as the league's top scorer three times. Lewandowski has also been adjudged the best player in Germany once. He may have departed Dortmund under acrimonious circumstances but, for Bayern, this was such a great move.
#1 Paul Pogba (Manchester United to Juventus)
For many years, Paul Pogba's home was Manchester United. The Frenchman joined the ranks of the Red Devils as a teenager and was developing well until Mino Raiola became his agent. Pogba's lack of playing time, coupled with his agent's misunderstanding with Sir Alex Ferguson, led to his departure.
He joined Juventus on a free transfer in the summer of 2012 and went on to become a major hit in Italy. Many theories have been used to explain Pogba's move to Juve, but the bottom-line is that, this was a huge coup.
It becomes mind-boggling when you consider the fact that the Italian side re-sold Pogba to Man United for a then world-record fee of £89 million. Since returning to Old Trafford, Pogba is yet to discover his form, but for such a talented player to have been allowed to go for free is simply insane. Even more insane when the same club paid huge bucks to get him back.