Tyson Fury Net Worth 2022: Salary, Endorsements, Contract, Earnings, Records, Charity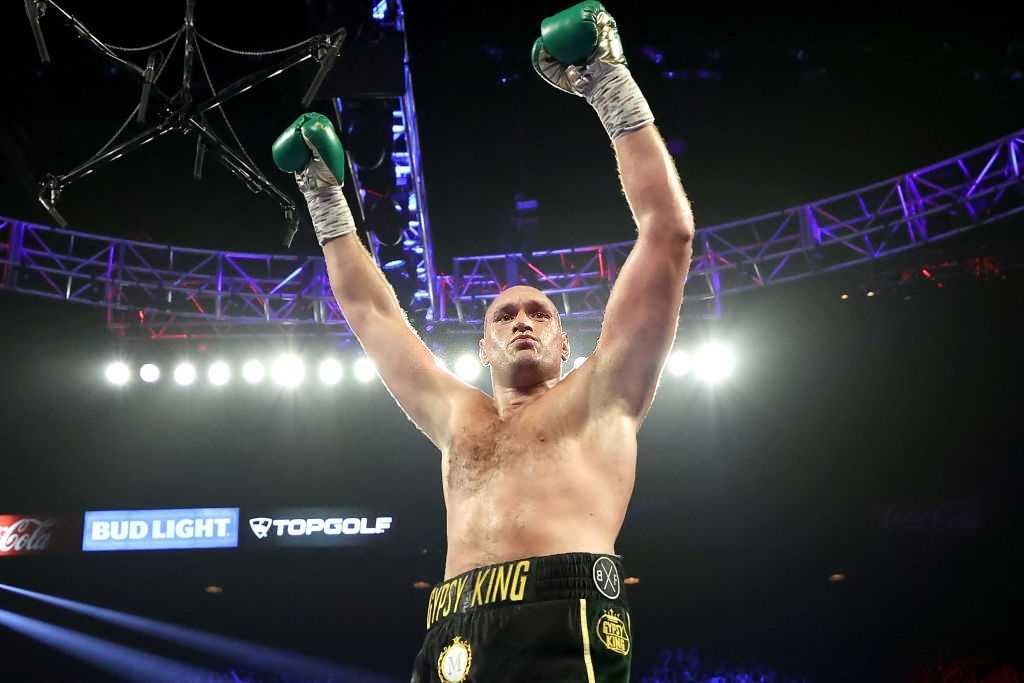 If you are even remotely into boxing, you've heard the name, Tyson Fury. Named after the legendary Mike Tyson, Fury is a former two-time world champion and has also held the unified WBA (Super), IBF, WBO, IBO, titles previously. In addition to that, Tyson currently sports an undefeated 30-0-1 record, and the WBC and The Ring Heavyweight titles. So let's take a look at Tyson Fury Net Worth.
Originally of Irish descent, Fury has represented both England and Ireland at the amateur level. With a string of titles during both his amateur and professional career, Fury has slowly built himself up as one of the best boxers alive. Unfortunately, Tyson's time at the top came under threat when the boxer slipped into depression, alcoholism, began using drugs, and gaining weight.
Eventually, 'The Gypsy King' made his return, after two years of inactivity in 2018. The British boxer took on the WBC champ, Deontay Wilder, eventually dethroning him in their second meeting in 2020. So how has this impacted his Net Worth? Let's have a look at Tyson Fury's career, salary, endorsement, and more.
A Glance at Tyson Fury Asset Accumulation
| | |
| --- | --- |
| Name | Tyson Luke Fury |
| Age | 33 ( Born 12 August 1988) |
| Net Worth | $40 million+ |
| Status | Active |
| Salary | $26 million (last fight) |
| Source of Wealth | Boxing, Endorsements |
| Endorsements | Wowhydrate, ESPN, TopRank |
| Endorsement Earnings | $7 million+ |
| Marital Status | Married to Paris Fury with 3 daughters and 3 sons |
| Residence | Morecambe, Lancashire and Marbella, Spain |
| Charities | Tyson Fury Foundation, Multiple UK-based charities |
What is Tyson Fury Net Worth in 2022?
According to our research, Tyson Fury's Net Worth sits at more than $40 million in 2022. For the most part, Fury makes most of his killing plying his trade in the ring but also from his lucrative endorsement deals.
Last year, the British-Irish fighter also scored a dominating victory on Deontay Wilder. As a result, Tyson's influence has soared higher than ever before and seen him become one of the most promising and marketable athletes.
In his upcoming trilogy fight with Deontay Wilder, 'The Furious One' will once again look to multiply his bank balance and catch up to countryman, Anthony Joshua. Presently, Fury is also the #1 ranked boxer as per TBRB and The Ring, meaning that he will be able to command big bucks for his upcoming fights.
Tyson Fury's Sources of Wealth
To begin with, Tyson Fury has various sources of wealth. The boxer owes the majority of his wealth to his professional boxing and endorsements. Let's take a look at the brief detail on The Gypsy King's earning sources.
Tyson Fury's Earnings through Boxing
In his last fight with Deontay Wilder, Fury won a guaranteed purse of $7 million. However, PPV revenue meant that Fury's total payout reached a massive $26 million from the fight. Moreover, this was only half of his total incoming for the year 2020, which went well over the $50 million mark.
Known for taking away massive amounts of money after his fights, Fury is once again set to earn 60% of the PPV revenue ($30 million, approx) from the Wilder trilogy fight. Here is a list of Tyson Fury's biggest paydays:
Fights
Purse
PPV Split Bonus
Year
Wladimir Klitschko
£5 million
50%
2015
Dereck Chisora
$12 million
60%
2014
Christian Hammer
$5 million
N/A
2015
Sefer Seferi
$2 million
N/A
2018
Chris Arreola
$2.5 million
N/A
2018
Deontay Wilder
$3 million
50%
2018
Tom Schwarz
£7 million
60%
2019
Otto Wallin
£10 million
60%
2019
Deontay Wilder (2)
£7 million
50%
2020
Deontay Wilder (3)
$20 million
60%
2021
Wrestling Professional Career Earnings
Braun Strowman
$15 million
N/A
2019
Tyson Fury's Endorsement Deals and other Ventures
out here repping @bjsaunders_ in the heat,grinding, @wowhydrate we will come again and won't be denied, 🙏👍 pic.twitter.com/ogz8APxeOQ

— TYSON FURY (@Tyson_Fury) May 10, 2021
Apart from his big paydays after each fight, The Gypsy King is also sponsored by Wowhydrate. Following his fight with Otto Wallin, Fury reportedly penned a new deal with TopRank and ESPN with $12million. Interestingly enough, Tyson's rising fame also caught the attention of WWE who brought the boxer in for a match against Braun Strowman. Fury won the match by pinfall and also pocketed a nifty $15 million for his troubles.
Last year, Tyson has also put out his new book, "The Furious Method", which was a big success similar to his Autobiography in 2019. Apart from that, Fury also has his clothing line and a lotion line called Easy Stroke.
How Tyson Fury Spends His Millions?
we thank god for everything and everyone around us, after a great week in Texas with @bjsaunders_ we now keep on moving forward in this journey through life, "In God we trust" @tommytntfury pic.twitter.com/lf0u9YfsCM

— TYSON FURY (@Tyson_Fury) May 9, 2021
With such a big net worth, it is to be expected that Tyson Fury lives his life loud and lavish. However, Fury also recognizes the need to use his wealth wisely and for the benefit of those around him. Hence, the boxer expends most of his wealth on his team, his family, and towards charity. Despite his philanthropic deeds, Fury is still left with a fortune. Let's take a look at how he spends it:
The British boxer owns real estate in several countries. However, the most notable properties include Fury's house in Morecambe, Lancashire which cost him $4 million. Soon after, renovations were also made to the house costing £500,000.
Also, the Gypsy King purchased a mansion in Marbella, Spain. The mansion-cum-castle looks enormous and extravagant, much like Fury himself. The boxer reportedly spent more than $6 million to acquire this property.
Aside from his mansions and luxury houses, Fury is also known to have quite the fleet when it comes to vehicles. As such his vast collection of automobiles include: a £166,000 red Ferrari Portofino, a £282,000 custom-made Rolls Royce Dawn, a $115,000 Range Rover Sport SVR, and a £240,000 Ferrari GTC 4 Lusso.
But wait, there's more as Fury also owns Range Rovers (yes, plural) which are all different colors, allowing the boxer to pick and chose as per his preference on the day.
Tyson Fury's Non-Profitable Investments: The Charity Work
Despite what seems like a flow of never-ending wealth, Tyson Fury has remained a humble man. As such he has set up the Tyson Fury Foundation and has previously donated the entirety of his $7 million fight purse to charity.
Being a victim of mental health struggles, alcoholism, and substance abuse, Fury has supported various UK- based charities that help people struggling with similar situations. Additionally, Fury remains an active and vocal advocate for mental health awareness and is often seen empowering his fans and audience via his social media.