Thursday's Cincinnati Bengals vs Baltimore Ravens game surely was not very pleasant for the Bengals, especially for the team's QB Joe Burrow. The game was full of unexpected events.

Held at the M&T Bank Stadium, the score of the game was in favor of the Ravens as they triumphed 34-20 over the Bengals. And that's not the only thing that went against the Bengals on Thursday night.
Why did Joe Burrow return to locker room prior to game vs Ravens?
Joe Burrow, the Cincinnati Bengals QB had to leave the field and head to the locker room during the first half of the game. Due to a right wrist injury, Burrow is currently listed as questionable to return to the gridiron.
Burrow suffered a non-contact wrist injury during the Thursday Night game against the Ravens. After that, he was taken to the locker room and was unable to return to the game. The injury was severe enough to rule him out for the rest of the game.
Although there is no official update on his injury status at the moment, it can clearly be seen in the footage that he was in deep pain as he crouched down grabbing his wrist. Burrow was previously seen wearing a bandage on his wrist in a now-deleted video posted by the Bengals' social media handle prior to the clash.
Burrow was not the only one who needed medical assistance in the game. At first, Ravens' Mark Andrews went down and got ruled out with an ankle injury. Then their QB Lamar Jackson also had to go to the medical tent, but he eventually returned. However, the most unfortunate incident of the night was Burrow's injury.
Joe Burrow injury issues this NFL season
Although non-contact injuries are very common in the sports industry, Joe Burrow had no other option but to exit the game just after throwing a touchdown pass in the second quarter. Before leaving the field Burrow was 11 for 17 for 101 yards and had a touchdown.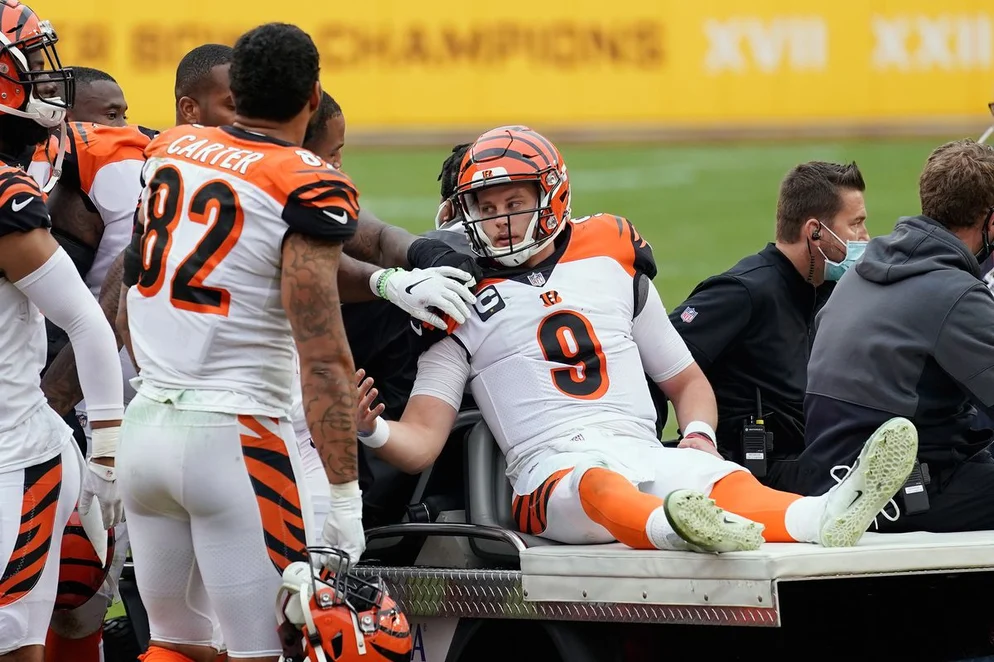 It looks like the Bengals QB is having an injury-hazed season. He was not fully healthy for most of the season. In preseason Burrow suffered a calf injury in summer which hampered him through the first few weeks. Back in Nov 2020 he had a torn ACL/MCL, in Dec 2021 a dislocated finger, and a sprained MCL in Feb 2022. Things got worse for him after Thursday night. 
The Cincinnati Bengals are now 5-5 on the season and must stay on win mode to make it to the playoffs.