Recently, when Bloodline member Paul Heyman messaged Manchester City full-back Kyle Walker, the realms of soccer and wrestling intersected, Heyman took to his official Instagram account to share a photo of Walker making a gesture similar to The Bloodline's signature pose, claiming that the player acknowledged Roman Reigns, the Tribal Chief of the WWE.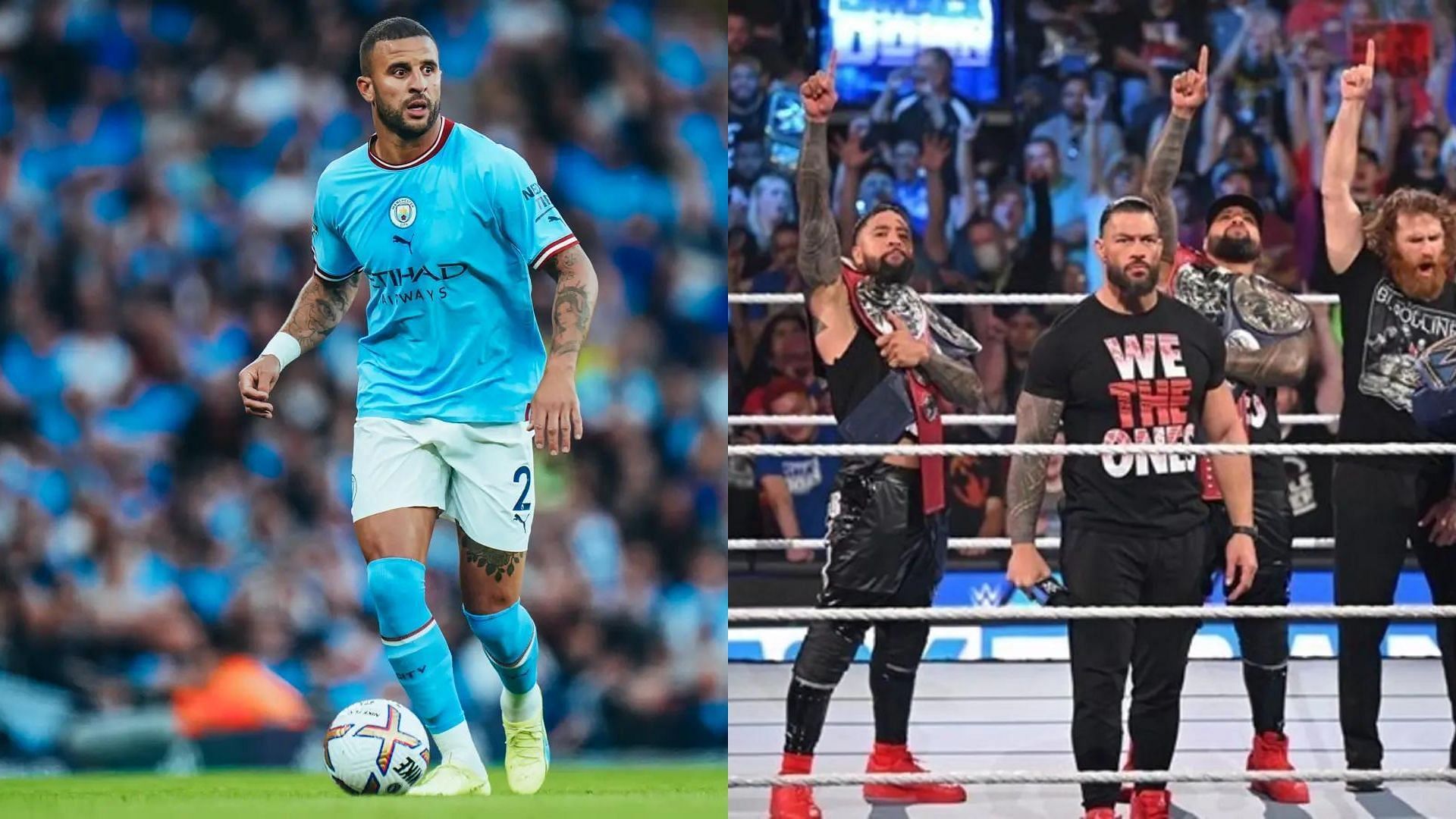 Kyle Walker and his Admiration for The Bloodline Raises Eyebrows in Wrestling and Soccer Worlds
Walker, who joined Manchester City in 2017, has won four Premier League championships with the Cityzens and has grown in experience on the club. Despite being primarily known for his soccer skills, Walker's admiration for The Bloodline has raised many eyebrows in the wrestling world.
Heyman's message to Walker is significant, as it highlights the growing popularity of The Bloodline beyond the wrestling ring. Roman Reigns, The Usos, and Heyman make up The Bloodline, one of the most powerful groups in the WWE right now and a longtime leader of the SmackDown brand.
.@kylewalker2 acknowledges our Tribal Chief .@HeymanHustle .@WWERomanReigns pic.twitter.com/RLXHCU7pqS

— WrestleSR (@wrestle_sr) May 12, 2023
The Bloodline has also been making headlines in combat sports, with Reigns reportedly training with MMA legend Cain Velasquez. Reigns has been honing his grappling talents with the assistance of Velasquez, who is renowned for his strong wrestling abilities. This has given Reigns' repertoire of maneuvers, which is already impressive, a new dimension.
However, The Bloodline's dominance on SmackDown has not gone unnoticed by other wrestlers on the roster. Former WWE superstar CM Punk discussed the Bloodline's influence on the wrestling industry in a recent interview. He said that the faction's domination is an indication of the company's declining creativity.
The Bloodline's Dominance and Growing Popularity: Why Fans Can't Get Enough of the Tribal Chief and His Crew
Despite the criticism, The Bloodline continues to be one of WWE's most well-liked factions, and it seems more likely that this trend will continue. At WrestleMania Backlash, Reigns—who just made a comeback on WWE television—is scheduled to square off against Cesaro, with Heyman most likely on his side
The return of The Bloodline has fans eagerly waiting for their next move, with many speculating that they may take on a new rival on the SmackDown brand. With The Bloodline's dominance and growing popularity, it's clear that the Tribal Chief and his crew are here to stay, and fans of both the wrestling and sports world should acknowledge their prowess and dominance.
Roman Reigns is set to make his first appearance on SmackDown in weeks, with Heyman expected to be alongside the Tribal Chief. Kyle Walker's admiration for the dominant WWE faction has caught the attention of many. What is your opinion on the recent state of WWE?