The Dallas Cowboys will face Tom Brady's Buccaneers on Thursday, 17th of January- a long-awaited thriller of a "Wild Card" game for both teams. However, there is some shocking news for the Dallas fans.
The Cowboys this season were playing well to get to the point they are currently standing in second place in the NFC East points table, which allows them to play their "Wild Card" match. Despite losing only five games, they have some awful and embarrassing memories as they have three "single-digit" scorecards on display.
The first game of any tournament is crucial for teams; while most teams try to utilize that game, showing off their bench strengths, the team from Dallas not only lost the match but embarrassed themselves by scoring only seven points. Moreover, the second upset came against the same Buccaneers team they will meet next week- in their fourth preseason match, they lost to Tam Bay with a margin of sixteen points as the Cowboys finished the game with just three points! Finally, their third blunder came in their preseason finale against the Commanders, where they only scored six points.
With such tragic memories, the team from Dallas was already under immense pressure; on top of these incidences, the team is looking more worried with the news of Williams being on the wanted list after his car accident. TMZ reports that the Plano Police Department has issued an arrest warrant for Cowboys LB Sam Williams following a car accident in December.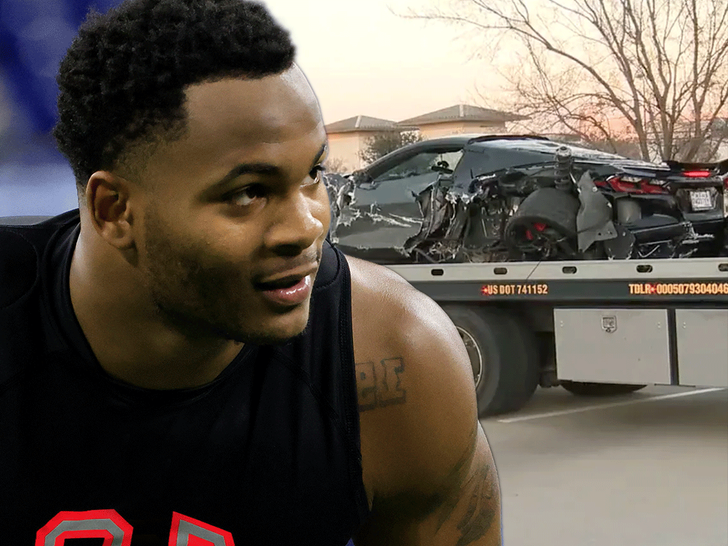 What did TMZ report about Cowboys LB Sam Williams?
TMZ, in their report, wrote,
"An arrest warrant has been issued for Dallas Cowboys rookie Sam Williams, TMZ Sports has learned … over his alleged role in a violent car crash last month."
"The Plano Police Department tells us the misdemeanor warrant is for reckless driving … though further details surrounding the allegations against Williams were not made immediately available."
"According to a police spokesperson, 'at this time, there is no plan to find and arrest' Williams … as the 23-year-old football player 'has been contacted to turn himself in.'"
"As we reported, Williams slammed his black Corvette into another vehicle at around 2:15 PM in Plano, Texas on Dec. 22. Pictures from the scene showed the collision caused serious damage, leaving debris all over the roadway."
"Williams missed one game due to the accident but luckily no one was hurt."
Images from crash involving Cowboys' Sam Williams.

From Plano PD: "The driver of the Corvette is Samuel Williams, a football player with the Dallas Cowboys. Both parties were transported to a local hospital for precautionary reasons, but no serious injuries have been reported." pic.twitter.com/81CBkIUnqA

— Jeff Kolb (@JeffKolbFOX4) December 23, 2022
With the Super Bowl at stake can the Cowboys sustain such pressure and go on to lift the title? Or will they choke, unable of handling the shock? Share your opinion in the comments.