Lionel Messi reached the epitome of his already decorated career when he led Argentina to the World Cup title in 2022. It helped cement his status as the world's greatest soccer player. However, there are some who are still doubting the credibility of his World Cup win.
Argentina fought many hard battles to claim the World Champion title. One of them was the quarterfinal match against the Netherlands, which they won on penalties. It seems that Louis Van Gaal, the coach of the Dutch team at the time, is among the skeptics who doubt Argentina's World Cup credibility.
Louis van Gaal claims World Cup was rigged to secure Lionel Messi victory
Van Gaal had resigned from the manager position following the Netherlands' exit from the World Cup. He now believes that the World Cup was actively rigged to help Lionel Messi and Argentina win.
Recently, he spoke on the Dutch media outlet NOS, where he made the audacious claim. He specifically pointed out their clash against Argentina, where he believed there was parity in the goals scored, and even in the referee's treatment of players and their fouls.
Louis van Gaal has claimed that Lionel Messi and Argentina's World Cup win in Qatar was "premeditated" 👀🏆 pic.twitter.com/PZJMnD8cad

— ESPN FC (@ESPNFC) September 5, 2023
His exact words were, "I don't really want to say much about it. When you see how Argentina gets the goals and how we get the goals, and how some Argentina players overstepped the mark and were not punished, then I think it's all a premeditated game."
He was then asked to clarify whether he meant what he said, "I mean everything I say. That Messi should become world champion? I think so, yes."
Such a claim is the first from a footballer professional. The blatant accusation puts a serious dent in the credibility of the World Cup and it remains to be seen whether FIFA respond to it.
Netherlands vs. Argentina saw record 18 yellow cards
The match was firmly in Argentina's favor with them being two goals ahead. However, they lost control when the Netherlands came back and scored two goals in the dying minutes of the game. Extra time was goalless, and next came penalties which, thanks to Emiliano Martinez's heroics, Argentina won 4-3.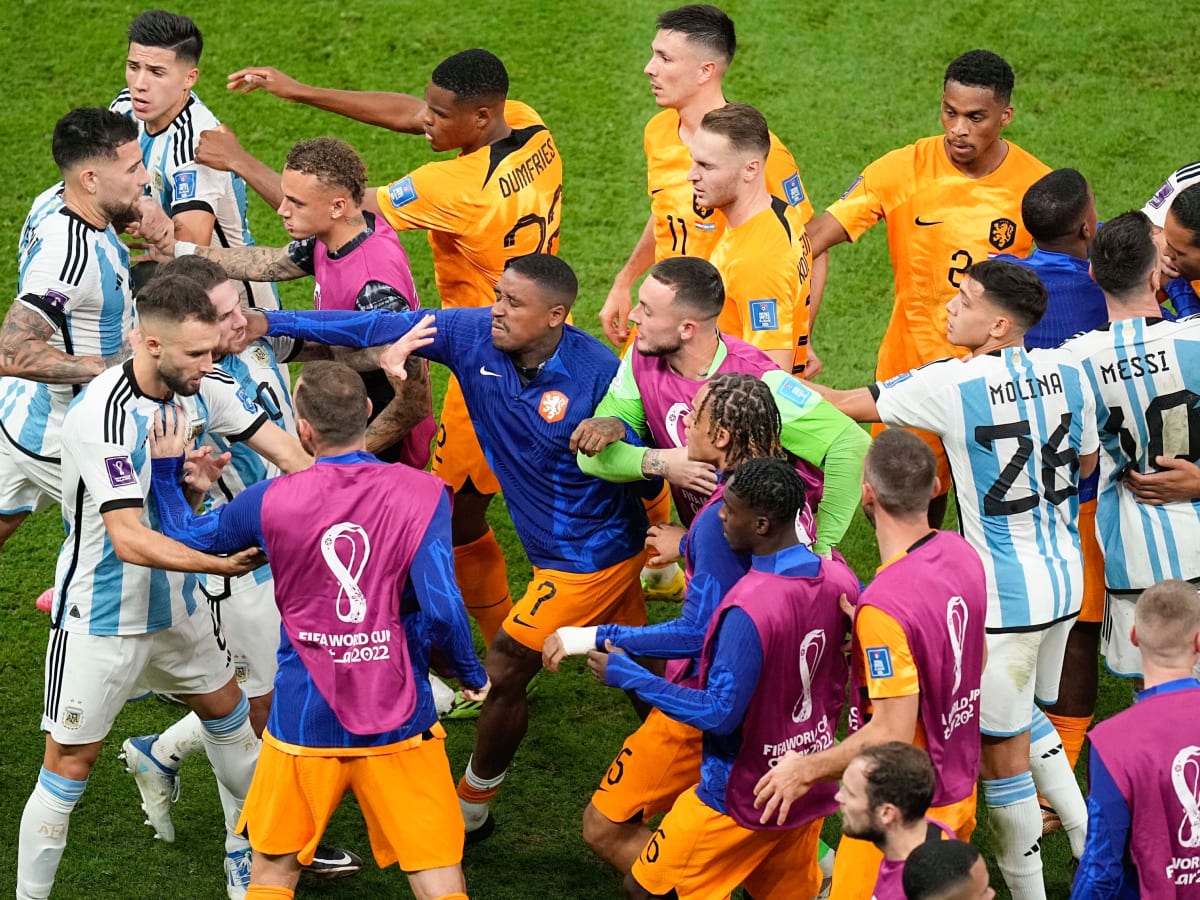 Louis Van Gaal's accusations don't come without any reason, though. The match against Argentina has been infamously dubbed the 'Battle of Lusail' due to the high tensions in the match at the time. In fact, the match had seen 18 yellow cards and a red card, which is a record.
In total 15 players received a card, which was another record. Additionally, two staff members of Argentina, including manager Lionel Scaloni received one. The red card was shown to Denzel Dumfries, who received two yellow cards in the penalty shootout. The referee in question was Mateu Lahoz, who dished out all those cards on both teams. Even Lionel Messi had received one. There were further clashes in the match, such as when Leandro Paredes booted the ball into the Netherlands bench before being pushed by Dutch captain Virgil Van Dijk. Lionel Messi himself celebrated in front of Louis Van Gaal after scoring his goal earlier in the match. After the match, Messi clashed with Dutch striker Wout Weghorst during his post-match interview.
The match may have been controversial, but Van Gaal's belief that it was rigged has yet to have any proof. It remains to be seen what happens next as this claim will definitely irk a lot of people, especially Lionel Messi.