Oleksandr Usyk successfully defended his IBF, WBA, and WBO world heavyweight titles against Daniel Dubois earlier today. The fight took a turn when a borderline low blow hurt the champion. The champ, however, recovered to dominate with his skillful boxing.
Dubois displayed resilience and landed impactful shots. Usyk's movement and counter-punching were standout features. The contest ended in the ninth round with a powerful straight right from Usyk that knocked down Dubois. Usyk emerged as the victor. Dubois expressed disappointment with the outcome.
Usyk weathers Dubois storm
Oleksandr Usyk defended his heavyweight title against Daniel Dubois. He won by knocking him out in the ninth round. The match had some arguments. During the fight, Dubois hit Usyk's lower body which was not a low blow but the referee was non-committal. Dubois didn't get a knockdown. Dubois was treated unfairly.
Dubois was aggressive and aimed for Usyk's body. Usyk managed to handle Dubois' attacks and then hit back. This included a strong left hook that shook Dubois. In the eighth round, Usyk hit Dubois with a bunch of quick punches. Dubois fell to the ground. In the ninth round, Usyk hit Dubois with a good punch which put down Dubois. Even though Dubois lost, fans still praised how he fought.
Dubois was robbed tonight. Oleksandr Usyk is a great man and a great champion but the 25-year-old Brit put him down with a clean and fair blow to the navel that was spun as a low blow. Bollocks. It wasn't. Glory to Ukraine, but boxing embarrasses itself again. #UsykDubois pic.twitter.com/QLP7awIjQ4

— 27 Club! (@hassan_joks) August 26, 2023
Usyk was able to handle Dubois and win. The fight happened in Poland, close to Ukraine. Usyk was thankful for the support. Dubois and his team strongly disagreed with the referee's decision about the alleged low blow. They believed the fight should have been won by Dubois.
Promoter Frank Warren and trainer Don Charles both criticized the decision and wanted a rematch. Usyk was happy with his win and said he would keep improving. This fight showed how difficult it is for referees to make decisions in boxing. It also brought up conversations about fairness and honesty in the sport.
"Low blow" call sparks fan outrage
The British heavyweight Daniel Dubois's fight against Oleksandr Usyk caused strong arguments in the boxing world. During the match, Usyk was hit by a borderline punch on the belt. For this, he took a long time to recover. This led to the claim of bias and unfairness. Many important people criticized the referee's decision.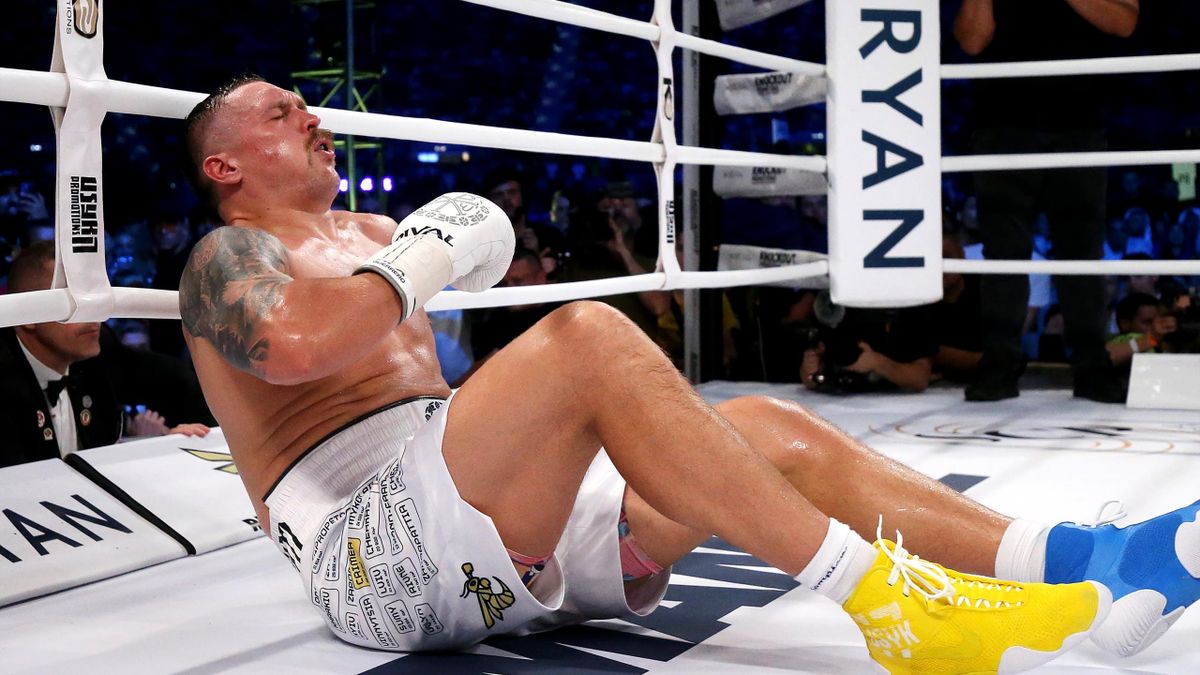 Fans were disappointed by this and wanted a fair competition. This incident started a bigger conversation about being fair and unbiased in professional boxing. The aftermath of this event shows how important it is to keep the sport honest and make sure judgments are not seen as unfair. People are demanding a rematch because they want boxing to be fair and open, and athletes should be judged only by how they perform.
If the alleged low blow was considered a legal punch, it would have meant that Dubois would win the title. He would have become the first person to hand a professional defeat to Usyk. As such it can be called one of the biggest robberies in boxing history.
Fans reaction X (formerly Twitter) is pretty vocal on Dubois being robbed, as seen from the following comments:
What a joke man. I feel for Dubois

— IamShakez (@IamShakez) August 26, 2023
It was beltline and even then Usyk wears his shorts and cup high. Was a fantastic body shot.

— CFC_benj 🇮🇲🏴󠁧󠁢󠁥󠁮󠁧󠁿 (@CFC_Benj) August 26, 2023
Cracking shot, disgusting result.

Dubois won that with a KO fair and square.

— 𝙅𝘼𝙉𝙆 (@0xJANK) August 26, 2023
This angle definitely shows it was a clearly a body shot.

— Quan (@quan_eth) August 27, 2023
Due to this, a rematch between Dubois and Usyk is not out of the question. What do you think will happen next? Don't forget to share your opinions below.