On a night that will long be remembered, WWE Superstar Karrion Kross participated in mixed tag team action on the most recent episode of SmackDown. AJ Styles and Mia Yim were the targets of his alliance with his wife, Scarlett. Near the end of the contest, Kross made his debut as a new finisher, which finally gave him the victory.
Five years ago, AJ Styles was in a more important position on SmackDown than he is now. He still appears frequently, but it seems like people are now using him to make other celebrities look better. Scarlett Bordeaux it seems is a star among those people.
Karrion Kross at SmackDown pins AJ to pick up mixed tag team match win alongside wife Scarlett Bordeaux
On SmackDown, Scarlett Bordeaux defeated The Phenomenal One in her debut bout in six months. Contrary to popular belief, Scarlett did not compete against AJ Styles in a singles bout. Instead, Styles and "Michin" Mia Yim of The O.C. competed in a mixed tag team battle against Scarlett and Karrion Kross.
The 32-year-old competed for the first time since January 6, 2023, when she and Kross defeated Madcap Moss and Emma, another couple. If you didn't know, Karrion Kross' new finisher is a tweaked pump-handle slam. The deadly Saito Suplex had previously served as the former NXT Champion's finishing move. Moreover, he is capable of using the Kross Jacket, a modified chokehold. The Doom Walker warned AJ Styles by sneaking up on the blue brand last week.
Karrion Kross's new finisher was very impressive, I hope he keeps this one. #SmackDown #WWE pic.twitter.com/LcZehEtgh7

— Slappa Wrestling (@Slappa_WWE) June 17, 2023
For Michin's Money in the Bank qualifying bout versus Bayley, The Phenomenal One provided commentary. The Role Model defeated Michin in their match. When Scarlett arrived, she blew a powder into AJ Styles' eyes, rendering him blind. The former WWE Champion was fitted with the Kross Jacket when Kross took advantage of the diversion. In order to give Michin time to care for Styles, the heel team departed the ringside.
Once Kross eliminated The O.C. commander with his new finisher, The Doom Walker and the Seductive Siren of Sin took the victory. Despite Michin's accomplishment in ejecting her rival from the SmackDown ring, Styles was effectively diverted. Karrion Kross hit Styles with the Kross Jacket, and Styles was eventually pinned to the mat to seal the victory.
AJ Styles issues hands-off warning to Scarlett following Bordeaux's advances
The former WWE Champion AJ Styles mocked Scarlett for her naughty antics on the most recent Friday Night SmackDown broadcast. Bordeaux confronted Styles on the blue brand and used a powder attack against him. The match began with the men taking the lead. Yim swiftly tagged in and soon had her opponent pinned.
The Styles Clash was delivered by the former WWE Champion when he re-entered the ring, but Scarlett stopped him. Styles and Scarlett got into a fight in the closing seconds during which the latter attempted to seduce and tease the former world champion. However, AJ Styles attacked the female WWE Superstar and said he was married. "I'm married b*tch," Styles asserted.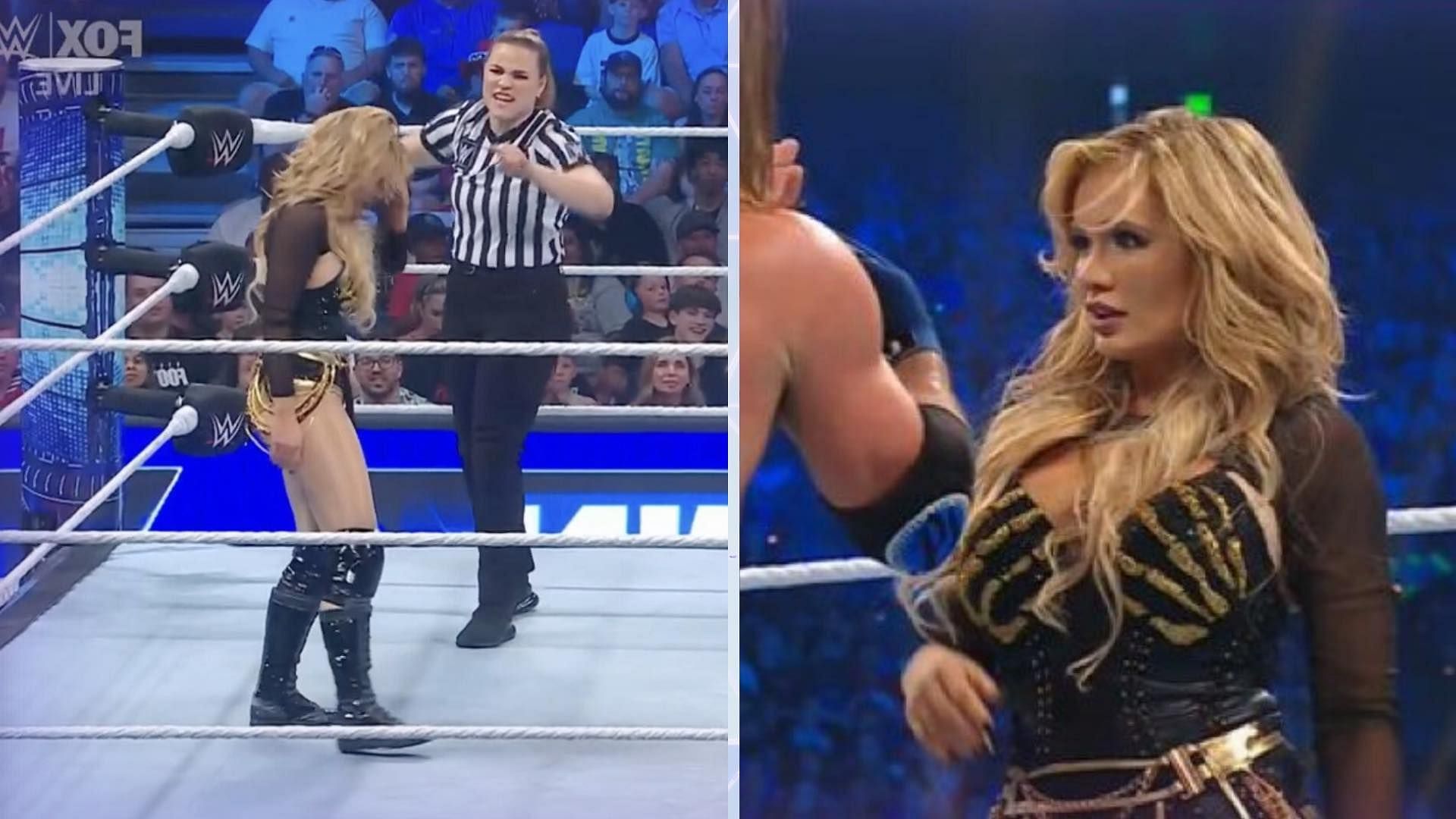 She had a good outing once more this time as her spouse defeated The Phenomenal One. Karrion Kross and Scarlett have repeatedly gotten the best of AJ Styles and have been a pain in his side. Apparently, it appears that AJ Styles is feeling more wary than ever as a result of Scarlett Bordeaux's naughty antics.
After being the target of her powder attack and her disorienting tricks on SmackDown. With this competition brewing with tension and the possibility for some electrifying confrontations in future storylines, the stage very much is now set for a collision of "styles".