Liam Lawson, one of the youngest Red Bull racing drivers, defeated Max Verstappen, one of the most legendary drivers in F1. As hard as it is to believe, it did happen, shocking many F1 fans all across the world.
Despite being a rookie, Liam has made everyone speechless with his performances, including Charles Leclerc, Carlos Sainz Jr., and George Russell, who provided hilarious reactions to a statement regarding Liam Lawson in an interview.
Liam Lawson knocked Max Verstappen out in Q2
Red Bull already had a bad format during the free practice sessions on Friday and Saturday, leaving both Verstappen and Perez off the pace in FP3.
While time was running out in Q2, Verstappen was shown struggling with the balance of his car on the track before failing to set a time sufficient to make it into Q3. The Dutchman was pushed into the drop zone by the sister AlphaTauri car of Daniel Ricciardo's stand-in, Liam Lawson, while Perez spun his car on his final lap at Turn 3, leaving Red Bull without a car in Q3 for the first time since 2018.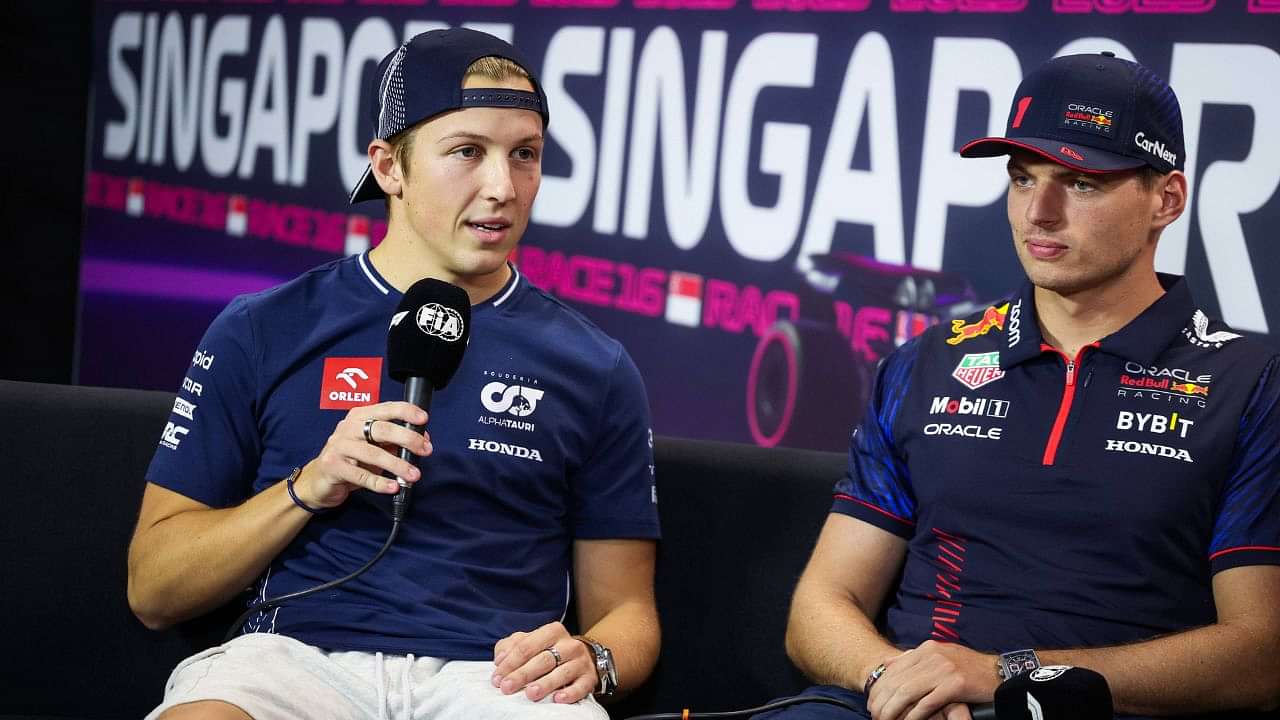 When Verstappen was asked about how much of a struggle qualifying was, he replied: "I mean, FP3 was already a little bit better and I think we were heading in the right direction actually, but we changed a few more things, thinking we could do it in the set-up… but it ended up being too aggressive where I was just sliding around a lot in every corner. I lost a lot of front grips as well every time in the big braking zones."
"I was bottoming out a lot, and that was unloading the front tires so I couldn't hit the brakes like I wanted to – I had to do like a gentle approach, otherwise the car would go down too much, and that doesn't work on a street circuit, so it was difficult."
Russell, Leclerc react to reporter's Red Bull question
F1 fans were in amuse when they caught George Rusell's hilarious reaction to a question about Red Bull ahead of the Singapore Grand Prix.
Both Max Verstappen and  Sergio Perez were knocked out in Q3 on Saturday, which put them low down on the grid for Sunday's race. Liam Lawson, meanwhile, who races for Red Bull's sister team Alpha Tauri, secured the 10th spot, ahead of both Verstappen and Perez.
September 16, 2023
In a press, while being interviewed, Charles Leclerc and Carlos Sainz Jr, Russell glanced cheekily at his Ferrari counterparts after a reporter noted that Lawson was "the only Red Bull driver in the top 10" before smirking directly into the camera.
Fans have made thousands of memes on Reddit as well as Twitter for their hilarious reactions.
Do you think Liam will continue to outrun Max and Perez in the future? Please share your opinions in the comment section below.