Manchester City defeated Arsenal 4-1 on Wednesday in a high stakes match to reclaim control of the Premier League title chase.
While the reigning champions remain second in the table, Arsenal's advantage has been sliced to two points following Wednesday's meeting, with City having two games in hand.
Pep Guardiola's club is on the hunt for a treble of trophies, including the Champions League and FA Cup, with a third league title in three years in sight. Arsenal was no match for City in a game that is guaranteed to have a significant impact on who would be proclaimed champions at the end of the season.
How did Manchester City beat Arsenal?
Mikel Arteta's side has led the league for most of the season. But they could not recover from De Bruyne's seventh-minute goal at the Etihad Stadium. The Belgian was assisted by Erling Braut Haaland as he ran through the middle of the pitch. He then delivered a low shot into the corner to bag the opener.
Arsenal goalkeeper Aaron Ramsdale made several excellent saves to keep Arsenal in the game before John Stones headed in a second goal for City in the final minutes of the first half. Though initially called offside, it was given as a goal after a VAR check.
Any faint dreams of a comeback were dashed nine minutes into the second half as De Bruyne scored his second goal of the game. This was also assisted by Haaland.
Rob Holding scored a consolation goal for Arsenal in the 86th minute, but it was too little and too late to change the final result. In stoppage time, Erling Haaland finally scored to seal the game, making it 4-1. Haaland's goal set a new Premier League record of 33 goals in 38 games, bringing his season total to 49 in all competitions.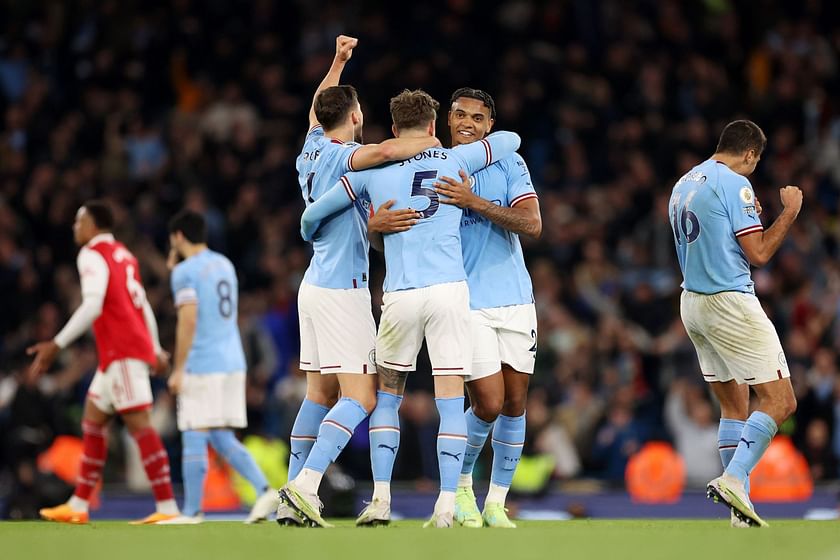 Overall, the game was completely dominated by City with Arsenal struggling to even make an impact. Pep Guardiola showed why the Citizens are still miles better than any side in the Premier League.
It is City's third victory over Arsenal this season, including a victory in the FA Cup. The win also extends the club's winning streak over the Gunners to eight games.
Fans' reaction to the game
Fans of Manchester City took to social media to express their feelings about the game.
One Twitter user wrote, 'Great performance lads we move'
Great performance lads we move 👏 💙🫂 https://t.co/jXmIZTf5an

— 115 Charges (@TafadzwaCity) April 27, 2023
Another wrote, 'And that's how it's done. Amazing performance ManCity. Pure class.'
Another wrote about the joys of seeing a big win like this, 'You are too good guys. It's a joy to watch football like this. Big win, let's go team!'
You are too good guys. It's a joy to watch football like this. Big win, let's go team!

— Tomek (@TomekkF1) April 26, 2023
While the win was important, City still has to compete in the other games. They will now face Fulham on Sunday while Arsenal will host Chelsea on Wednesday.