WWE SummerSlam 2023 is right around the corner, and many big names will be featured on the Premium Live Event. Many superstars return on the big night, like Roman Reigns in 2020, Brock Lesnar and Becky Lynch in 2021, and Damage Control in 2022.
There are many WWE superstars on the line who are rumored to return for this year's WWE SummerSlam. Some noteworthy mentions are Randy Orton, Bray Wyatt, and Big E. Some reports claim that WWE legend "Stone Cold" Steve Austin is gearing up to return as well. Will the rattlesnake return for another fight?
Who will face Austin at WWE SummerSlam 2023?
Give me a hell yeah 🖕🏻💀 pic.twitter.com/VxomPN5xjS

— Wrestling Pics & Clips (@WrestleClips) July 12, 2023
Steve Austin was booked to be involved with LA Knight at WWE Wrestlemania this year but couldn't appear due to prior shooting commitments. Speaking of LA Knight, the Megastar is seriously becoming the fan-favorite on WWE Smackdown, getting more famous every day.
Due to his rising popularity, WWE is seemingly keen on turning LA Knight babyface, which blocks all the chances of him sharing the ring with Stone Cold. Therefore, the rising superstar, Grayson Waller, is in talks to face Austin at SummerSlam, as Grayson has a big mouth and can irritate anyone.
Grayson Waller has recently been involved with many big names like John Cena, Logan Paul, and Edge. He lost to Edge in his main roster debut match. It looks like the future is bright for Waller, and the WWE is only scratching the surface right now.
When did Stone Cold Steve Austin last make a WWE appearance?
Stone Cold Steve Austin had his first match in over 19 years at Wrestlemania 38 last year against Kevin Owens. That was Kevin Owens' first Wrestlemania main event, and it had a huge impact on his career. Despite being retired and having ring rust, Austin put on a spectacular performance and defeated Kevin Owens.
This was not the last of Steve's appearances, as he returned the following night, which was the second night of Wrestlemania 38. Steve Austin beat down Austin Theory and went on to crack a beer with Mr. McMahon. Later, Mr. McMahon was also stunned by Steve's stunner.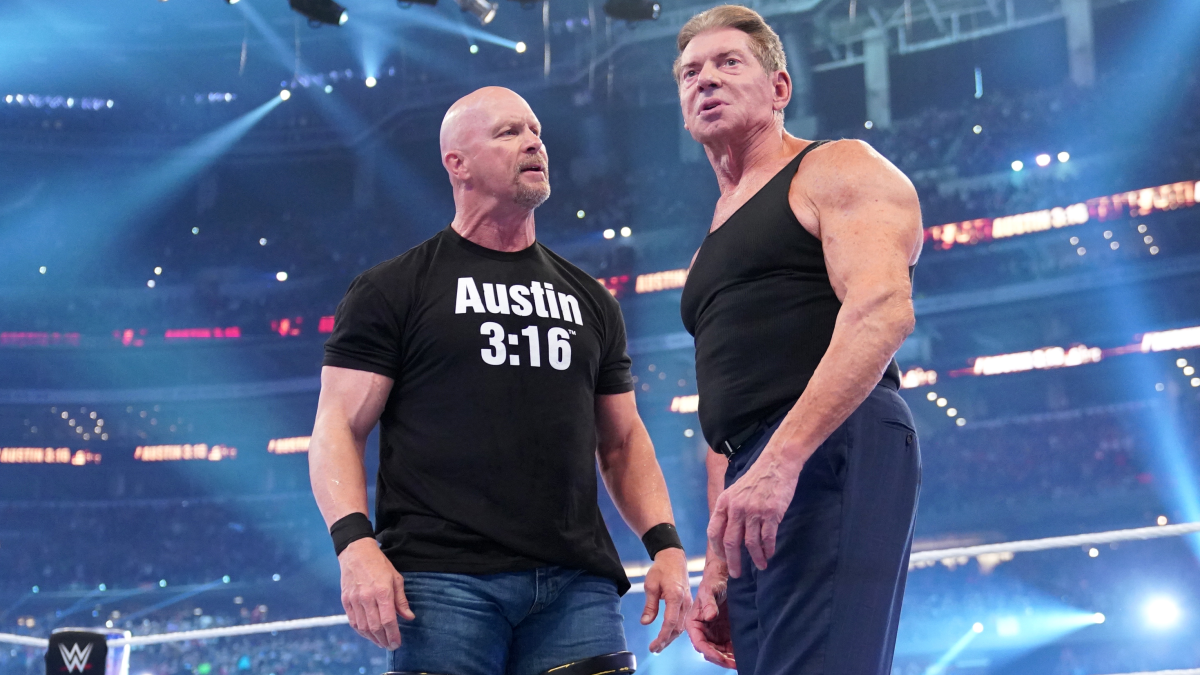 "Stone Cold" Steve Austin is a WWE legend and still a very big name in the wrestling community. Having Austin face off with a superstar instantly puts that superstar on notice—for instance, Kevin Owens. With WWE turning LA Knight babyface, Grayson Waller has another chance to share the ring with a WWE legend and catapult his career onto the main event scene.
Will Steve Austin will agree to put Grayson Waller in his place? Only time will tell.