Alabama football, led by head coach Nick Saban, suffered a 34-24 loss to Texas. This loss was particularly significant because it was the worst home defeat during Saban's 17-year tenure as head coach. Prior to this game, Alabama had never lost a home game by double-digits under Saban's leadership.
The offensive line didn't play well at all, and the penalties further complicated things for the team, resulting in a brutal loss to Texas. During a press conference, the coach talked about the game, taking responsibility for the team's loss.
Nick Saban holds accountability for Texas setback
During Saturday night's conference, Nick Saban talked about their recent loss. He shared that this game was a test for them.
"You know this was a test, you know, for us. I told the players early in the week that this was going to be a test, that we were going to play a really good team and we would actually find out where we were as a team and, um, this was a test for everybody," Saban said.
But he believes it wasn't a test only to evaluate the players, but it was also a test for the coach and his skills.
"It was a test for the coaches, it was a test for me, it was a test for all the players, and we obviously didn't do very well."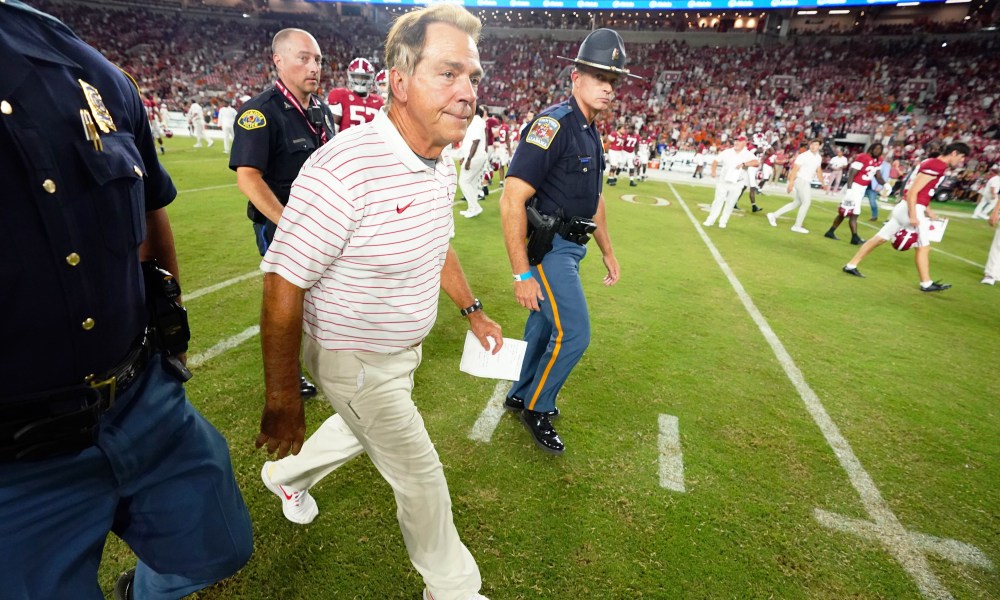 The coach accepted the fact that they failed the test. As the coach of the team, he's equally responsible for this loss. "It all starts with me, and I obviously let our team down in terms of how we were able to execute and play."
But despite the loss, the coach still has faith in the players.
"I believe in these players, these players have worked hard. It was a great atmosphere in the stadium tonight and I appreciate the fans. They did their part for sure; we didn't do our part well enough. It all starts with me as I said before, but we're going to do everything we can to get it right and get it fixed."
He appreciated the fans' support and promised to work on fixing the issues.
Saban to feature in Pat McAfee show weekly
The good news for Nick Saban's fans is that now they'll be able to watch the coach every week. He will get featured on a popular ESPN show known as the Pat McAfee Show.
Pat McAfee, the host, during his show, announced that Nick Saban will join him every Thursday for a weekly segment.
McAfee welcomed the coach and made a joke saying that they'll ask him the dumbest questions.
"We are going to ask you the dumbest things you've ever heard in your entire life. We hope to not ruin you and your brand, but what we think is going to happen is a nice exploration of the brain of the greatest college football coach of all time."
COACH NICK SABAN THURSDAYS 🙌@PatMcAfeeShow #RollTide pic.twitter.com/e9drwAlLzT

— Alabama Football (@AlabamaFTBL) September 8, 2023
The coach also shared that he is very grateful for this opportunity and looking forward to this new venture.
This show airs from 11 a.m. to 2 p.m. (noon to 3 p.m. ET) on ESPN. Get ready to watch Nick Saban on your screens weekly. We hope the coach will also be working to fulfill his promise and improve his team.