Iron Mike Tyson revealed his thoughts regarding The Notorious One from UFC. The legend inside a boxing ring has said before that he is capable of taking Conor McGregor to school if the Irishman steps foot inside the boxing ring.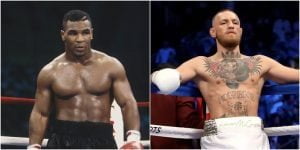 However, Iron Mike is not that enthusiastic to meet McGregor in his own playground, the octagon for a one-on-one match. Boxers are used to using their fists and do not feel comfortable if taken down.
The once 'Baddest man on the planet' has stepped out of retirement for his exhibition match to face Roy Jones Jr, next month. Despite it being a friendly match, both Tyson and his fans want to see him reclaim his past glory.
Known to intimidate his opponents by his presence itself, Tyson has been a daunting opponent to face. However, when it comes to mixed martial arts, Mike Tyson is not very keen to have Conor McGregor as his opponent.
Unsure about the ground techniques, hailing from a boxing background, Iron Mike is sure that Notorious can make him submit, without even dragging him down to the ground. Thus, Tyson says, "I don't think I wanna do that,"
The former heavyweight champion of the world, added, "Not because Conor might kick my a**, it's just because Conor has the right to step on my feet. If anybody steps on my feet I'm tapping out. He doesn't need to hit me,". He is known to have very sensitive toes.
Mike Tyson opined that in case McGregor would step in Tyson's toes, things will get ugly soon. There might be police and lawyers involved, hinting that there would be a horrible fight.