Muhammad Ali was a boxer, philanthropist, and social crusader who won an Olympic gold medal in 1960 and the title of heavyweight boxing champion in 1964. He is widely recognized as one of the finest athletes of the 20th century.
Laila Ali, the youngest child of the late renowned global hero and humanitarian Muhammad Ali, is a four-time unbeaten boxing world champion and two-time hall of famer with a sparkling record of 24 wins and 0 losses. Laila is hailed as the most accomplished woman in women's boxing history.
The majority of boxing fans felt Laila intended to follow in her father's footsteps when she first entered the sport.
Following statement clearly shows that the thought of becoming a boxer like her dad never really crossed her mind even once.
During an interview with Oprah, 'She Bee Stingin' Madame Butterfly Pretty Baby' revealed that watching women boxing on her television motivated her to compete in the ring.
"A lot of people assume I started fighting because my father was a fighter. And I actually didn't have the idea to even step into the ring until I saw women's boxing on television for the first time. I mean, they walked out of the ring with blood all over them and everything, and I was like, 'That's for me! I want to do that'," said Laila Ali.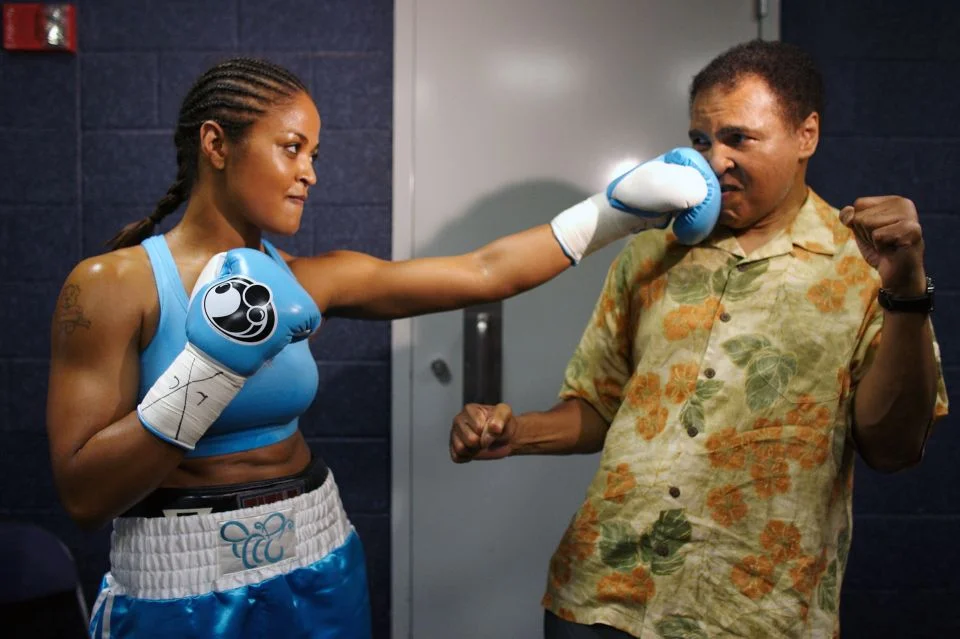 It wasn't all easy sailing for her, either. The boxing star told his daughter that he didn't agree with her decision when he inquired about her ambitions to study sweet science. When her father asked Laila Ali what would happen if she were to be knocked out in the ring, her answer was the first sign of her champion attitude. "Well, if I get knocked down, I'm going to get back up, just like you did".
The champ recognized right away how similar Laila was to him: gregarious, self-assured, opinionated, and brave. Ali did not want his daughter to pursue this job because of the suffering and difficulty involved in professional combat.
What level of ring success did Laila Ali achieve?
The WBC, WIBA, IWBF, and IBA super middleweight belts, as well as the IWBF light heavyweight title, were among the many championships Laila Ali earned and successfully defended throughout her career. After Ali's first nine victories, sports fans pleaded with her to take on Joe Frazier's daughter Jacqui Frazier-Lyde.
In order to recreate the excitement and mystique surrounding the three spectacular Ali/Frazier fights from the 1970s, both ladies consented to compete in "Ali/Frazier IV." Laila Ali gained another win for the Ali side despite exiting the ring with a broken collar bone and bleeding nose.
Ali's perfect, undefeated 24-0 record at the time of her retirement in 2007 cemented her status as one of the all-time greatest fighters.
Laila Ali's ancestry makes her more than simply boxing royalty. As one of the greatest boxers to ever enter the ring, she earned her title.