It is not known if anyone needs to be told this, but we'll say it anyway: it is definitely a fairytale, almost criminal to look beyond Brazil when you need a list of the best football players, and talking about the best club side in world football, what other club is there to look to aside Barcelona?
But when the said Brazilians played for one of the biggest club sides in world football, what else is there to say? It is a very devastating combination.
Well, this piece is about to open your eyes to such devastating combinations that have existed in the past, and probably happening at present – that is, to give you a countdown of top Brazil football players that have featured in the famous blue and red stripes of the Catalan giants over the years.
A lot of people may have heard that Neymar is possibly returning to Barcelona, and with the inclusion of Arthur in the team roster of the Blaugrana, we'll have two Brazilians featuring for the club, but there are a lot of Brazilian players who have had the privilege of playing for the Catalonia Club. Below, we run a list down:
10. Maxwell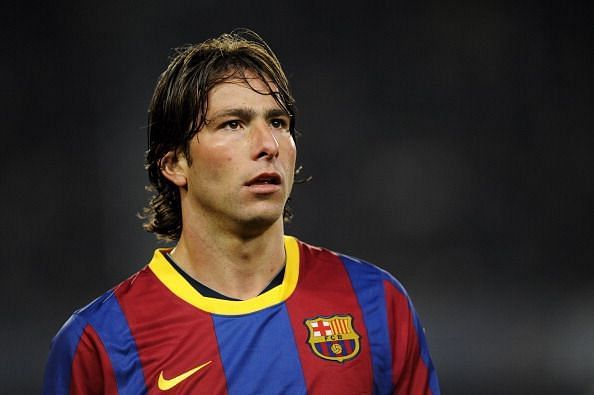 Let us begin the list with one player that many of the current Barca fans will recognize – Maxwell. Signed for €4.5 million, plus €500,000 as add – on from Internazionale on 15 July 2009, he was the most decorated football player at the time of his retirement in 2017.
He made his debut for the Catalan giant in the second leg match of the 2009 Supercopa de Espana. He was to deputize the injured Eric Abidal. He went on to make 57 appearances at Barcelona, scoring a goal before leaving for Paris Saint Germain on 12 January 2012.
He won two La Liga titles with the club, two Supercopa de Espana trophies, two FIFA Club World Cups, and one UEFA Champions League, UEFA Super Cup, and Copa del Rey each. He was one of the members of Pep Guardiola's golden era.
9. Sonny Anderson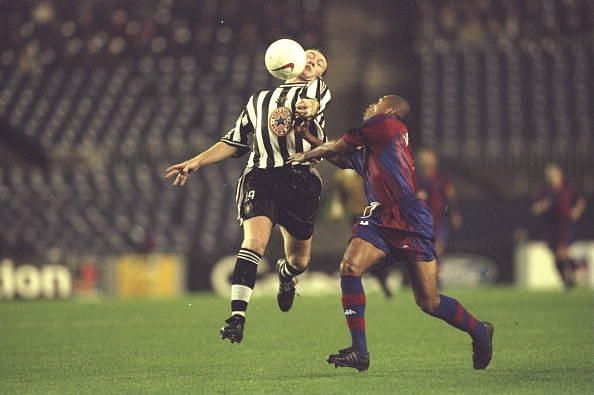 Although he was best known for his spells with Lyon and Monaco, as he played most of his football career in France, he joined Barcelona in 1997 for about €26 million. The fact that he needs to fight for first-team places with Luis Enrique and Patrick Kluivert did not help him that much at the club, but he still went on to score 10 goals in his first season in Spain.
The following season, he had a lot of runs– ins with the manager, Louis Van Gaal, he had less playing time which prompted him to move on. At Barca, he had a total of 47 appearances, scoring 16 goals – including 10 in his first season.
Andersson didn't have a lengthy spell at the club but he was able to enjoy remarkable success. He won four trophies with The Blaugrana – two La Liga titles in 2002 and 2003, one Trophee des Champions in 2002 and the League Cup in 2001.
8. Edmilson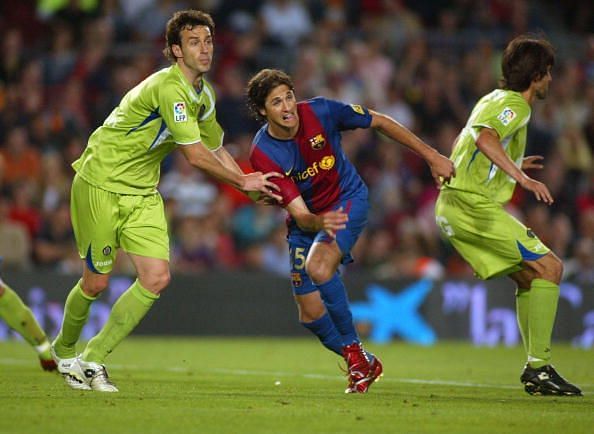 Signed in July 2004 from Lyon for a reported fee of €10 million, he made his La Liga debut on 19 September in a 1 – 1 draw with Atletico Madrid and finished his first season with Barca with a paltry six appearances due to being sidelined most of the time through injury.
He eventually spent four years at the club, having 71 appearances before leaving in 2008 after Barcelona did not renew his contract. Like the other superstars mentioned on this list, Edmilson also tasted success during his stint at Camp Nou.
He won four trophies with the club – two La Liga titles in 2005 and 2006, a Supercopa de Espana in 2005, and a UEFA Champions League trophy in 2005. The fans were not happy to see him go as he was one of the most loved players at the club then.
7. Sylvinho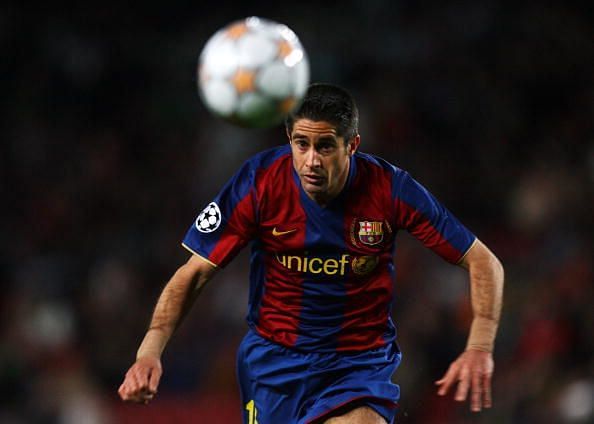 The list goes further with the mentioning of the Brazilian football icon, Sylvinho. A quick, reliable and technically gifted attacking left-back, he signed for Barcelona in 2004 for a transfer fee of €2 million from fellow La Liga side, Celta de Vigo.
He went on to have 89 appearances at the club, finding the back of the net twice and helping the Blaugrana to achieve success before leaving. His last match for the Catalan club was the UEFA Champions League final win against Manchester United in 2009.
He won eight honors with Barcelona – three La Liga titles in 2005, 2006 and 2009, two Supercopa de Espana in 2005 and 2006, two UEFA Champions League trophies in 2006 and 2009, and a Copa del Rey trophy in 2009.
6. Neymar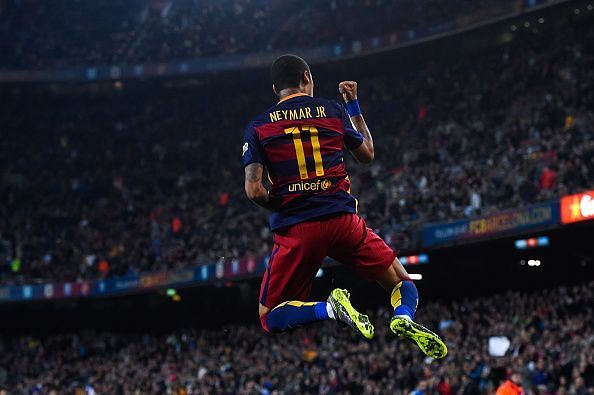 The missing piece of the prolific MSN attacking trio that ran defenders and goalkeepers of football clubs ragged from 2014 till his departure in 2017. Neymar came to limelight at an early age of 17 at Santos, helping the club to two consecutive Campeonato Paulista Championships before coming to pitch his tent with Barcelona in 2013.
Signed from Santos on 23 May 2013 and was unveiled on 3 June 2013. He made his debut in the 63rd minute of the opening game of the 2013/14 season against Levante. He scored his first goal for the club on August 21 in the first leg of the Supercopa de Espana against Atletico Madrid.
He went on to appear 175 times at The Camp Nou, scoring 105 goals in four seasons at the club. He won eight trophies with the Blaugrana, including the treble of the domestic league, domestic cup and European Cup in 2015 and the domestic double of the domestic league and domestic cup in 2016.
He won three Copa del Rey titles in 2015, 2016 and 2017, two La Liga titles in 2015 and 2016, a Supercopa de Espana, UEFA Champions League and FIFA Club World Cup each, in 2013, 2014/15, and 2015 respectively.
5. Rivaldo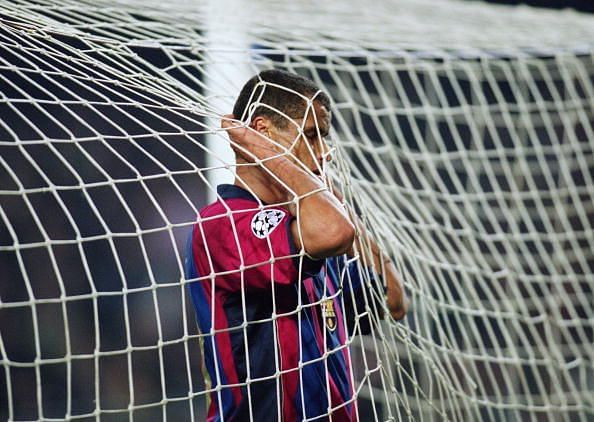 "Rivaldo… that's magnificent. Ooh, wonderful! You just could not envisage such a finish to the season. The Brazilian completes a hat – trick, a minute from time with the most delightful of goals you will ever see. A goal in a million, to earn many millions next season"
What a way to introduce a player! This is the commentary on Rivaldo's overhead bicycle kick match-winner against Valencia in La Liga on 17 June 2001. One of the most skillful and creative football players of his generation, he was well known for his bicycle kicks, bending free kicks, ability to both score and create goals, and powerful strikes from distance.
He is the club's ninth-highest goal scorer with about 130 goals scored in all competitions for the La Liga club. He spent five seasons at the Camp Nou, forming a formidable striking partnership with Patrick Kluivert. It was a shame that he only won four trophies with the club – two La Liga titles in 1998 and 1999, a Copa del Rey and UEFA Super Cup each in 1998 and !997 respectively.
4. Romario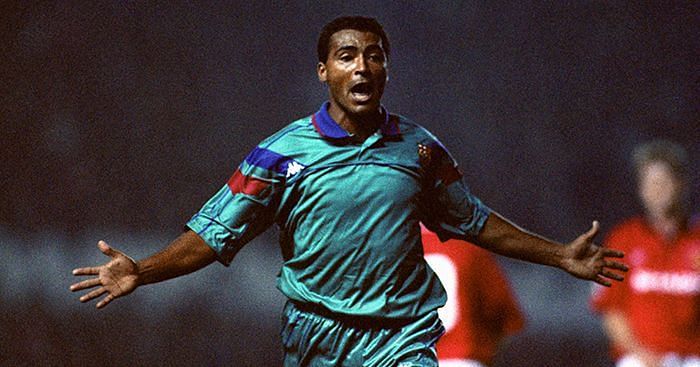 "It has to be Romario. You never knew what to expect with him. His technique was outstanding, and he scored goals from every possible position, most of them with his toe, funnily enough," Johan Cruyff's reply when asked to name the greatest player he ever coached – that sums it all.
Romario joined Barcelona in 1993 and went on to feature for them 46 times in the La Liga, scoring 34 goals. His best performance in the blue and red strip of Barca was scoring a hat trick in a 5 – 0 demolishing of Real Madrid in the El – Clasico at the Camp Nou. In the Champions League, his most memorable performance was when he nutmegged Peter Schmeichel to score at Old Trafford in the UEFA Champions League in 1994.
United captain from the match, Steve Bruce, who played in defense on that night was quoted as saying, "Of all great things that happened during my career, the thing that sticks out the most is that night because we got our backsides kicked big – style. Stoichkov and Romario are still etched in my memory, especially Romario, who was arguably the best player I ever faced."
3. Dani Alves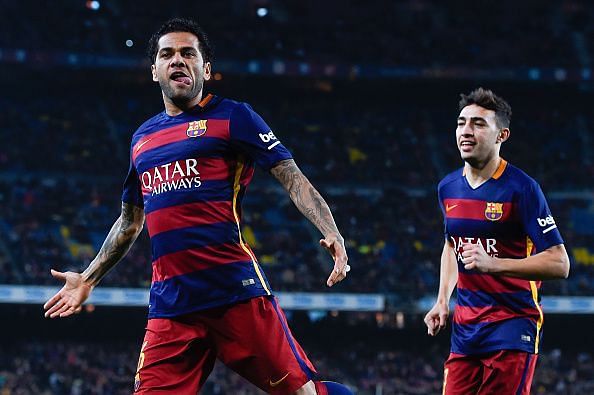 He is the most decorated football player in history with over 40 trophies and one of the greatest defenders of all time. He joined Barcelona ion July 2, 2008, from Sevilla in a deal worth about £30 million, making him one of the most expensive defenders in history and the third most expensive player bought by Barca.
He made his La Liga debut in the opening match of the season away to Numancia on August 31, 2008, and went on to make 247 appearances at the club, scoring 14 goals.
He won a total of 23 trophies at the Camp Nou – with six La Liga titles, including the three consecutive titles from 2009 to 2011, four Copa del Rey trophies and Supercopa de Espana each, and three UEFA Champions Leagues, UEFA Super Cup, and FIFA Club World Cup each.
He was also a member of the team that won the treble of the UEFA Champions League, La Liga, and Copa del Rey in 2009.
2. Ronaldo de Lima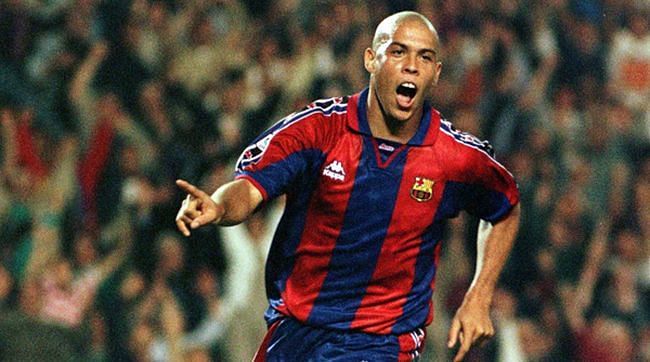 How can you leave this spectacular name off this list? The incredible Brazilian Ronaldo that got the football world on its feet with his goalscoring exploits at Camp Nou. Popularly nicknamed El Fenomeno (The Phenomenon), he is considered one of the greatest football players in the history of the game.
Best known for his dribbling on speed, feints, and clinical finishing, he won the FIFA World Player of the Year in 1996, 1997 and 2002, and the Ballon D'Or in 1997 and 2002. He joined Barcelona from PSV Eindhoven in 1996 for a then world-record fee of $19.5 million. Although, he was to be there for only a season.
During that one season, he appeared 49 times in all competitions for Barcelona, scoring 47 times. He won three trophies from his short spell at The Camp Nou – one Copa del Rey, UEFA Cup Winners' Cup, and Supercopa the Espana each.
1. Ronaldinho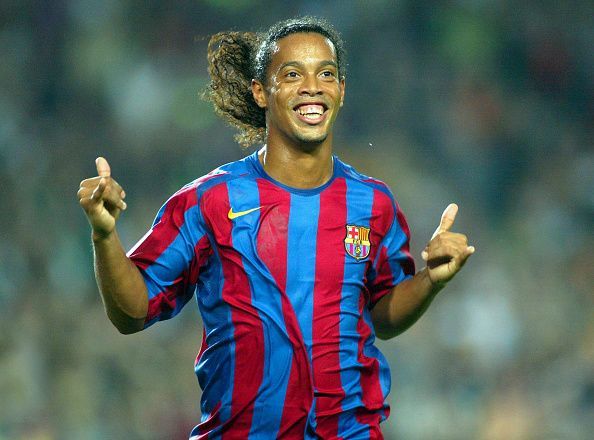 We round up the list with this magical footballer who tore La Liga apart with his fantastic flair, entertaining skills, and unbelievable performances. Considered as one of the best players of his generation, and one of the greatest of all time, he spent the most chunk of his playing career at European clubs like PSG, Barcelona and AC Milan
Ronaldinho joined Barca in 2003 from PSG in a deal worth around €30 million and went on to have 145 appearances for the club, scoring 70 goals in the five years he spent at the Catalan club, where he was able to lead the club to a successful era.
He won five trophies at Camp Nou – two La Liga titles in 2005 and 2006, two Supercopa de Espana in 2005 and 2006, and one UEFA Champions League in 2006. He is without doubts, the most successful Brazilian footballer in Barca history.