It is a well-known fact that Barcelona ranks very high when it comes to rating the clubs who have presented us most of the finest footballers to ever step on the pitch. The Camp Nou holds the reputation as the home of the greatest attackers and midfielders in the history of the sport.
However, what a lot of people did not know about the Catalan club is that they have a long list of formidable defenders, who, just like their counterparts upfront, can also boast of their contributions to the club's records.
Here is presenting to you the top 10 defenders that have donned the famous red and blue of Barcelona over time and have been able to achieve a lot of fame and trophies. Moreso, they have incredible performances to back up their claim to be one of the greatest defenders in world football.
#10. Joan Segarra
This is a player who had made the fifth-most appearances for the Blaugrana. He played a whopping 528 games for Barca. Popularly called "The Great Captain", Joan was one of the most charming players in Barcelona history.
He played for Barca between 1949 to 1964 and he was part of the Barca setup that was referred to as Barca of the five cups in the 50s. Even though he played at the back, his shooting was impressive. He scored a couple of goals and was a solid presence at the back.
It was unfortunate that Barca missed him much in the Shambolic European Cup Final in Berne in 1961 because of an eye injury. After he retired, he still stayed on as Barcelona youth team coach and served as assistant first-team coach in 1979–1980 to Helenio Herrera.
#9. Sigfrid Gracia
This player spent his entire career that spanned 17 years at the Camp Nou. He played in about 526 competitive matches for the Blaugrana. One of his outstanding qualities is that he was a consistent player for all his coaches. The Barca official website is even quoted as saying that he never played anything less than 50 games per season during his entire stay at the club.
Although it was said that he spent his entire career at Barcelona, he had loan spells, but only in a club, neighboring SD Espana Industrial, where he spent about 3 seasons on loan and some parts of two seasons.
Out of his 11 major titles, he won 6 with Barca and scored about 21 goals for the club. Most of the time, he played at left-back, although he did play as center-back once in a while. He retired in 1966 at the age of 34 and died on 23 May 2005, at the age of 73
#8. Antoni Torres
This player is the one with the eleventh most competitive matches in Barcelona's history. He played about 497 matches at the Camp Nou. Although he played mainly at the heart of the defense, he sometimes played at right-back.
Before signing for the Blaugrana, he played for Hercules De Alicante, where he established himself as a central defender. He went on to win 7 major titles at Barca and scored 7 goals. After three years at Barcelona, he got called up to the national team, where he had around five caps between 1968 and 1969.
After he retired, he took up coaching. He coached at Barcelona B, Castellon and Hercules. In 1984, he founded a youth football school in Barcelona, TARR Escuella, which is named with the initials of the four founders, all played for Barcelona previously: Torres, Asensi, Rexach, and Rife.
#7. Miguel Bernardo Bianquetti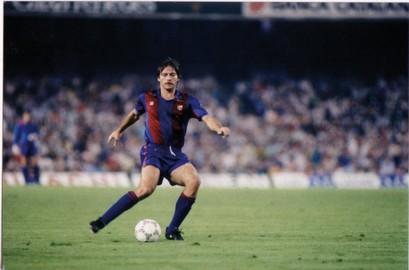 The player, nicknamed Tarzan is the record holder for most appearances made for Barcelona. He played an amazing 668 matches for the Catalan club, scoring 30 goals along the way. He also spent almost 20 years with the Blaugrana.
Known for his immense physical strength, he started his playing with Cadiz in the Spanish Segunda Division between 1970 and 1973, before he was transferred to Barcelona, where he established himself as a regular starter, just after one league game.
In the final of the European Cup Winners' Cup in 1979, he played parts of the match with a broken collarbone. In the 1986/87 season, Miguel still managed 41 appearances, even though he was over 30 then. He retired the following season, but not before he added another domestic cup to his trophy cabinet.
After retiring, he stayed on as part of the coaching staff under the Joan Gaspart presidency. He was eventually chosen on 17 September 2010, by the chairman, Sandro Rosell, as Sporting Director, alongside Josep Maria Fuste and Carles Rexach.
#6. Michael Reiziger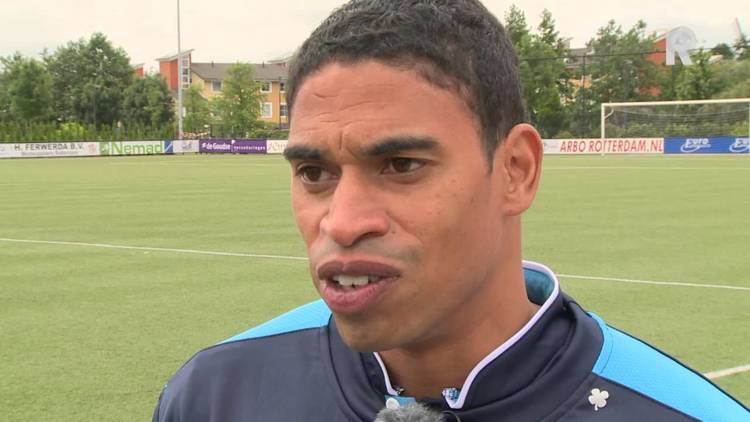 The inclusion of Reiziger might come as a surprise to most people because he was not a regular starter, but he was consistent enough to spend seven seasons at the Camp Nou.
He started his career at AFC Ajax and made his first-team debut at 17 years. During this time, he spent loan spells with FC Volendam and FC Groningen. At Groningen, he scored his career-best goal tally of six goals.
After he returned to Ajax, he became a strong defensive machine, before he moved to AC Milan in 1996. He would spend a season at Milan before being shipped to Barcelona, where he had a successful career spanning seven seasons. At Barca, he amassed over 200 appearances, winning back to back La Liga titles between 1998 and 99, Copa Del Rey in 98, and the UEFA Super Cup in 97.
In 2004, he moved to Middlesbrough, where he only stayed one season or two, before he moved back to PSV Eindhoven, where he ended his playing career, but not before he added another Eredivisie trophy. He is currently the assistant manager at Ajax.
#5. Rafael Marquez
Nicknamed El Kaiser, he played as a central defender or defensive midfielder. He is known to be the best Mexican defender and one of the best players in Mexican football history. Before joining Barca, he had plied his trade at Atlas in the Mexican league and at Monaco in the French Ligue 1.
For the records, he was the first Mexican to ever play for the Catalan giants and he played over 200 games with Barcelona. He became the first Mexican in the UEFA Champions League final and the very first to win the trophy in 2006. He won 12 trophies with Barcelona which included 2 Champions League trophies. He won the UEFA Super Cup and the FIFA Club World Cup also with Barcelona.
After he left Baca, he played for New York Red Bulls, Leon, Hellas Verona, before finally returning to his boyhood club, Atlas, where he retired in 2018. Upon his retirement, he was introduced as Atlas' new sporting president.
#4. Dani Alves
This is the most decorated player in the history of football with over 40 trophies. He is also the second most decorated defender in European competitions. He has nine European medals, bringing him up equal to Paulo Maldini on the all-time list.
He plays exclusively as a right-back. Before he joined Barca, he played for Esporte Clube Bahia in the Campeonato Brasileiro Serie A and Sevilla, where he won two UEFA Europa Leagues and a Copa Del Rey.
At Barca though, being the third most expensive defender of all time, he won the treble of the La Liga, Copa Del Rey, and the Champions League in his first year and in the following season, he won the Supercopa de Espana, UEFA Super Cup, and the FIFA Club World Cup.
He played over 250 games for the Catalan giants and won 20 trophies with them, which includes six La Liga titles (with three consecutive titles in 2008/09, 09/10, 10/11) and three UEFA Champions League trophies. After leaving Barca, he played for Juventus and Paris Saint Germaine before signing for Brazilian club, Sao Paulo FC as a free agent on 1 August 2019.
#3. Ronald Koeman
Who can believe that a defender can score up to 200 goals? Well, that is what the brilliant Ronald "Tintin" Koeman did. He scored 225 league goals in 647 official league games. Do you really think such a player does not deserve a place as one of the finest defenders for Barcelona?
At Barca, he scored 106 goals during the six years he spent at the club. He was a specialist when it comes to free-kicks and he was also held in high esteem for his pinpoint long balls, which could assist a goal or start-up an attacking move.
He rose through the ranks at FC Groningen, before he went on to play for Ajax and PSV, before his ability and defensive prowess brought him to Barca. At the Nou Camp, he went on to win four La Liga titles in a row, from 1991 – 1994. In 1992, he scored the only goal in the European Champions Cup triumph against Sampdoria, gifting Barca her first-ever European success.
#2. Carles Puyol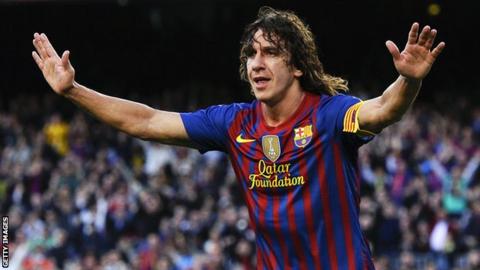 Affectionately nicknamed "Captain Catalunya", Puyol spent his entire career at Barcelona, spanning about 15 years. He is the most decorated club captain at Barca. Puyol surpassed Miguel on the Barcelona all-time league appearances, behind only Xavi, on March 2, 2014.
His successful career at Barca saw him win 21 trophies, with 3 consecutive La Liga titles from 2009 to 2011, 3 Champions League and 2 FIFA Club World Cup, amongst others. He also won some individual awards, like UEFA Club best defender (2006), BBVA Fair Play Award (2012), Golden Foot (2016), and One Club Man award (2018).
He retired from football on 15 May 2014 and was immediately appointed Assistant Director of Football, which he resigned from in January 2015.
#1. Gerard Pique
Pique started his football career at FC Barcelona's youth system, playing as a defensive midfielder before he joined Manchester United. On 27 May 2008, Pique returned to Barcelona in a £5m deal.
At Barca, he's appeared in over 500 games for the Catalunya club and won 28 trophies with the club, which includes three Champions League trophies and eight La Liga titles (including 3 consecutive titles in 2008/09, 09/10, 10/11). He is also a member of the team that won the historic treble of domestic league and cup, and the European cup in 2009 and repeating the feat again in 2015.
He is a good passer of the ball with good technique and strength. With his height, he is very good in the air. Technically, he is versatile, as he can play in a number of roles, which includes defensive midfield, center-back and as a sweeper too. He has also being called "Piquenbauer" because of his similarity in attributes to the German legend, Franz Beckenbauer.