UEFA president Aleksander Ceferin has criticized Emiliano Martinez severely for taunting French superstar Kylian Mbappe, and Lionel Messi for failing to stop the taunt.
Emiliano Martinez and Lionel Messi performed exceptionally in Qatar as Argentina triumphed over France in a nail-biting World Cup final. Martinez successfully stopped Kingsley Coman's penalty, which was decisive in the day's result.
https://www.youtube.com/watch?v=rPnGv0Vkmgo&ab_channel=TSports
The Aston Villa goalkeeper performed exceptionally throughout the whole World Cup tournament. His excellence saw him win the golden gloves. However, as he got the trophy handed over during the award ceremony, the 30-year old made a weird gesture.
The weirdness didn't stop there. Photos of Martinez celebrating with his team while holding a dummy featuring Mbappe's face went viral, drawing widespread condemnation online. Ceferin criticized Dibu's antics, saying, "I don't understand why Dibu mocked Mbappe," according to Mundo Deportivo. "Messi should've told him to show respect."
He added, "If you see how he reacted during penalties… I can't understand why he mocks Mbappe, the one with the puppet and things like that. That's not sportsmanship, it was primitive and I didn't like it."
"That is not done. You won the World Cup! Show some greatness, show that you are not primitive. You can be a perfect goalkeeper, but if you are not a good person."
Aleksander Čeferin, UEFA President: It was a disgusting thing, that is not done. You won the World Cup! Show some greatness and that you are not a primitive. Messi should have said something, told him to show some respect. In the end, he plays all year with Mbappé. pic.twitter.com/I4hntSAyKP

— Albiceleste News 🏆 (@AlbicelesteNews) April 7, 2023
Emiliano Martinez is a "penalty killer"
Martinez started his career at Independiente in Argentina before moving to England to join Arsenal in 2010.
During his time at Arsenal, Martinez spent much of his career on loan to various clubs, including Oxford United, Sheffield Wednesday, Rotherham United, Wolves, Getafe, and Reading. He made his Premier League debut for Arsenal in 2017 and went on to make 38 appearances for the club.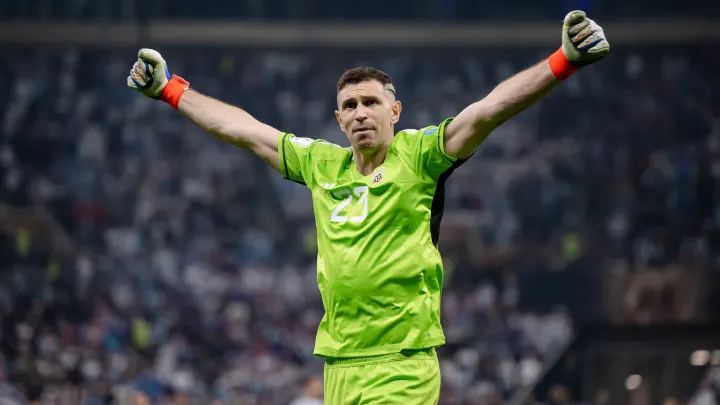 In September 2020, Martinez joined Aston Villa for a reported fee of £20 million. In his first season with Aston Villa, he was a key player and helped the team to an 11th place finish in the Premier League. He also impressed for Argentina in their successful 2021 Copa America campaign.
Emiliano Martinez's international career:
🏆3 trophies won
🏅2 golden gloves
⛔1 game lost

He completed international football in less than 2 years.😭😭😭 https://t.co/Oaw3UfhXfk pic.twitter.com/C5omhhUIYI

— The CR7 Timeline (@LM10_BLAUGRANA) April 1, 2023
Martinez is known as a penalty killer. He has stopped many crucial penalties during his career that have led to significant victories. His most notable penalty stops are:
Bruno Fernandes' penalty (Manchester United vs Aston Villa, Premier League 2021-22)

Arturo Vidal's penalty (Argentina vs Chile, Copa America 2021 )

Kingsley Coman's penalty (Argentina vs France, World Cup 2022)

Yoshimar Yotun's penalty (Argentina vs Peru, World Cup 2022 qualifiers)
Even though he can be very disrespectful to other players at times, there is no doubt he is one of the best goalkeepers in the current soccer era.