What does Andrew Tate's bizarre two finger hand gesture mean?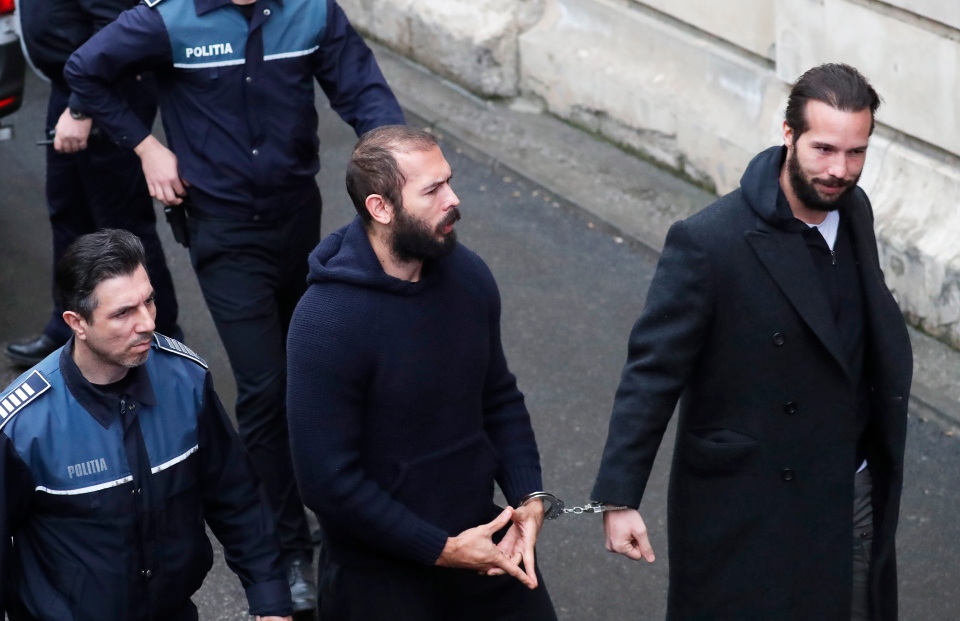 Andrew Tate has been shaking up the internet even while being in detention. This time he has sparked conversations and conspiracy theories by making a hand gesture. He flashed a conspicuous signal with two hands, forming a diamond-like shape. People are wondering whether he alluded to something particular or was trying to convey a message.
The controversial social media influencer went to a Romanian court for a plea bargain. However, his appeal for bail has been rejected yet again. Some are touting this bail rejection to be rather harsh as they feel that Tate has been denied justice.
This is why the rumors and speculative conversations over his hand gestures have gained pace. Andrew was seen with his brother while being taken to court. While his brother Tristan wore a smile on his face, Andrew seemed to be in his own world. The familiar shaved head of his was seen to be somewhat covered by ruffled hair strands. He had an unkempt stubble as well but what really intrigued the netizens most was his hand symbol.
Is Andrew Tate referring to "Illuminati" or even "The Matrix"?
Some thought of it to be a 'Merkel Diamond or 'Merkel Raute' which was coined by the former German Chancellor Angela Merkel. However, Merkel does not have any affiliation with Andrew. Neither does it make sense for Tate to replicate a hand gesture coined by a woman of her stature. Given Andrew's views on women in society, this speculation can be disregarded.
On the other hand, Andrew was very vocal about 'The Matrix' and how it encapsulated the shackles the society is bound by. On multiple occasions, he has brought up the term 'The Matrix', even while posing blame on it for his imprisonment. He thinks that his detention is a political move against the Tate siblings and that the move has been made by the power grabbers residing in the matrix.
These statements sparked the rumor as to whether he was referring to the 'Illuminati' or not. However, he emphatically denied his involvement with that supposedly secret organization.
Andrew Tate talked about this hand signal previously
The rumors can find the light at the end of the tunnel if one follows it to its furthest. Tate addressed his hand gesture before. He claimed that this was something he adopted from his father Emory Tate.
Emory was a chess player and he, more often than not, brought up the term 'power-up.' Andrew later elucidated why he used that signal. He explained that his brain was developed optimally and to achieve a brain as advanced as his, one had to recharge by "completing the circuit."
To carry on with the process one had to mentally replenish them – is what he proclaimed saying, "I do it because it increases my powers – it's like a power-up." In that podcast with his brother, Andrew exhorted his male followers to try that to maximize their potential.
Now, the rumors may have a plausible ground. However, if one keeps track of 'Cobra"s antics, the gesture can be traced back to his own statements. Maybe he is just "powering up" to break out of jail since no legal actions are going in his favor.