Penalty takers, in the world of soccer are considered among the cool headed in the field of play. They can not only turn a game head over heels, but also give an entire new shape to an ongoing league or tournament.
What seems to be a pretty minimal task of putting the ball inside the net with only a goalkeeper to save it and no defenders to charge in, in reality it is just the opposite. While the referee blows the whistle, the crowd cheers in and the penalty taker then feels all the weight of the world on him.
With each stride the goalkeeper seems to become an unbreachable wall and the enormous size of the goalpost seems to diminish. Each time a player takes the responsibility of taking a penalty, he is urged on and expected to score. A missed penalty is often regarded as a cardinal sin on the part of the penalty takers.
Goalkeepers on the other hand with a penalty save can become an outright hero to the fans. As a result, they give their respective teams to stand a chance in the game and rectify the error on the part of the teammate who conceded the penalty. However, in most cases, the goalkeepers are left brooding over an unsaved penalty at the end of the match.
Penalties, penalty shootouts and penalty takers are the headliners in the newspapers and websites. Since a penalty can change the course of the game in the whisker of a second, it creates the most buzz.
Here's a look at the Top 10 Penalty Takers Of All Time who revamped football matches with their spot kicks:
#10. Steven Gerrard
Steven Gerrard is one of the greatest England and Liverpool skippers of all time. The Liverpool legend is highly acknowledged for his brilliance in the middle of the park and his ever-enduring presence as a box-to-box midfielder. He was also usually deployed as a central midfielder but in Liverpool, he had also been used in many positions. He played as a second striker, a holding midfielder, an attacking midfielder, a right back, and a right winger.
His never give up attitude was reflected in the late goals that he scored time and again. A set-piece specialist, he was successful both as a free kick taker and a penalty taker. Gerrard gives the goalkeeper no chance when taking penalties. Gerrard was known for his powerful blasting penalties that rendered the goalkeeper helpless. He scored 47 penalties out of the 57 penalties that he took.
#9. Frank Lampard
Frank Lampard is often recognised as one best midfielders England has ever produced. Often termed by soccer pundits as "a complete player", Lampard was a creative and technically gifted box-to-box midfielder.
The current Chelsea manager sat deep in the heart of the pitch and gulped in most of the opponent attacks. For many what Steven Gerrard was for Liverpool, Lampard was for Chelsea. He is one of the best midfielders to ever play in the premier league.
His tremendous shot power and long shot accuracy ensured he scored a number of 'golazos' during his career. Added to that, he's also an amazing free kick and penalty taker. He scored 46 out of the 57 penalties he took for Chelsea, making him one the best penalty taker for Chelsea of all time.
#8. Mario Balotelli
Encapsulated with controversies, Balotelli career has been a tumbledown one. He is well known for his disciplinary issues on and off the pitch. He's played for a number of top clubs in his career like Manchester City, Liverpool, Inter Milan and AC Milan but never lived up to the expectations of the supporters.
Super Mario is also famous for his celebrations and his sneers. His celebrations go trending on Instagram and other social media platforms. Despite many of his flaws, Mario is a titan from the penalty spot as he has scored 37 penalties in his career, missing only five.
Less controversies and a bit more composure in the games while it comes to open play would have done wonders to his careers.
#7. Rickie Lambert
Rickie Lambert appears in this list as one of the best penalty takers of all time. Lambert due to his knack for chipping in goals every now and then, was the recipient of two golden boot awards. Lambert's towering physique has enabled pundits to draw comparisons with former Southampton player Matt Le Tissier for his ability in front of goal and his staggering penalty record.
His excellence in taking penalties is seen in his penalty conversions. Rickie Lambert took 50 penalties in his career and converted each one of them but just 3.
Playing for both Liverpool and Southampton, he was the go-to man whenever his team won a penalty. His hard work on the training grounds overshadowed his lack of technical abilities that led him to win a number of individual awards.
#6. Francesco Totti
Francesco Totti shines as the face of loyalty in a world where it is hardly seen. Throughout his playing days, Totti had been targeted by a lot of heavyweight clubs like Real Madrid, but it came to no avail. Totti's ever holding loyalty towards AS Roma marks him as an exceptional figure.
He holds several impressive records such as being the youngest striker in the history of Serie A. He also holds the record for the oldest goal scorer in UEFA Champions League history, aged 38 years and 59 days. Totti's list of accomplishments caters to the branch of penalties as well. He used to deliver from the spot for AS Roma for subsequent decades. Consistently, the legend holds the record for the most number of penalties scored in Serie A with 71 goals.
#5. Zlatan Ibrahimovic
Zlatan, self-nicknamed as "The Lion", scores goals of the highest quality and loves entertaining fans. Though he is often considered to be egoistic due to his remarks in the press interviews, while it comes to performing on the pitch, the former Sweden international gives it his all.
Ibrahimovic can score unthinkable goals and he has proved himself. His acrobatics has made many fans call him – "Spideromovic". Plagued by injuries, Zlatan might not have achieved as much as he could have but he is surely on of the best penalty takers in the world. Stepping up to the spot, Ibrahimovic has converted 79 penalties out of 90.
#4. Alessandro Del Piero
2006 FIFA World Cup Winner, Alessandro Del Piero has achieved a legend of the game. He is chiefly known for extraordinary ball controlling skills and his prolific goal scoring ability. The magic that he created on the left wing and the curlers that he spun up from his right boot is still etched in everyone's memories.
Not only an open play expert, Del Piero was a maestro while it came to taking free kicks. Plying his trade in Italy, Australia and India, Del Piero was a force to reckon with while it came to taking penalties. Converting 77 out of the 92 penalties that he took, Del Piero stands just after Silvio Piola as the second highest Italian goal scorer of all time.
#3. Alan Shearer
The English Premier League is by far the toughest and most competitive soccer league in the world. Alan Shearer, is among the foremost faces that has put on the league to such a high level. Shearer is the premier's league all-time top scorer. He even dawns the record of converting the most number of penalties into goals.
A prolific goal scorer in Southampton, Blackburn Rovers, Newcastle United and in the England National Team, was best known for his physical style of play. Shearer began his career as a feisty midfielder but ended up playing most of his games as a forward.
During his time at Blackburn, Southampton, and Newcastle, Shearer was preferred by his gaffers to be the main man. Above all, Alan had a brilliant 83.6 conversion rate of penalties as  he scored 56 out of the 67 times he stepped up.
#2. Matt Le Tissier
To many this name, coming at number two in this list, might come as a surprise. However, Matt due to his surreal record as a penalty kick taker deserves this spot. Nicknamed as "Le God" by the Southampton fans, Tissier is known for his brilliance from the spot and his loyalty towards Southampton.
Originally a Central Attacking midfielder, Tissier even appeared as a Second Striker and as a Right Winger. Sixteen years as a Southampton player in the Premier League, and earning the National Cap eight times, the crowd knew it was him every time the referee pointed at the spot. During that time, Le Tissier converted an unimaginable 48 out of the 49 spot kicks that he took.
#1. Cristiano Ronaldo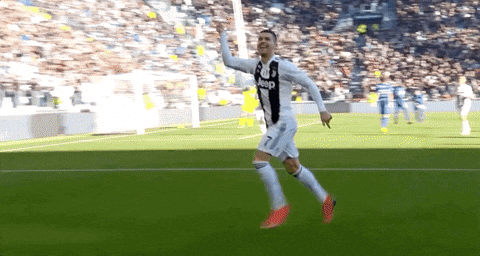 Cristiano Ronaldo, to many fan bases around the world is the Greatest Footballer Of All Time. Often rivaled against Lionel Messi, Cristiano's records speak for himself. From Portugal National Team to Manchester United, From Real Madrid to Juventus, Ronaldo and his magical feet have reigned supreme. Consequently, a minute sniff at the goal and the next moment, his team would be a goal up. That's the kind of impact he has on the game.
A five-time Ballon d'Or winner, he has netted a lot of crucial penalties in his career. Someone who thrives under pressure and overcomes it, many people criticise him, calling him "Penaldo".
His impressive successful penalty conversion rate, that stands at a staggering 84%, CR7 appears at the pinnacle of this list. He has scored over a century penalties in his legendary career, 112 to be precise, missing only a handful 22 out of them.