Throughout the history of the EPL there were several underrated soccer players who were wasted. These players had a big game potential. However, the teams where they played for, did not know how to use their skills and they became underrated football players.
Others, played a very important role in their teams. Despite this, they did not receive the credit that was merely. This led them to be quickly forgotten by fans despite of their big contribution to the team where they played.
Although in his passage through the EPL they did not receive the credit they deserved, other teams knew how to use their abilities to the fullest. This led them to demonstrate their skills despite not having achieved success in the EPL.
These are the 10 most underrated players in the history of EPL that every fan remember:
Craig Bellamy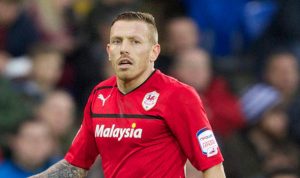 Although many do not remember him, this forward formed a great trajectory. Characterized by being a very skilled player with the ball, he called the attention of several teams. However, he never received the recognition he deserved becoming forgotten in football environment.
This Welsh footballer had a long step through the EPL. He played for several very important teams in England. During his career, he played in Norwich, Coventry, Newcastle, Blackburn, Liverpool, Manchester City.
Despite having a career more than remarkable, no team knew how to take advantage of their skills. In 2002, he won the distinction of the best young player of the FA. However, none of this team knowed how to use his abilities. His skills were wasted becoming one of the underrated players more popular in football history.
Craig Cathcart
This unknown 30-year-old footballer has gone through important EPL teams. With a career plagued by injuries that did not allow him to play in many occasions, this defense was one of the most wasted talents of the EPL.
With a long history going through Manchester United, Blackpool and finishing at Watford, this young talent was extremely wasted. His skills as a defender were very good, but his physical problems did not allow him to develop a good football career in EPL.
This ended up leaving him as one of the underrated football players more popular in the EPL history. Unfortunately, today he is practically forgotten by fans. The great talent that this player could demonstrate was frustrated by his physical problems and the distrust of his coaches.
Darren Fletcher
Many Manchester United fans should remember this midfielder. With a broad career developed in the Red Devils this player had a fairly important role in the team. However, many didn't gave him the importance he deserved.
For many fans and sports media, this player was one more on the team. It's true that his football skills were nothing special, but his role within the team was very important.
He was in charge of performing all the dirty work within the team. His main purpose on the team was helping the defense to carry out its task. Although this cost him some yellow cards, Fletcher was always willing to help his team.
With many games played within the team, he managed to win several championships. However, he never recieved the recognition that he really deserved, becoming one of the most underrated players in EPL history.
Aymeric Laporte
Laporte's performance went virtually unnoticed in Manchester City. The great role of the other players left hidden the contribution that the French defender made to the team. This led him to be criticized for the high cost that was acquired in the team becoming one of the underrated football players in this sport.
However, although many do not notice, Laporte played an important role in the team. During the games that he played, had several decent performances. Many did not notice him due to the great abilities of the strikers and the goalkeeper. They took all the applause from the public leaving Laporte forgotten.
Despite going unnoticed, the coaches who had Laporte in Manchester stand out him for his attitude. The predisposition to play presented by the French, together with his good reputation, led him to remain in the team for many seasons.
Lukasz Fabianski
This goalkeeper is one of the most important underrated players in the EPL. Many fans did not give the Polish footballer the recognition he deserves. Going unnoticed, his skills have saved West Ham in more than one occasion.
There are several fans who do not recognize this goalkeeper. However, his talent is much more surprising than many others. He has very good skills when defending the goal against attacks from the opponent.
Because of this, he saved West Ham goal in more than one game. His saves allowed him to keep his undefeated goal several times. In addition, His importance within the team is fundamental since it is one of the few players in West Ham that demonstrates good performances.
Unfortunately, the bad game that his teams presents opaque him to demonstrates his excellent skills during this season.
André Gomes
This famous Portuguese soccer player was one of the clearest underrated players. The team for which he plays in the EPL failed taking advantage from his abilities.
Talent is something that is not lacking. His skills as a midfielder are more than good. He may not be at the level of the best midfielders in the world, but with a little more of motivation nobody doubts that he can succeed.
Since he arrived at the EPL, Everton has not struggled to give enough motivation to this player. Many fans questioned his arrival from Barcelona. However, Gomes has a very good track record that seems to be forgotten by EPL fans and media.
Jermaine Defoe
This forward is recognized by several EPL fans. His incredible skills in scoring goals led him to be on everyone's lips. However, very few people recognize his amazing skills as a striker.
Defoe is one of the underrated football players more popular since he did not receive the recognition he deserves. His skills led his team to win multiple times. Despite this, no major European team was interested in hiring him.
This led him to end up as a great striker, but without being able to form a popular sport career. However, he is in the ranking of the Premier League scorers. No one has a very clear answer to why he was not hired by big teams, but nobody argues that he does not have the necessary skill.
Gareth Barry
This footballer is easily recognized for Manchester City fans. He has the record of most appearances in the EPL with 653 games. However, many fans did not give him the recognition that this skilled player deserved.
He was a fundamental part in Manchester City for many seasons. His performances never left complaints since he had a great natural talent when he played this sport. In each team in which he was, he left great performances.
With a long career at the EPL, this footballer went through Aston Villa, Manchester City and Everton FC. He ended his sports career in 2017 leaving a more than acceptable football career. In spite of his excellent performances, he was unable to go up in history as a great legend becoming part of the underrated players in football history.
Erik Lamela
A highly recognized player in Argentina who is part of the underrated midfielder players is Lamela. This footballer had a very good reputation in River Plate thanks to his skills. All Argentines were very happy to hear that this talented player would continue his football career in English football.
However, although he had a good performance so far, he was not very recognized in the EPL. His abilities gave Tottenham great victories, and he was for a long time a very important player within the team.
Despite this, he never won the recognition of fans or the media. The lack of championships made it difficult for him to stand out within the EPL. This led him to lose his place in the Argentina national team despite his good game.
His skills are more than good. Despite this, he failed to become a relevant player in the competitive Premier League.
Michael Carrick
Many recognize this excellent midfielder who has left so much for Manchester United. His great passion for the Red Devils made him a fundamental part in the operation of the team. However, there are very few fans and journalists who recognized the great work that this midfielder developed.
Always predisposed to leave everything for Manchester, he played for many seasons in this team. In his time within the team, he won 5 Premier League and the UEFA Champions League. His participation in each tournament was essential to obtain them.
His great abilities supporting the defense and initiating the offensives, made him a fundamental player in the team. Few players in the world have demonstrated the same capabilities as Carrick.
At the time of his retirement from Manchester, many fans saw him as another player within the team. However, at present some fans have become aware of the fact that they will not have a player as predisposed as Carrick anymore.
These are the 10 most underrated football players in the history of the EPL. Many players have been left out of this ranking, but these 10 are the most underrated by fans and the press. Despite their excellent skills, they failed to be recognized in football environment being practically forgotten.