Step Inside Cristiano Ronaldo's $24m worth car collection
Manchester United and Portugal megastar Cristiano Ronaldo is one of the most decorated players in the history of football, with five Champions League and one Euro championship alongside five Ballon D'or in his closet.
Fan favorite Cristiano Ronaldo, 37, has a great taste for super cars despite focusing most of his time on football and its development. His insane car collection includes up to 20 vehicles, ranging from super sports cars to high-end luxury vehicles.
A detailed look at Cristiano Ronaldo's Car Collection
The rise of Cr7 is a fairytale as he struggled a lot in his childhood to reach this level of football and now owns a lot of exotic and super rare cars that other celebrities can only dream of.
Bugatti Centodieci, Chiron and Veyron
Cristiano's three most expensive cars are from the same manufacturer, Bugatti, and the value of these cars is a staggering £10.70 million in total. However, very recently, one of his Bugattis, valued at £1.8 million, was crashed by an employee during his summer holidays in Spain.
Rolls Royce Cullinan and Phantom
Ronaldo shows his passion for luxuriousness by owning two of the most expensive Rolls-Royce cars—Phantom and Cullinan—in his large garage, which are valued at £1,061,382.
McLaren Senna
The Portuguese superstar owns another supercar, the McLaren Senna, which costs £816,450 and is named after the late Formula One driver Ayrton Senna, who died while racing in Italy in the 1990s.
Ferrari Collection
Ronaldo has an insane collection of Ferrari in his garage with three of the best models: the Ferrari 599 GTO, the Ferrari 599 GTB Fiorano, and the Ferrari F430, which have a total value of £812,366.
Bentley Continental GT and Flying Spur
Cristiano has an affection for British luxury super cars, and two of the most notable Bentley cars that cost £434,025 in his garage are the Bentley Flying Spur and Continental GT.
Lamborghini Aventador LP 700-4
Cr7 is a proud owner of a Lamborghini Aventador LP 700-4, a state-of-the-art Italian super car, that comes in matt black color and costs the megastar £259,630.
Porshe Cars
Ronaldo's passion for German automobiles, particularly Porshe, resulted in his spending £275,470 on three sports cars: the Porshe Cayenne, Porshe Cayenne Turbo, and Porshe 911 Carrera 2S Cabriolet.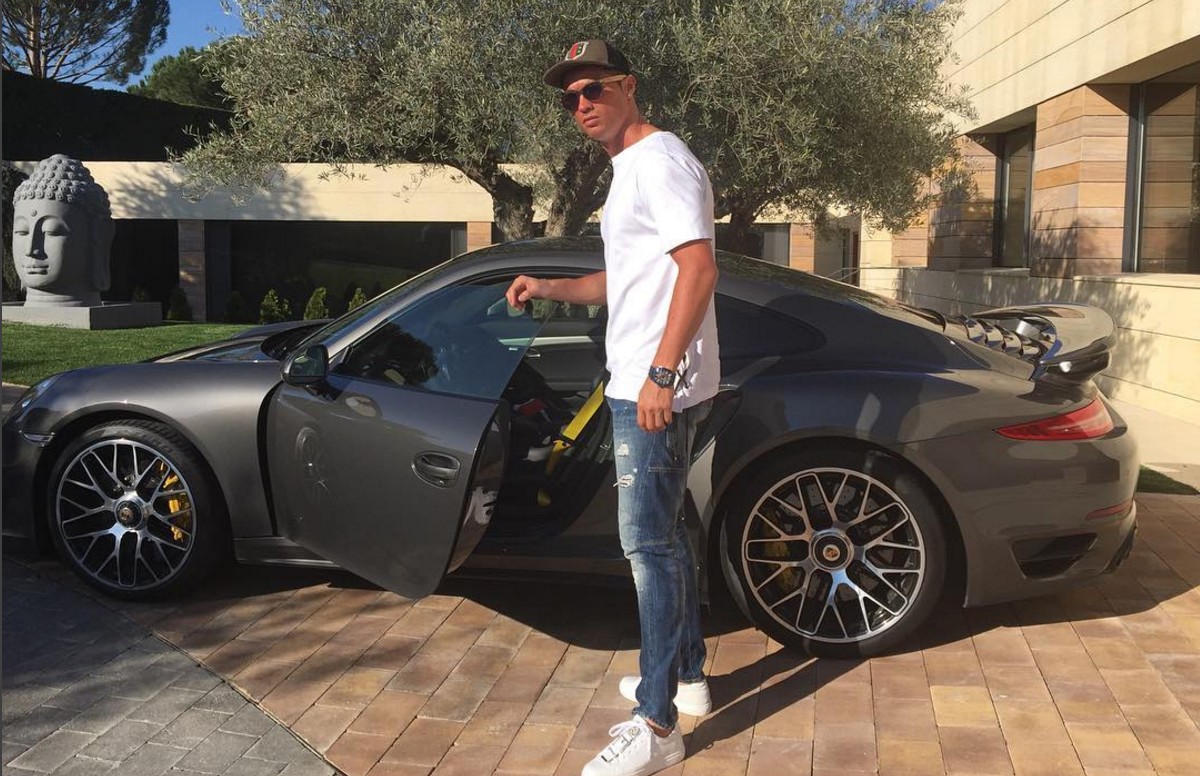 Mercedes Collection
Manchester United superstar is no different from others as he also cherishes Mercedes cars and owns three models-Mercedes G-Class, Mercedes-Benz C-Class and C220 CDI, which are valued at a total of £203,360.
Aston Martin
CR7 owns another British super sports car, an Aston Martin DB9 model, in his garage that costed him £163,071.
Maserati
The Portuguese owns a Maserati GranCabrio car, which is seen very rarely on the planet with a value of £114,100.
BMW
Ronaldo has a single BMW car in his garage, a BMW M6, that has a value of £89,188.
Audi Collection
During his Real Madrid tenure, CR7 got two Audis-an Audi RS6 and an Audi Q7, which were then valued at £140,440.