As things currently stand, Lionel Messi is set to become a free agent in the upcoming summer, as his contract with his current club Paris Saint-Germain is expiring on June 30.
Many clubs have joined the race to secure the services of the seven time Ballon d'Or winner, including Messi's former club FC Barcelona, and other clubs from the Saudi League, as well as from MLS.
Premier League giants Manchester United have reportedly jumped on the bandwagon, and have reportedly offered the 35-year old Argentinian the club's coveted No. 7 jersey, previously worn by Messi's rival Cristiano Ronaldo and legends like David Beckham.
L'Equipe reports suggest that Messi earns €3.375 million ($3.7 million) per month at the moment, putting him in third place among the highest-paid players in soccer behind teammate Neymar and Forbes' projected 2022 highest paid player in the sport, Kylian Mbappe.
Manchester United is one of the few clubs in the world that can pay the high salary that comes with such a big name, and Erik Ten Hag will surely love to manage one of soccer's greatest players of all time.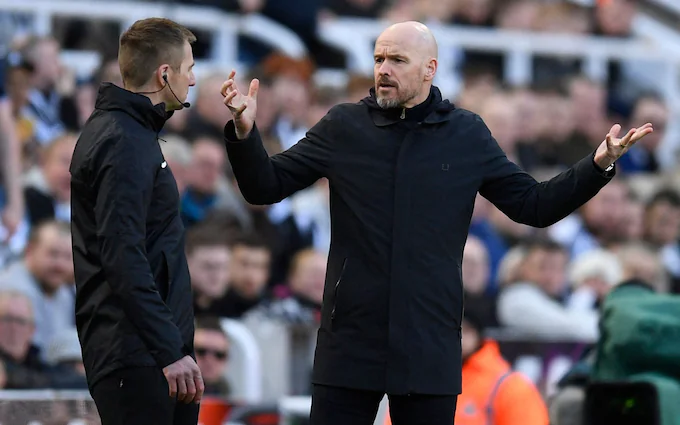 Lionel Messi reportedly wants to aim for his fifth Champions League title, and should Manchester United secure a top 4 finish, Messi will definitely consider the option of exploring a league he's never played in before.
Manchester United are 4th in the Premier League Table
Following the Red Devils' defeat to Newcastle United yesterday, Manchester United have swapped places with the winners in the Premier League table. They are well behind in the title race currently, with the top 2 clubs in the table sitting well clear of them.
UPDATE: As of April 5, 2023, Manchester United are now in the 5th spot after Tottenham Hotspur edged their way into the top 4 after drawing 1-1 against Everton. Newcastle, Tottenham, and Manchester United all have 50 points now, but United and Newcastle have played 2 fewer games than Tottenham.
The Red Devils are favorites to win this season's Europa League. Throughout the UEL matches, Manchester United has shown dominant performances, knocking out strong opponents like FC Barcelona and Real Betis.
Manchester United are set to face Sevilla in the first leg of the Europa League quarterfinal on April 14th. After losing to Villareal in a penalty shootout in the Europa League 2021 final, the Red Devils will try everything in their books to secure the trophy this season. Do you want to see the Argentine Magician in Old Trafford? Let us know in the comment section.